How to become a digital nomad this year with little or no skills or experience…finally, this is the year to re-start or re-boot your new life.
Are you dreaming about getting rid of everything, shoving some clothes, a laptop, and a toothbrush into a backpack and taking off to travel the world?
If so, get ready because this post is going to explain how you can become a digital nomad even with little or NO Experience. And with little or NO skills !
My Digital Nomad Story
I started living a travel lifestyle when my four children were babies. When my first baby was two weeks old, I took my first flight with her to Washington, DC. At the time, I didn't realize that this was the beginning of my digital nomad and travel lifestyle with kids journey.
Of course, hindsight is 20/20. I can now see that the wheels for digital nomad living were set into motion on that trip. Maybe even before that trip, but I credit that trip as the starting point.
Work as You Travel
It wasn't until many years later, when I found myself homeschooling, roadschooling, and worldschooling my children in coffee shops while I traveled it dawned on me that I was on the path to becoming a digital nomad.
In fact, I don't even think I knew what a digital nomad was back then.
Early on, I don't even know if the term digital nomad existed. I don't even think I stopped to ask the question, what is a digital nomad? But then again, those were early days of parenting. I was so busy then doing the new mom thing and trying to conform to society's new mom expectations and good parenting checklists that I really didn't have a lot of time to think about non-baby things–such as travel-work dreams.
All I knew was that I loved freelance writing, freelance blogging, and working on projects wherever and whenever I had access to high speed wifi. And, as the kids grew, I discovered that my favorite places to do my work were in coffee shops, beside my children while they studied. I've spent so much time in coffee shops with my kids, that I actually call what we do coffee shop schooling.
My point here is that I didn't set out from the get-go to be a digital nomad. I just started one day writing. Then I wrote more. And then I came up with business project ideas. And I traveled. As time went on, and my babies started seriously growing up and requiring less of my attention, I began shifting more of my focus to building my own projects and businesses.
My Digital Nomad Dream
Living a full-time travel lifestyle wasn't something I always dreamed about doing. It is more like something that just happened along the way.
Early on, I took road trips and short weekend trips and vacations. Then my passion for traveling more grew. Soon I was traveling more than I was staying put. And I was working on projects at the same time, like building my blog and freelance writing.
As time went on, I realized that the travel lifestyle was my dream.
Why Live the Travel Lifestyle?
Everyone has their own reasons for wanting to live the travel lifestyle.
You may have heard the saying, not all who wander are lost. Too often assumptions are made that people who love to travel, live a full-time travel life, or are digital nomads are traveling to escape. I don't think that's accurate for many people who work hard to make the travel lifestyle dream happen.
It's definitely not the reason for my lifestyle choices. Here are some of my reasons for living a live anywhere lifestyle.
I'm a lot happier when I don't stay in one place too long
I love 'moving'
Change is something I crave
I love visiting new places, meeting new people, and learning about different cultures and countries
Learning languages is fun
Earning money while I'm living a life I love makes sense (and cents)
Why Become a Digital Nomad
Not everyone is a born traveler. Gee, I barely traveled as a kid. However, some clues that might suggest that the travel dream is meant for you might be found in asking yourself questions like…
Does your mind wander to thinking about living abroad?
Is your Instagram feed full of images of cool destinations or do you follow travelers?
Are you envious of people who are living a travel lifestyle?
Do you look at travel influencers on social media and wish you could live their lifestyles?
Are your favorite hashtags (to use or follow) #wanderlust #YOLO or #bucketlist?
Are your a member of tons of Facebook travel groups, like Female Digital Nomads, Solo Women Travelers, Expats groups, RV travel, backpacking, or world schooling groups?
Do you love finding travel deals or researching places to travel or travel discounts?
Are you secretly (or not so secretly) keeping a tally of countries you've visited or a bucket list of places you wish to travel?
Do you have a dream of being fluent in another language?
Ever wonder if you were born and raised on the wrong continent?
Wonder if there is something more out there to experience besides the life you are currently living?
How to Be a Digital Nomad with No Skills
How do you make a full-time travel dream work? And how do you make this lifestyle work when you have few or no skills or no experience to be a digital nomad? Or when you have no experience with an online business, freelance writing, or blogging?
It's not simple as snapping your figures together, for sure. But it's totally doable!
How? You have to make some big moves on your dream. You have to start by deciding that you want this lifestyle and taking action on the dream. As in you've got to figure out what you want. Do you want a travel lifestyle? If yes, it's time to plan!
It's Time to Take Action on Your Travel Dream!
No, you don't have to have a perfect plan or even have everything all figured out right now. However, you have to think hard and long about travel. Why do you want to do it? Is it calling you? Or location independent work something you want to do? Or is it really a dream that belongs to someone else, like your boyfriend, girlfriend, or SO?
You have to take action on your travel dream right now. No, you don't have to have all of the answers. You just need to move out of this holding pattern or feeling stuck spot and move toward a place that is calling you.
Travel Lifestyle Task #1 – Show Me The Money
If you know you want to live the travel lifestyle, the first call to order is figuring out how you're going to support yourself out there in this big amazing world.
While you're on the road, what's your money action plan. How are you going to support yourself while you're living the travel life?
For many, dealing with the money question means:
(1) Coming up with a plan for having some sort of online business, remote work, or digital income stream.
(2) Having some form of passive income, such as AirBNB income, so you're actually making money when you're traveling or sleeping.
(3) And, importantly and ideally, having savings or money stashed away in the bank.
Of course, having all three is ideal, but if you don't have skills, experiences, or good habits in any of these areas, it's okay. You can learn, and you can make your travel dream happen. Anyway, you've got to start somewhere, right?
So, your first course of action is to map out what you have and what you don't have. Which of these three areas do you need to build out or build up?
Travel Lifestyle Task #2 – Build Your Digital Nomad Income Stream
Even if have little experience, few or no skills you can build a life as a digital nomad.
How?
Digital Nomad Jobs
There are a myriad of ways to make money while you travel, but having an online business is a popular way that digital nomads support their lifestyles. For example, some digital nomads are virtual assistants, social media consultants, or sell digital products online, such as on Etsy.
Others are freelance writers, bloggers, social media influencers, or run online businesses, such as drop-shipping or online retail companies. And still, other digital nomads have tech or programming gigs, work as technology consultants, or work remotely for an employer.
If you don't have a clue where to begin to start your own flexible, take anywhere business, check out 37+ Side Hustles and Creative Ways to Make Money Anywhere.
Travel Lifestyle Task #3 – Build Passive Income
If your primary digital nomad income stream is something like blogging or selling courses online, you might already have the passive income thing in play.
However, if you don't already have a plan for passive income or semi-passive income (which involves some work, like set up, marketing, and periodic promotion), you'll want to get focused on this ASAP.
What is Passive Income?
Passive income is money generated from activities that you aren't actively doing. For example, going to work everyday and getting a paycheck at the end of the week is not passive income. You're actively working in that scenario.
However, selling courses or e-books online are forms of passive income. Think making money in your sleep. While you sleep or aren't active, you make money when people buy your products. That's passive income.
Passive income may also come from rental property, such as renting out your house or apartment while you travel, such as through AirBNB.
It may also come from your blog or social media, such as advertisement revenue off your YouTube channel or Podcast series.
Passive income is a way to build wealth. Passive income is not a get rich quick scheme. That's because to generate passive income, you've usually had to put in a lot of advance work, such as writing e-books or developing and marketing a blog.
When you're a digital nomad, passive income is a great way to sustain your travel lifestyle and grow your travel and business opportunities. Having a digital nomad plan that takes passive income opportunities into a account will be something you come to appreciate when the cash rolls in.
Travel Lifestyle Task #4 – Stash Your Cash
Saving money or having a savings stash is really important to living the digital nomad lifestyle.
Can you become a digital nomad or live abroad with no money? Sure, you can! Is it the best idea? Maybe not. But everyone has different comfort zones and willingness to take risks, right?
Do you have to wait until you have a stack of bills in the bank before you can become a digital nomad or wait until you've cranked away for years at an ordinary job to save up? Probably not.
However, having a travel nest egg is a really good idea. Of course, if you're starting a business, you'll probably want to have even more savings set aside while you ratchet up that business.
To learn about ways to live abroad that don't involve having a huge nest egg, check out How to Live or Move Abroad.
Travel Lifestyle Task #5 – Lighten Your Load
After you've mapped out a money plan for active income, passive income, and savings, make a plan to lighten your load. Whether this means paying down debt, decluttering your house, downsizing, or selling your stuff to pay off debt or build your travel fund, make sure this is part of your digital nomad lifestyle plan.
When you live your life as a digital nomad, you won't need as much stuff as you have now, so what better time to start unloading stuff you don't need now?
Travel Lifestyle Task #6 – Get Your First Gig
With a digital nomad lifestyle plan in the works, now let the good times roll… it's time to work on getting your first gig, getting your biz set up, or finding a remote work job.
Or…convincing your employer to let you stay on past the pandemic as a work anywhere, telework employee. After all, how can you live your travel dream if you're stuck inside a building or in a teeny-tiny cubicle sandwiched between co-workers.
You Can Make a Great Living
If your plan is to fund your digital nomad lifestyle through blogging, like starting a travel blog, read How to Start a Travel Blog. You'll want to pick a profitable niche, set up the right blog platform for your blogging business, and learn how to build high-quality, awesome content that goes viral.
Oh, and to fast track your blog success, definitely take time to read 20 Things I Wish I Knew Before I Started Blogging.
If your plan is to make a full-time living writing online, get to work finding writing gigs, pitching magazines, pitching journals and publishers.
Ditch any and all excuses. This is your dream and the only way it's going to happen is by your own determination.
Travel Lifestyle Task #7 – Take This Travel Dream Seriously!
Out of the starting blocks, as in RIGHT NOW, think of yourself as a business owner. Not just someone with a hobby hoping to dabble in a little travel here and there.
Part of taking this dream seriously, especially if you have few or no skills or experience, is being willing to teach yourself whatever it is you don't know. This might include teaching yourself all about SEO (search engine optimization), how sales funnels work, how to leverage Pinterest, how to monetize your websites with affiliate links, and how to grow mega traffic on social media channels.
And if you're worried that maybe you're too old to make this travel dream happen, think again! You can become a digital nomad and launch a work from anywhere business at any age. For more on this bookmark How to Become a Midlife Blogger and Social Media Influencer.
Whatever you do, take your travel dream seriously.
Take your business plan seriously.
And most importantly, take yourself seriously–trust your ability to make your dream happen.
Because You can do this!
Travel Lifestyle Task #8 – Plan Your Adventure
Let's do this, already.
Ummm…well, YOU ARE going to do this!
Start planning where you want to travel. Where do you want to go first? When will you go? How long will you stay? Get it on the calendar. Even if your launch is one year from now, get it on the calendar right NOW!
How Do You Find Out Which Countries Have Digital Nomad Visas?
Okay, so you know you want this digital nomad life. But how do you know which countries offer digital nomad visas?
Believe it or not, there are actually countries that are clamoring for creative, entrepreneurial minded types like you. Some of these countries offer start-up business visas, visas for freelancers, visas for digital nomads, and visas for remote workers. Some of these visa programs even popped up or grew in response to the pandemic, when so many companies transformed people into remote workers practically overnight.
If you're wondering what is a digital nomad visa, or why you'd want one if you are considering life as a digital nomad, or want to know where you can get a digital nomad visa, be sure to read The Best Countries for Digital Nomad Visas and Remote Work Visas.
Long Stay Visas
Of course, there are many countries that offer visas for you to live and work abroad, so don't think that list is exhaustive. For example, the country where I got a visa to start-up a business is not listed on that list, primarily because the country and visa I applied for wasn't specifically for digital nomads.
If you have your heart set on living and working in a particular country, even if temporarily, start your journey by looking at the country's official embassy or consulate website. You may find information on visas they offer to non-residents and non-citizens. Of course, a quick Google search might help you find info, too. You can also reach out to an immigration expert or attorney for advice.
Keep in mind, countries offer different visa programs. Visa offerings vary, as do application requirements. If you are serious about living as a digital nomad or moving to another country to work and live, get ready to roll up your sleeves! But the effort is worth it!
Is Being a Digital Nomad Worth It?
Absolutely! Being a digital nomad is worth it if you dream about traveling, seeing the world, and experiencing new places, new scenes, and meeting new people wherever you go!
Share the LOVE – Pin or Share This!
If this post is helpful to you, please share the love! Pin it. Tweet it. Share it. I truly appreciate it! 😉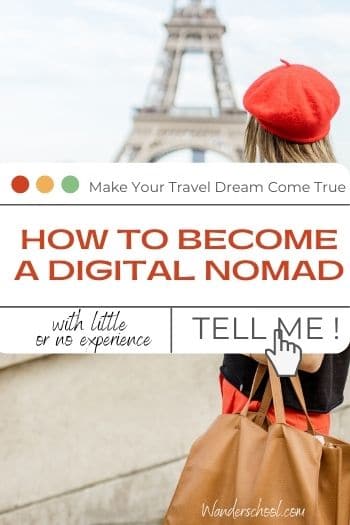 Follow Julie on Social Media! 😉
Of course, I'd love to hear from you too. Drop a comment below or follow me on social networks. And if you're jetting off soon to live your digital nomad life, let me know. I'd love to follow your travel adventures.
Related Posts You May LOVE