Want to Grow Your Blog in 2021? Leverage Pinterest to Drive Traffic to Your Blog
One of my blogging goals is to leverage Pinterest to grow my blog in 2021. Basically, I want to take Pinterest more seriously this year.
Why? Because Pinterest is a potentially powerful blog growth marketing tool.
If you also want to grow your blog through Pinterest in 2021, keep reading. I have some awesome tips and tricks for you packed into this blog post. And Pinterest hacks that blogging pros shared with me to share with you. 😉
Affiliate Links Disclosure: My posts sometimes contain affiliate links, which mean that if you click on them and make a purchase or sign up for an offering, I may earn a commission, at no added cost to you. I received no compensation for writing this post, and it reflects my own experiences, research, and opinions. You can read my my privacy policy here. Thank you so very much for reading my blog!
Does Pinterest Work?
I admit, I was once a Pinterest skeptic.
Honestly, I didn't get it. Why would people spend time in their day to pin beautiful, cutesy, or minimalist images on Pinterest boards?
Why were marketing experts and successful bloggers raving about Pinterest as a tool to grow your business or blog?
But then… I decided to get brave. And curious.
I decided it was time to figure out what I didn't know about Pinterest. So, I made a commitment to learn all I could about Pinterest. To learn Pinterest Tips and Tricks. And to learn Pinterest hacks.
Like how to make Pinterest Pins go viral. And how to become a Pinterest Marketing expert.
I started reading blog posts about Pinterest marketing. And I started soaking up everything I could about Pinterest, actually.
I started listening to Podcasts on Pinterest tricks. And I started watching lots of YouTube videos on Pinterest, like how to design pins that get noticed and go viral. Rather than listening to music during my treadmill workouts, I started listening to Pinterest experts.
Then I began applying what I was learning.
And I began seeing my Pinterest take off. But most importantly, I began seeing BIG blog traffic growth all thanks to Pinterest.
What is Pinterest?
Pinterest is more than a pretty collection of images, designed to suck up hours of your life. Pinterest is also not just for travel bloggers, cooking blogs, or mom blogs, although if you happen to be in those niches, I think you might just fall completely in love with Pinterest as a marketing tool.
Some people think of Pinterest as yet another social media platform. But it's so much more than that.
Pinterest is a visually-based social media network AND a powerful image-based search engine. Think of it this way… it's sort of like a picture-based dictionary. Now compare this to an ordinary search engine, which is… sort of like a traditional no-pictures, text-based dictionary.
So, once you're "on Pinterest" (you'll need to make an account – get a free business account for your blog), you can search for pretty much anything in the Pinterest search bar, just like you'd search for something on Google or Duck Duck Go. From your search query, you'll retrieve images of blog posts, articles, or anything on the Internet that has been pinned to Pinterest.
For example, if you type "travel baby names" into the Pinterest search bar, you might find one of my pins that if you click on it, will bring you directly to my blog post on the topic. Like this one: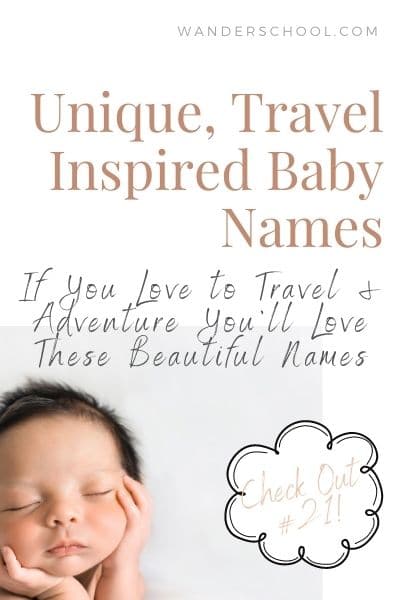 How to Use Pinterest to Grow Your Blog
So, let's get right to it.
How do you use Pinterest to grow your blog traffic? The quick answer is…you must have a Pinterest growth mindset.
You must commit to growing your Pinterest. You must dare to experiment, figuring out what pins work for your marketing strategy and what pinning strategy makes most sense for your goals.
You've got to open your mind to learning about Pinterest. Yes, I get it. Learning about Pinterest as a blogger can feel like ONE. MORE. THING. TO. LEARN. But seriously, Pinterest works. So, you've got to learn it if you are serious about driving traffic to your blog in 2021.
That learning curve starts with reading the following list of 13 Tips & Creative Ideas for using Pinterest as a Blogger. Keep reading. You're almost there! 🙂
13 Tips & Creative Ideas for Leveraging Pinterest to Grow Your Blog
1. Sign Up for a Business Pinterest Account.
It's free. If you already have a personal Pinterest account, it's a piece of cake to convert your personal account into a business account. You can also link a business account to your personal account, which means you can easily toggle between accounts without logging in and out each time.
Once you have your business account, make sure you follow the instructions to "claim" your website, so that your website is linked to your Pinterest account.
2. Commit to Including Pinterest in Your Blog Business Marketing Strategy.
Decide to make Pinterest part of your 2021 blog business marketing strategy. Of course, don't put all of your eggs in one basket. But invest your time and attention to learning about Pinterest, growing your account, and… well, making Pinterest Pins and Pinning!
3. Worry Less about Followers, and More About Making Fresh Pins.
Yes, of course, you want followers. Who doesn't, right? But if you don't yet have tons of followers, it's a better use of your time to make fresh pins for your blog posts than to spend a second of time stressing out over your follower count. Pinterest pros suggest that you make 3-5 unique pin images for each blog post.
4. Give it Time to Work.
Pinterest isn't magic. Your pins need to get discovered. Give it time, especially before jumping to some sort of conclusion like… it doesn't work and calling it quits.
I've been there before. There was a time when I worked hard on my Pinterest and then some algorithm change happened, my numbers got glitchy for several weeks, and my traffic dropped big time.
I wanted to quit Pinterest. Instead, I took a little time out. Revisited my marketing strategy, and then took a giant leap of faith, again, back into a full-blown believer that Pinterest can work to drive traffic to my blog. I just had to be patient.
5. Pin Consistently.
Pin consistently, not sporadically. You'll likely see better results when you pin consistently and regularly vs. pinning bucket loads of pins at one time. One top Pinterest expert on YouTube swears (as well as other Pinterest pro bloggers)that you should pin somewhere between 15-25 pins a day, and never more than 50 times a day.
6. Get Pinning Help.
If you need help pinning or pinning consistently, get help. For example, you could use Tailwind Pin scheduler. You could also find someone on Fiverr to make you tons of pins. You could also hire a Virtual Assistant (VA) to help you with making pins, pinning, scheduling your pins, or writing SEO Keyword copy for your Pins.
7. Make Video Pins.
Blogger Lisa, from Fluxing Well, says that making video pins can give your Pinterest a boost. "Making video pins helps give your account a jump start if you need to get more eyes on your account." She says that "video pins are easy to make," and she offers a helpful How to Create a Video Pin Tutorial on her blog.
8. Don't forget to Use SEO & Long-Tail Keywords
And you thought you were done with SEO when you hit publish on your blog post, right? Wrong! Blogger Anisa of Norfolk Local Guide says, "use keywords in the description. You can get ideas for long-tail keywords by typing in the search bar and looking at the description."
9. Use Big, Bold, Clear Fonts.
To grow your blog through Pinterest, Blogger Ruchi advises that bloggers "create click-worthy images with bigger, bold, and clearer fonts that stand out on the bright background."
10. Consider the Majority of Pinterest Users.
Statistics show that women LOVE Pinterest. So, to drive traffic to your blog through Pinterest, you'll want to keep in mind that "the majority of Pinterest users are female," says Blogger Daphna from the blog, A Tiny Trip. She notes, "Pins with "girly" colors seem to do well!" So, you may want to consider thinking pink the next time you pin!
11. Avoid Hard to Read Fonts.
If you're serious about driving Pinterest traffic to your blog, Blogger Anna, from Logical Dollar, says "don't use cursive fonts on pins. While they can look really nice, it's much harder for people to read them, especially when you consider that a lot of your potential audience will be looking at pins on their phone and could be scrolling through quite quickly. This means they probably won't take the time to stop and read that pretty-looking text, which makes it far less likely that they'll actually click on your pin."
12. Mix Up Your Keywords.
Some bloggers say it's okay to use the same description on your pins linking to the same URL (and you won't get penalized by Pinterest because Pinterest is focused on unique pin images associated with a particular URL).
However, I think there is value in using different keywords on your descriptions. Sure, it takes time to write additional descriptions, but there could be value to you in mixing up your relevant keywords.
Blogger Krystle of Baking Beauty also suggests that a blogger "make multiple pins with different keywords." For example, she suggests you could use "Peanut Butter Cake" and "Reeses Cake." She notes, "if it doesn't take off for one version, it may for a different less competitive keyword."
13. Use Boards.
Use Pinterest group boards to help your Pinterest blog traffic grow. You can find collaborative boards on Pinterest. A collaborative board is a board owned by one Pinterest user who invites other users or gives permission to other users to add Pins to a certain themed board. Group boards can help get eyes on your pins. You can also find pinning groups on Tailwind that you can join to help you get your pins noticed.
For Additional Pro-Tips on Using Social Media to Grow Your Empire, Check Out the Updated for 2020 Best Seller One Million Followers: How I Built a Massive Social Following in 30 Days.
If You Want to Drive Traffic to Your Blog in 2021, Use Pinterest
If you want to grow your blog in 2021, the blogging community and bloggers suggest that you'll want to leverage Pinterest to drive traffic to your blog.
So, ready to pin? Follow my Pinterest and let's get the pinning party started! #bloggergoalz
Share the Pinterest LOVE – Pin This Post if You Found it Helpful
If you found this post on Leveraging Pinterest to Grow Your Blog in 2021 helpful, will you please consider pinning it, sharing it, or tweeting it? Or drop a comment below? Thank you so much for reading and sharing the love! 😉
Follow Julie on Social Media! 😉