Do you dream of finding a way to live or move abroad? Given recent political and world events, my social media feeds have blown up lately with posts or comments discussing how to live or move and work abroad.
As a blogger, I am required to disclose that this post might contain affiliate link. This means at no additional cost to you, I may earn a commission if you click through on a link and make a purchase. You can read the full disclosure here. Thank you so much for your support and readership.
"I want to move to Canada."
"My dream is to move to Italy." (And maybe buy one of those 1€ homes).
"I want to start over…completely…I'm ready for a big change and think moving abroad is the answer."
"I want to move abroad, but I have no money."
A lot of people dream about moving, but not a lot do. Fear stops many people. But it doesn't have to stop you.
You can live or move abroad.
Can You Live Abroad?
Before I started living a travel lifestyle, I once believed that you couldn't live or move abroad unless you were a citizen of that country, married to a citizen, or going to school as an exchange student. I don't know how this idea got stuck in my head, but it was there.
The more I traveled, and the more people I met, I soon learned that there are ways to live and move abroad. And most importantly, that life abroad is a feasible option for most, provided you are willing to put in the effort to making your dream happen! It wasn't long before I, too, started researching and planning for my own serious life adventure abroad.
Each country has its own laws with respect to welcoming visitors from another country, lengths of permissible stays, and requirements for working or living in the country. It's imperative that you follow those rules and don't overstay any visa or authorizations you have to stay or you could in theory face serious consequences, such as being banned from the country.
You can live abroad. It is possible. I know. I made it happen.
Before I had children, I knew I wanted to raise bilingual kids. As my oldest entered her homeschool high school years, I knew it was now or never. If I wanted to live or move to another country the timing was now. I ordered the book, Living in France Made Simple, shortly after it came out. I then lost it for about a year, having not even cracked the cover.
Go figure, that book was tucked away in a pile of old children's books. As a side note, which is totally irrelevant, that book has such a velvety-smooth cover…and I was so relieved when it resurfaced in my house about a year later looking completely fresh and brand new–like it was meant for me to find it then, as if the timing was then right to seriously think about living abroad. The book, by the way, provides a short and sweet, yet quite relevant overview of details of living in France.
By the time I found the book again, I had made up my mind to take full action on my dream. If you'd love to live or move to France, I also recommend the book Living and Working in France: A Survival Handbook. It covers a lot of relevant subjects, and most importantly, teaches you a lot about what you need to know, such as health insurance or driver's licenses and how it all works.
Why Live Abroad?
Everyone who decides to live abroad has his or her own reason for making the move. However, here are some popular reasons people choose to live abroad:
Work opportunities
Educational opportunities
Cultural opportunities
Learn a new language
Country more aligned with political, personal, or cultural interests
Environment
Better health care
Family
Relationships
7 Ways to Live Abroad
1. Travel on Your Passport
Generally, a valid passport issued by your home country will allow you to travel to another country for a certain period of time. When you know where you want to go, you'll have to research and figure out what you need to visit. Is a passport sufficient or do you also need a visa to go with your passport or other documentation. For example, when I went to South Africa with my children, I had to bring along copies of their birth certificates, in addition to their passports. Go figure, right?
Depending on your nationality, you may be allowed to stay a good length of time in another country–and enough time that will allow you to live like a local (even if you are really there legally as a tourist).
For example, if you are an American passport holder, you could in theory live in certain European countries that are within the Schengen Zone for 90 days in a 180 days period. However, just because your passport allows you to travel to those countries, it doesn't automatically give you legal residence or working rights. There are lots of people who own homes in these countries, but do not have any special authorization to live there beyond the time allotted by their passport.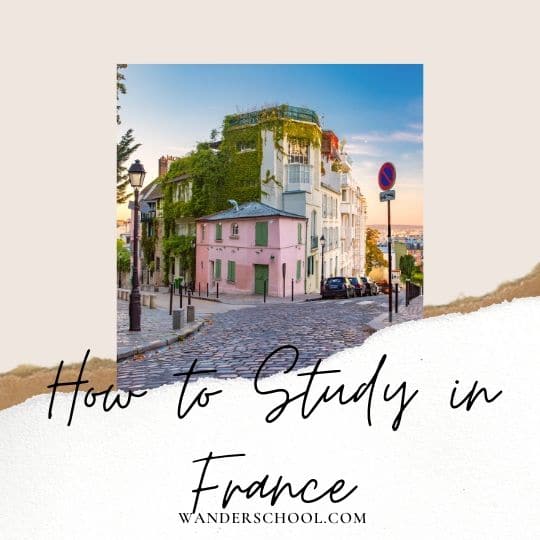 2. Become a Student
You could live in another country on a student visa by getting accepted at a university or signing up for classes at a language school (typically it must be a full, typically multi-week or month language program, and not just one short class). There are some terrific language schools and programs out there. Sometimes, the language schools even offer assistance to help you get your bearings in the new country, such as helping you open a bank account or get into the country's medical system.
You can also pursue a degree program. University degree programs, including master's degree programs, are generally quite inexpensive in other countries (compared to US schools). If you already have an undergrad degree, pursuing a master's in another country could be a great way to live in the country and possibly well beyond your academic study period.
Some countries open up longer-term residency options once you complete your degree. You'll have to jump through school application hoops and collect the documents you need to apply for a student visa, but this is a good option for living in another country. I've heard stories of people bringing along families too, while they study.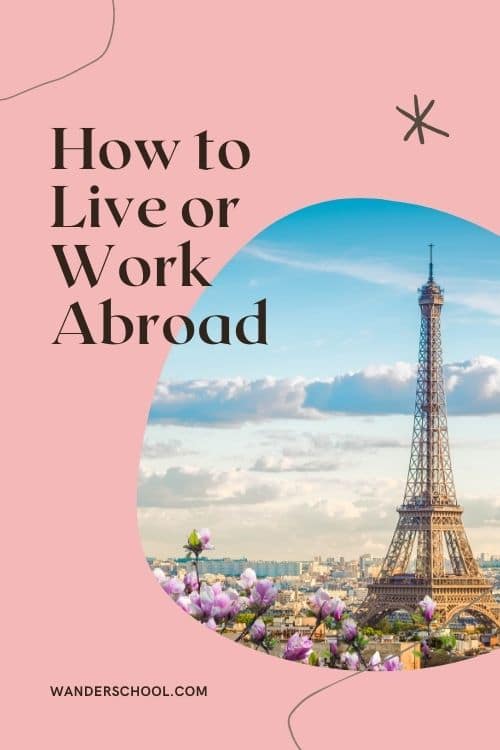 3. Volunteer Abroad
There are lots of opportunities available for volunteering abroad. Some volunteering opportunities are offered through formal organizations. Other opportunities can be found online through independent research. Some opportunities accept families. For example, Workaway is a popular site for volunteering abroad. You can research volunteer gigs, see reviews from past volunteers, and make direct contact with 'hosts' (people seeking volunteers).
Opportunities vary. I've seen posts by hosts seeking tutors for homeschooling kids in exchange for room and board. I've seen a host looking for help with a mobile coffee bar in exchange for unlimited free coffee and a small bedroom. There are other work exchange sites, such as WorldPackers, WWOOF, and Volunteers Base.
Keep in mind, even if you're volunteering you'll need to be mindful of the time allowed on your passport to stay legally in the country. Alternatively, you may need to obtain a short stay, volunteer, or internship visa, if offered through the country where your volunteer opportunity is based. As a word of caution, overstaying your visa could land you in a not-so-pretty spot. Just read nightmare stories online or scroll through travel Facebook groups if you are at all curious. 😉
4. Teach or Work Abroad
Teaching abroad, such as English / ESL as a foreign language, may be the perfect opportunity for you to live in a country of your dreams. There are teacher exchange programs and sites online where you can learn about opportunities to teach language and other subjects beyond language.
You can also work abroad in a permanent position with employer-sponsorship. Sponsorship allows you to obtain the proper visa authorization to live and work in a country. Sometimes you can also find employers in your own country who have offices abroad, which can give you opportunities to work outside of your home country. You can also job hunt for jobs abroad online using popular search engines or job websites.
5. Become a Nanny or Au-Pair
Many countries offer nanny or au-pair visas. These visas can give you a chance to live in or move to a country of your choice in exchange for child care or other family duties. Typically, these positions offer an allowance, stipend, and room/board.
6. Long Stay Visa
If you're serious about living in or moving to another country, consider looking into the long stay visa options offered by countries.
Many countries offer a number of long stay visa options. These options include short-stay visas beyond the terms allowed by passport travel, one year renewable long-stay tourist visas, entrepreneurial visas, golden visas for people willing to invest a certain amount in a country, and talent visas for researchers, academics, public figures/celebrities, and authors/writers. Sure, you typically have to gather tons of documents to apply for this type of visa and be patient with the process, but it is possible to secure a visa with the right planning and prep-work–and many allow you to bring along your family.
7. Retirement Visas
Retirement visas may be another option to live in another country long term. You don't necessarily have to be "of retirement age" to qualify.
Depending on the country, you may qualify regardless of your age. Of course, you'll have to meet the requirements, which usually involves having sufficient resources so you won't burden a country's existing resources. Like other visas, you have to find out what the requirements are in the country where you intended to work and jump through all of the hoops.
Make the Move
There's a lot to think about if you're serious about living or working abroad, and navigating the visa process (if you elect one of those options). Also, some people hire immigration attorneys to help them with the process or get help from employers (or universities). Many people, though, opt to do the process alone, thanks to online resources that can help them navigate the process.
A good first step is looking up the consulate for your desired country in your home country (find the office closest to you). You may find the information you need, including visa application checklists, how to apply, and other information right on the consulate website.
Having gone through an extensive visa application process on my own for myself and my children, I can tell you it is possible to obtain a visa that will let you live and move to your dream country.
Dream Big, Julie
Follow Julie on Social Media! 😉
P.S. If you plan to live or move to another country, drop a note below and tell me about your dream destination. And tell me about your live or move plans! Oh, if you're worried about affording your dream, here are 22+ ways to help make it possible and 37+ More.