Welcome to Wanderschool! Wanderschool is the school for travelers.
Wanderschool is a travel lifestyle blog for anyone who loves to travel, but especially for families and solo parent travelers. If you hunger for a full-time travel lifestyle, more travel or more adventures in your life, you've come to the perfect spot.
The Wanderschool blog has resources and helpful information for you to discover the travel lifestyle, travel with kids, digital nomad living, outdoor adventures, and schooling on the go–unschooling, homeschooling, roadschooling, and worldschooling.
Inspire the Travel Lifestyle – With Kids, Solo Parent Travels, Solo Travelers
Wanderschool was designed to inspire your travel adventures with kids, as a family, as a solo parent travel, or as a solo traveler without children in tow. You can learn more about how it was started over in Meet Julie, From Wanderschool.
The blog aims to give you resources you need for living the travel lifestyle, while soaking up homeschooling, unschooling, roadschooling, worldschooling, and coffeeshopschooling adventures.
Wanderschool is for you if you want to discover:
How to live a travel lifestyle
Where to begin your travel lifestyle research
How to start a career as a digital nomad
How to save money and make money for your travel dreams
What you need to do to learn about homeschooling, unschooling, roadschooling, or worldschooling
How to work, play, live, and school anywhere
The world is the most incredible, epic classroom.
The world is our classroom. We hope it is yours, or becomes yours too. Learn about Julie and her unschooling, roadschooling, worldschooling, and wanderschooling family over at Meet Julie, From Wanderschool.
We hope you'll come to see the Wanderschool Blog as a resource for helping you on your travel lifestyle journey and adventure. Use it for support. Use it to help build community. Drop by as often as you wish.
"Children learn what they live. Put kids in a class and they will live out their lives in an invisible cage, isolated from their chance at community; interrupt kids with bells and horns all the time and they will learn that nothing is important or worth finishing; ridicule them and they will retreat from human association; shame them and they will find a hundred ways to get even. The habits taught in large-scale organizations are deadly." – John Taylor Gatto, author of Dumbing Us Down
We are an unschooling, roadschooling, worldschooling family. We like to think of it as Wanderschooling.
Our family does a lot of wandering and exploring. We love to travel!
From living out of backpacks, to living in an RV, to camping in tents, refuges, or huts, to living in major cities, to living in mountains where we don't speak the language, we love to live the travel lifestyle! For example, In 2015, we toured the USA by RV and completed all 50 States of the USA. 1 Mom + 4 kids. Before that trip and after it, we've undertaken some epic adventures. When we're not out exploring we are often found at a funky or chic coffeehouse that's playing good music and has fast wifi. Read more in Meet Julie, From Wanderschool.
Let's connect via social media. You can follow the Wanderschool Travel Lifestyle Community Facebook Page, find us over on Instagram, or on Pinterest.
It's my hope that we can help inspire you and get you on the road toward your dream lifestyle and adventure.
-Julie & Family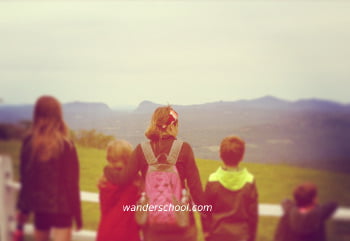 Follow Julie on Social Media! 😉
Related Posts You May LOVE