I've literally spent nearly a day of my life researching the best picnic backpacks for 2 people. I wanted to gift my daughter a picnic backpack for her casual mountain adventures in the Alps with friends.
Affiliate Links Disclosure: My posts sometimes contain affiliate links, which mean that if you click on them and make a purchase or sign up for an offering, I may earn a commission, at no added cost to you. I received no compensation for writing this post, and it reflects my own experiences, research, and opinions. You can read my my privacy policy here. Thank you so very much for reading my blog!
I knew she'd want a backpack (or sac a dos) rather than a traditional or modern picnic basket. A backpack would leave her hands free while she hiked or walked into a picnic location, or allow her to carry additional picnic gear.
In addition, in my research it was important that I found a fully-equipped picnic backpack with a dining kit. I figured, how hard could it possibly be to quickly figure out the best 2 person picnic backpack?
Umm… let's say I spent wayyyy more time than I ever imagined researching picnic gear. I searched Amazon.com, Amazon.de, Amazon UK, Amazon.fr, and Amazon Italy, etsy, Ebay, and too many direct online retailers to count.
In the end, I happily ended up going with the first backpack on this list. Note: the picnic backpacks are otherwise not arranged in any particular order.
The Best 2 Person Picnic Backpacks To Buy – Perfect for Solo Picnicking, Friends, or Romantic Couple Dates
This 2 person picnic backpack is available in four different colors. It comes equipped with an insulated cooler compartment, coordinated or matching picnic blanket, detachable wine bottle or beverage carrying compartment, and a dining kit. It is also available in a 4 person kit.
Dog Lion's Picnic pack features a leak-proof, insulated cold storage compartment and a tableware kit, which includes fabric napkins, salt & pepper shakers, wine glasses, cutlery, and a corkscrew. It also comes with a matching waterproof picnic blanket.
If you love Carhartt, you'll love this quality backpack cooler that has ample storage for you to bring your own picnic accessories or to pack your own picnic kit, like this separate
This 2 person picnic kit pack is constructed with strong, durable fabric. It features an insulated compartment that can keep food or drinks hot or cool for hours. Additionally, the Brubaker picnic backpack features a dining kit, including 2 plates, cutlery for two, 2 plastic wine glasses, and a bottle opener.

This All Camp 2 person picnic backpack comes in a few different colors, and has useful and practical features. These features include padded backpack straps, a cooler compartment, stainless steel cutlery, BPA Free plastic wine glasses, cotton napkins that coordinate with the pack, a chopping board to cut cheese and bread, and a bottle opener. It also includes an external wine bottle or drink holder and a picnic mat.
Share the love – Pin or Share This Best Picnic Backpacks
If this post is helpful to you, please consider sharing the love. Pin it. Tweet it. Share it. I really appreciate it! 😉 Happy Picnicking!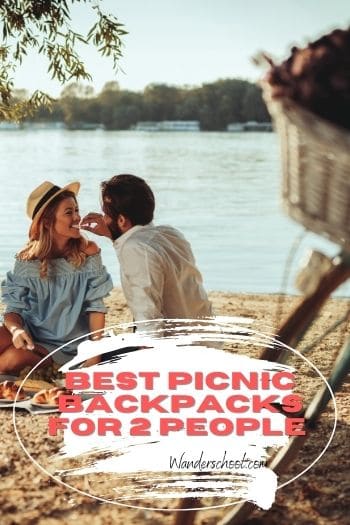 Follow Julie on Social Media! 😉
Of course, I'd love to hear from you. Drop a comment below. What features are most important to you in a best picnic backpacks for 2 people?
Related Posts You May LOVE