What is a digital nomad? And what does it have to do with designing your life, in order to create a life of your dreams?
Affiliate Links Disclosure: My posts sometimes contain affiliate links, which mean that if you click on them and make a purchase or sign up for an offering, I may earn a commission, at no added cost to you. I received no compensation for writing this post, and it reflects my own experiences, research, and opinions. You can read my my privacy policy here. Thank you so very much for reading my blog!
Digital Nomad Defined
Digital nomads are people who have designed their lives so they can work virtually anywhere in the world, provided they have Wifi. They are remote workers, who can live a travel lifestyle because of their work flexibility and technology.
As long as there's wifi, a digital nomad can work.
Digital nomads typically work in coffee shop, cafes, co-working spaces, libraries, public quads, and in some places through emerging "co-homing" setups.
What Do Digital Nomads Do?
Digital nomads work while living and enjoying a travel lifestyle!
How Do You Become a Digital Nomad?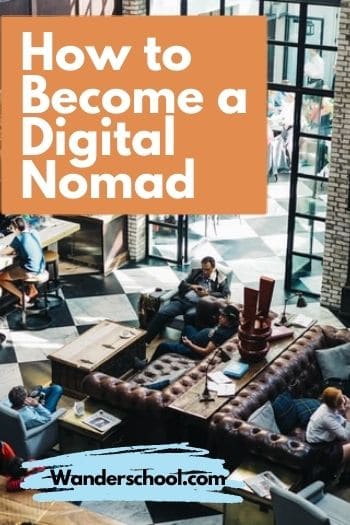 1. Learn More About Becoming a Digital Nomad
Research Everything You Can About Digital Nomad Life Read blogs, listen to podcasts, watch YouTube videos, talk to other digital nomads.
Read books on Digital Nomadic Living, such as Digital Nomads: In Search of Freedom, Community, and Meaningful Work in the New Economy or the Best Seller The 4-Hour Workweek: Escape 9-5, Live Anywhere, and Join the New Rich
Find more design your life resources in the Create Your Freedom Lifestyle Library.
2. Start Building a Nest Egg
You need to make sure you have money saved before you take the digital nomad plunge. This is especially important if you are starting a new business that will support your digital nomadic lifestyle. You'll need to rely on this saved money! So, this step of saving is really important.
3. Think Minimalist – Cut Down on Expenses and Stuff
As part of your savings strategy and to prepare for a nomadic lifestyle, you'll want to make a plan to cut down on your stuff. And you'll want to cut down on your expenses. Think with a minimalism mindset.
For example, if you don't plan to stay ever in a home base (or for long), make a plan to let go of your apartment or sell or rent out your house. Some digital nomads make arrangements to AirBnB their home while they are away, so they always have a place to come back to when they wish, but also make money off of their asset while they are away.
Ditch services, plans, and subscriptions that you won't need when you're living the work-travel lifestyle. This might include getting rid of your gym membership, landline, and magazine subscriptions.
4. Set Up Your Finances, So You Can Access Your Money Anytime, Anywhere
If you plan to travel overseas, you'll want to make sure you have access to your money.
This includes making sure your credit cards are going to work internationally. Contact your financial institutions and let them know your travel plans to minimize surprises abroad or hiccups.
Check when your credit cards or bank debit cards will expire. You don't want to be working abroad and discover that you can't get cash out of an ATM because your bank card expired.
Preparing your finances also means making sure your phone number will be able to receive text messages abroad. I point this out because some people use VoIP numbers, like Google Voice, and may have trouble receiving SMS messages needed for account login. Be sure to check with your financial institution.
5. Check Your Passport & Any Visa Requirements
Before you book that flight, you'd better check your passport and make sure it's valid. Know when it expires.
You'll also want to check your destination to find out if you must obtain any visas – even as a digital nomad.
6. Get Healthcare Coverage
Make sure you've got health care coverage before you go. If you plan on doing any excursions, adventures, high risk activities or races, check to see if your plan will cover you. If not, you may need to take out supplemental health care coverage. Some companies offer health insurance plans specifically for digital nomads.
7. Take Care of Your Mail
You'll need a place somewhere on the planet to receive physical mail. Make arrangements with a friend, family member, or service to handle your mail while you are away.
Please consider sharing, tweeting, or pinning this post with anyone who might be interested in designing their lives and becoming a digital nomad.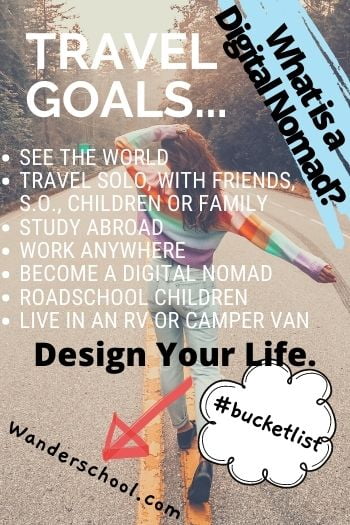 Of course, I'd love to hear your thoughts. Drop a comment below.
Follow Julie on Social Media! 😉