Do you want to teach English Abroad? Do you dream about teaching English as a Second Language Overseas? Or, maybe even tutoring or teaching English classes on Italki from the comfort of your home–or from your favorite coffee shop?
If so, if you're like other travelers who've shared the dream, you'll probably want to seriously consider completing a teach English Abroad Course or certificate program.
Affiliate Links Disclosure: My posts sometimes contain affiliate links, which mean that if you click on them and make a purchase or sign up for an offering, I may earn a commission, at no added cost to you. I received no compensation for writing this post, and it reflects my own experiences, research, and opinions. You can read my my privacy policy here. Thank you so very much for reading my blog!
And, like many degrees and diplomas, not all teach English Abroad certificate programs and classes carry the same weight.
So…. What's the best Teach English Abroad program?
And most importantly, what's the right teaching English certificate program for you?
Since you landed here on my blog, I'm sure you're dying to know. So, let's get to it!
The Best Teach English Abroad Courses and Certification Programs
1. TEFL.
Teach English as a Foreign Language (TEFL) with the accredited TEFL certificate program, such as that offered by TEFL. Org. You can also find TEFL / TESOL / ELT course offerings online through other educational providers, some offer longer or short course hour programs, and the costs vary widely.
The pros: (Tefl.org, example)
120 Hour Online Course
Considered one of the best TEFL courses in the UK
Convenient and AffordableYou might be able to find discounts or coupons online
TEFL offers fully online or in classroom options
You don't need a Bachelor's degree to take the course
Solid reputation
The cons: 120 hours requires commitment, but if you're serious about getting a certification, you'll have to put in the hours somewhere!
2. UDEMY
You can find a number of English as a Second Language (ESL) courses online through UDEMY.
The Pros: A large variety of language teaching courses to choose from, such as Teach Kids English and Be a Better ESL Teacher, and at low or reasonable prices.
The Cons: You may not get a certificate or qualification that employers want to see – to hire you. You'll surely learn valuable teaching skills, but the courses themselves might not easily convert to job opportunities or getting hired.
3. CELTA
The Certificate in Teaching English to Speakers of Other Languages (CELTA). This qualification is for teaching English as a foreign language and provides teaching techniques that can be immediately applied.
The Pros:
120 Hour Course
One online course option is offered through Cambridge English
Built-in teaching practice
You don't need a Bachelor's degree for a CELTA program
The Cons: Price. Some CELTA programs cost >$2,000 (prices aren't always transparent online). You can't start this program unless you're 18+. Usually takes 4-5 full-time weeks to complete.
How Do You Get a Teach English Abroad Job?
Consider joining social media travel groups, including Teach English Abroad Facebook groups, Expat travel groups, family travel boards, or solo women traveler groups where you can find exciting teaching job leads.
Also, many teachers and community tutors make money teaching on Italki or on Outschool.com, among other places.
Additional Resources
You can find tons of Teaching English as a Second Language Certificate Study Books and teaching materials in bookstores. But of course, my fav is Amazon.com for most books and stuff because I don't even have to leave the house to shop and new books titles appear regularly.
For example, if you are serious about finding a teaching job abroad, you might to consider getting your hands on a copy of A Guide to Landing an English Teaching Job Abroad …
or… English Teacher X Guide To Teaching English Abroad: Practical Advice for Surviving the Perils and Pitfalls of a TEFL Job (revised 2019 edition).
Share the LOVE
If this post was helpful to you, please share the love. Pin this post. Tweet it. Share it with a friend or your followers. I can't thank you enough! 😉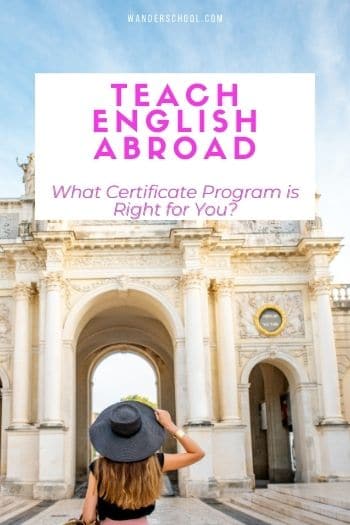 Please leave a comment below! I'd love to hear which certificate program has been most useful for you. Or, which teach English abroad program has best helped you land a teaching abroad job.
Related Posts You May LOVE