Roadschool (sometimes referred to as road school or roadschooling) is the ultimate family travel lifestyle adventure. It is the dream combination of family, travel lifestyle, and experiential education.
Affiliate Links Disclosure: My posts sometimes contain affiliate links, which mean that if you click on them and make a purchase or sign up for an offering, I may earn a commission, at no added cost to you. I received no compensation for writing this post, and it reflects my own experiences, research, and opinions. You can read my my privacy policy here. Thank you so very much for reading my blog!
Maybe RV Living or camper vans come to mind. Or family road trips across the United States or Canada in old family station wagons. Or little pull behind trailers in Europe.
I tend to think of roadschooling as homeschooling on the road.
Homeschooling While Traveling
Imagine a lifestyle where you can work and school your children on the road. Anywhere on the road. And while living in your cozy, comfy 'home' on wheels.
Imagine teaching your kids about the U.S. Constitution with a stop at National Archives in Washington, D.C. Or imagine raising traveling roadschoolers who love exploring the world, National Parks, museums, attractions, and beaches. There is nothing quite like seeing your children in love with learning and homeschooling while traveling.
There is also nothing quite like living a freedom lifestyle, with or without a travel itinerary or roadschooling schedule. Freedom to go wherever the wind blows you, if you so choose. Freedom to live, work, learn, and play in the same space with the world as a giant classroom, such as that the comes with homeschool RV travel life.
I know. I have lived the RV life. And I have lived the roadschool life while raising four children. But I'm not the only one. There are many fulltime families roadschooling and raising children on the road. Families who have chosen roadschool over traditional school. You can read about some of these family adventures on homeschooling blogs, including Wanderschool.
My Roadschooling Story
My kids have grown up learning on the road, in cars, planes, buses, trains, and subway cars.
We've done the ultimate road trip USA homeschool thing. We traveled to all 50 USA States as a full-time family on the road. The kids worked on math curriculum, read maps, and literature while I drove a 31-ft motorhome along highways and backroads of the United States. They spent months of their lives roaming national parks, attending camps, classes, and events, across the country, and learning how America lives.
And we've taken long and short European roadtrip adventures, learning on the road and making stops at The Louvre, the Dali Museum, and the Leaning Tower of Pisa. They've hiked in the Alps, bathed in hotsprings in Iceland, run up volcanic mountains, and sipped coffee before Edinburgh Castle.
And still there have been countless other roadschool adventures, including weekend trips and long stays, all while learning on the road – about academics, life, and the world. My kids have hung out in coffee shops, taking virtual classes, including online school classes at Outschool. They've met other kids around the world.
They've taken art classes and yoga classes in New York City overlooking the Statute of Liberty. And they've learned about Canadian history in Quebec City, followed by ice skating under the stars next to the city walls. They've learned how Teddy Bears are made at Vermont Teddy Bear Company. Oh, and they've learned how to check oil levels and tire air pressure – useful road school life skills.
How to Homeschool
Roadschool is generally considered a form of homeschooling. It's one of many approaches to homeschooling. There is no one way–or one right way–to homeschool. Every family takes its own unique approach. How you go about homeschooling depends on the laws of your State or Country. For example, in some countries homeschooling is illegal or there are looming risks to the legal status, such as proposed homeschooling bans. Speak with your state home education office if you have questions, the HSLDA, or a lawyer in your area if you need clear guidance on whether you can homeschool or roadschool–every situation is unique.
Advantages of Roadschool
Roadschooling can give children an education that is like no other. It can teach them about the world that can only be learned through experiencing it. In my experience, I can see the positive impact and rewards of roadschooling on my children's lives and personal development. They are ambitious and driven, passionate about learning, ready to take on anything that comes their way. They are highly adaptable, creative, and compassionate. And, they are kind, well-grounded, and deeply connected to people and places.
There is no doubt in my mind that roadschooling has prepared (and continues to prepare) my children for life. I certainly know it has made me a better, more patient, and open-minded parent.
Disadvantages of Roadschool
The downsides of roadschooling are few in my mind. However, they are definitely noteworthy.
Money
For starters, there's the obvious negative of expense. When you choose to homeschool, regardless of your approach or methodology, the financial burden falls on families. Sure, in some districts or states homeschooled students may theoretically be able to use school resources or take part-time classes or participate in after-school sports, but the day-to-day school expenses are for families to absorb.
Naturally then, families who roadschool shoulder the costs of schooling on the road. I've previously written about How to Afford Roadschooling. And when you're roadschooling there are other expenses beyond typical schooling at home expenses, like RV, travel trailer, 5th wheel, or campervan upkeep, gas, campground rental, national parks passes, tolls, tickets for attractions, etc.
However, as the approximately 1 million Americans who currently live in recreational vehicles likely know, RV living can actually cost far less than a house payment or monthly rent. For example, there are ways to Live for Free (or Nearly Free) in your RV. Some families sell everything they have, rent out their house, or give up their apartment (and put everything in storage) to live the travel dream.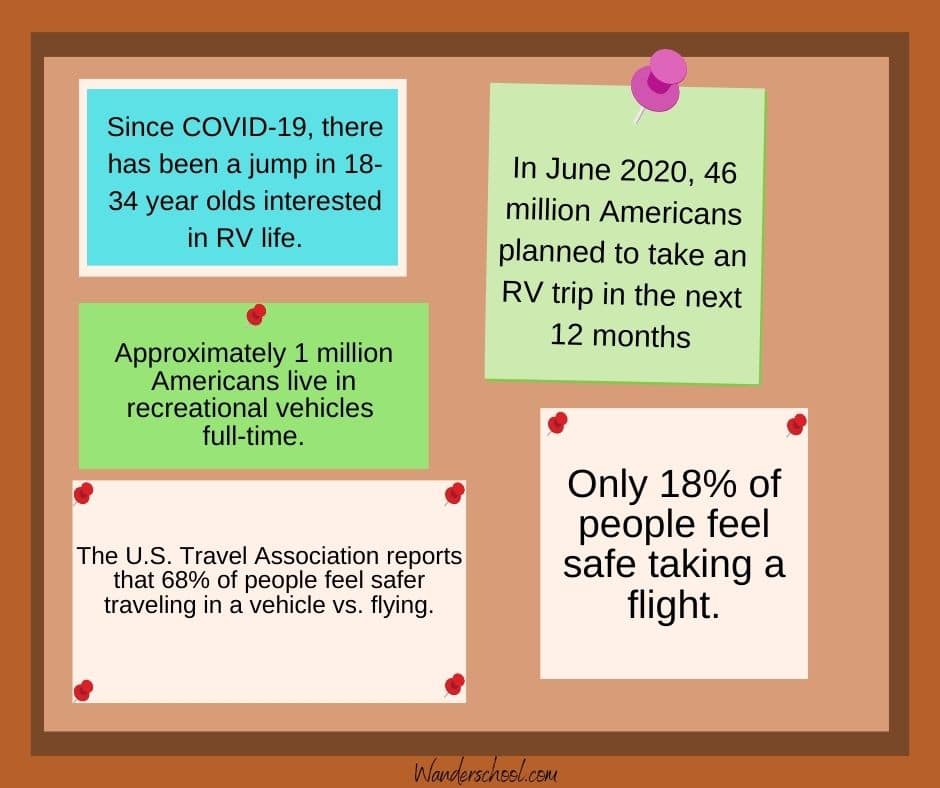 Small Space Living
For some, small space living and making the transition to living small is a negative. Personally, my family loves small space, minimalist living. When we spent most of a year living in our RV, though space was small, I felt we had everything we needed to live well–and to live easily. Plus, small space living gives children and parents opportunities to develop good communication skills and spend more time outside! I've previously written about ways to Maximize Small RV Space Living because I think it's a concern that can be flipped into a positive.
Will my Child Have Friends If We Roadschool?
Sometimes families wonder about the impact of a travel life, especially roadschool travel abroad, on children. What about instability? What about friends.
In my years of roadschool adventures and living, I've come to see that travel, new places, and new people, actually has a grounding and stabilizing efffect on my children. They've become extremely adaptable and flexible. They look forward to new places and embrace change. Sure, they appreciate staying put, too. However, they've come to understand that new places mean new opportunities, adventures, people, and friends.
As for friends, when you begin the roadschool life and spend time at campgrounds or meet other roadschoolers on the road (such as at meet-ups or conferences), you'll likely discover that there are many children and homeschoolers wherever you go.
Plus, thanks to virtual technologies like Zoom, Google Meet, Skype, or Discourse, children can get together with friends or make new friends all around the world (or stay in touch with them back home). Outschool, for example, offers teen and tween clubs, games, like Would You Rather and D&D, and hangout spaces via Zoom. Integrating meet-ups and online (or local where you happen to be) classes, events, or community activities can really add fun to your roadschool experience.
The Future of Roadschool
Between recent world events, major shifts to remote work, increasing interest in homeschooling, and RV statistics showing that RV ownership is becoming wildly popular with Millennials (and the current average male RV owner age is 38-55), it seems like a safe bet to guess that the future of roadschooling is bright.
Plus, as increasing numbers of people take interest in digital nomad living or seek improved work-life balance, it seems likely that more families will gravitate to roadschooling.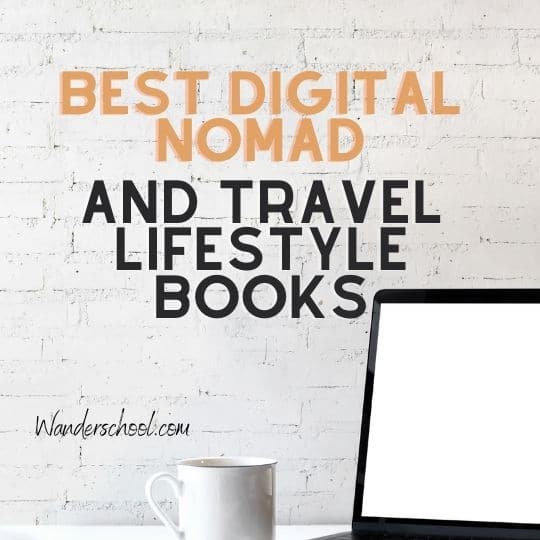 Share the Love – Pin & Share This #Roadschool Post
If you found this roadschool guide helpful, please share the love and pin it, tweet it, or share it!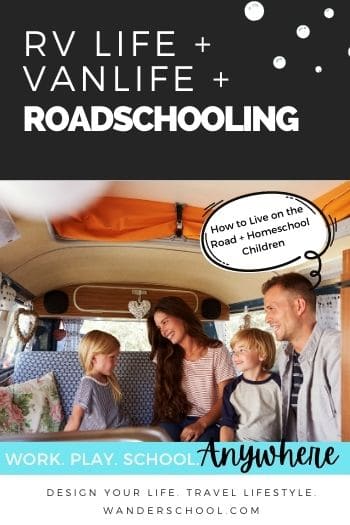 Are you already living the roadschool or digital nomad life? Do you want to be one of them? What are your pros or cons to roadschooling? What is holding you back from making the leap into the travel lifestyle? Drop a comment below. I'd love to hear from you.
Follow Julie on Social Media! 😉
Related Posts You May Love