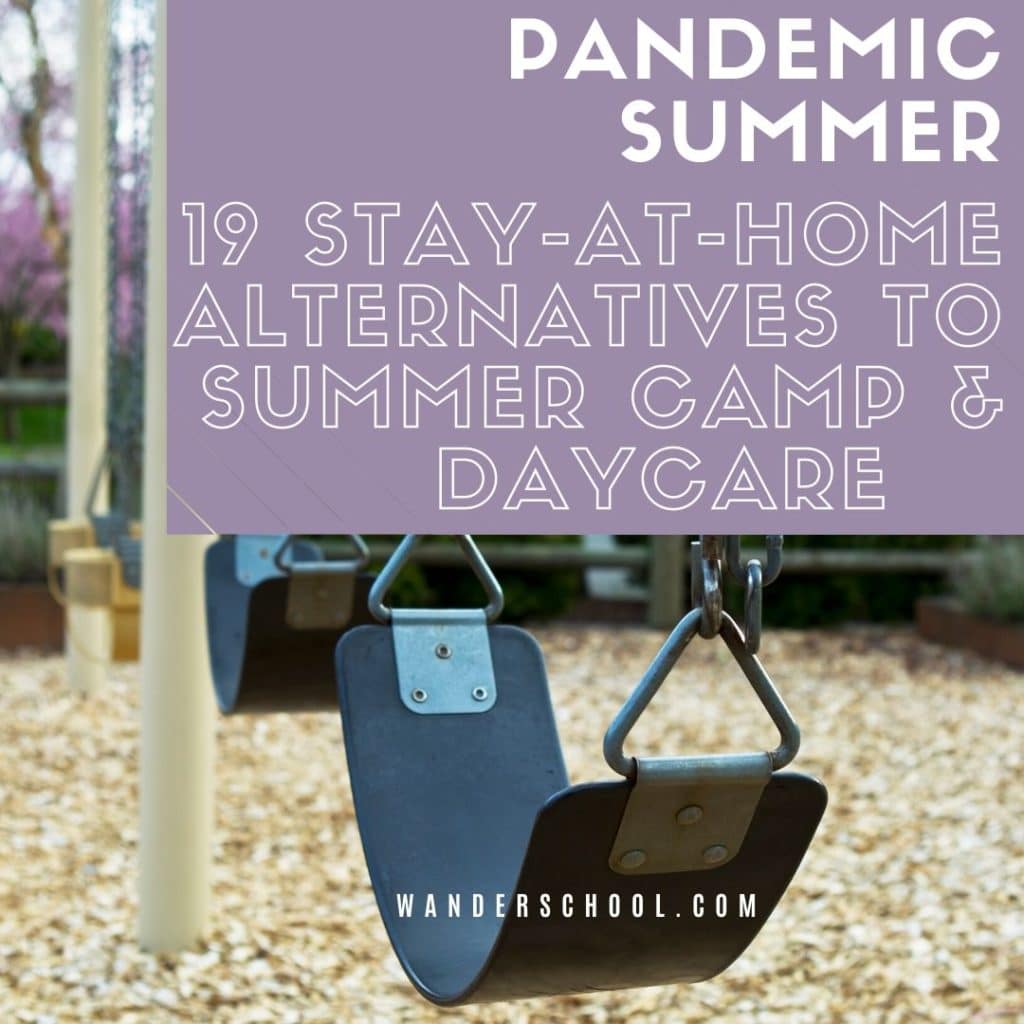 Are you desperately seeking COVID-19 Pandemic summer camp alternatives?
Summer camp or daycare cancelled because of COVID-19?
S-T-O-P! Don't freak out.
And definitely don't dread summer! It's possible to make it the best summer or staycation ever!
If you're worried about how to keep your kids busy, entertained, and engaged this summer, read on for some awesome, peace of mind ideas. This blog has got you covered on some great summer camp alternatives and enrichment activities.
Don't Dread Summer
Cancelled camps or daycare don't mean your summer has to be ruined. Really. Look at this as the COVID-19 Summer of Creative, Old-School Fun.
Here are 19 Awesome Summer of COVID-19 Pandemic Alternatives to Summer Camp
1. Summer Theme Weeks.
Bring summer camp home. Make summer fun by planning theme weeks at home. For example, Beach Week, 80s Week, Classic Rock Week, Camping Adventure Week, or Famous Musician or Actor/Actress week. The week can include dressing up, costumes, cooking food appropriate for the theme, listening to relevant theme music, and planning games or activities around the theme.
Shh…theme weeks at home this summer will also be a sneaky way of sneaking in some bonus learning into those precious minds.
Spend a lot of time or just a little planning the themes. Go overboard or keep it simple. Get your kids involved and ask them to plan weeks. (Sort of like spirit week at school). Your kids will love themed weeks and will eagerly look forward to the coming weeks! Watch creativity explode.
Here's a Sample COVID-19 Pandemic Summer Theme at Home Week

:
Theme: Oh là là! Travel to France
2. Have an 80s Summer Movie Marathon.
Watch EVERY SINGLE 80s Movies Classic on a List, like Harper Bazaar's 25 Best -80s Movies We All Need Right Now.
3. Buy a Swingset for the Backyard.
Sure swingsets are pricey, but if your kids are home all summer, they are worth the investment. You can find a wide range of swingsets and price points, from a simple traditional swingset to a Cadillac version. Find one deals on Amazon, at Costco, or DIY ones at box stores like Home Depot. Sometimes you can find used ones online like at Craigslist, but if you go this route, carefully inspect the set to ensure it is safe.
Small Yard Tip: If you don't have a lot of space or only a patio or porch, consider a swing, like a climbing rope swing or saucer swing.
4. Build a Climbing Wall.
Building a climbing wall for your kids or as a family project could make the perfect alternative to summer camp. Get some DIY climbing wall instructions and buy climbing holds. A climbing wall is sure to keep your kids busy for hours and help them release tons of extra energy. And they might just happen to develop a love of the sport. Take the project to a higher level by outfitting your kids with a legit chalk bag, chalk, and climbing shoes.
5. Make YouTube Videos.
As a family–or just your children–have them make daily videos documenting their COVID summer at home. Publish them to YouTube. If you aren't sure whether your kids should have a YouTube channel read, Should Your Child Have a YouTube Channel.
6. Start Hiking Together.
Hiking is an awesome way to get in shape, release stress, and have fun. Hiking with kids is tons of fun–and it's free! If you live near trails, you could plan to hike daily or several times a week – and make a routine out of it. If the trails aren't so close, you could plan hikes as weekend activities.
7. Start Trail Running Together.
Trail running with kids is the best! Adventure and fitness all in one. Perfect for all bodies, abilities, and shapes. You can make running an early morning or evening ritual. When social distancing ends, you'll be ready to sign up for races as a family, like community fun runs. Running is a great way to spend time together and make memories. Need more convincing? Here are 7 Reasons to Start Trail Running.
8. Learn a New Skill.
COVID Summer is the perfect summer for learning new skills at home. Your kids can learn computer programming, such as through CodeAcademy, or take online language classes. They can take online cooking classes, or online guitar classes with real performing musicians at NYC Guitar School.
9. Build a Backyard Obstacle Course or Activity Stations.
Build a backyard obstacle course or activity stations for your kids. Outfit the backyard with play tunnels, jump ropes, ziplines, slacklines, bubble making stations, agility ladders, bouncy houses or castles–anything goes. Make your backyard one big, non-stop activity zone!
I've pinned a bunch of backyard ideas and ways to make your backyard more fun ideas on the Wanderschool Summer Adventure Pinterest Board.
10. Take Classes.
Find fun and educational classes for your kids online, such as at Outschool. Older kids might take advantage of online pre-college offerings to learn new subject, beef up on academic knowledge or subjects. You can find a list of 450 Free Ivy League Courses here.
11. Virtual Museum Field Trips.
Spend days traveling to museums near and far, virtually. You can find links to popular museums with virtual tours in How to Recreate Travel at Home.
12. Family, Friends or Neighborhood Bake Off Competition.
With social distancing in mind, of course, plan a friendly bake-off competition. Challenge your family, friends, or neighbors to a bake-up. Make videos, Facetime, share photos, create a blog or Instagram account that showcases your baking efforts and those involved in the competition.
13. Start a Blog.
Encourage your older kids to start a blog to document their COVID Summer or one that covers something they are passionate about, like gaming or fashion. Or better yet, create a family blog that involves everyone. Who knows, it might just turn into a lucrative undertaking that pays for college. 😉
14. Vanlife or RVLife.
Consider a summer of life living in a van or RV. There are lots of ways to live for free in a camper van or RV. Many solo travels, couples, and families work remotely as digital nomads on the road and roadschool (homeschooling on the road) their children.
15. Join Online Meet Ups.
Get your children involved in online meet-ups. There are so many options, from book clubs to gaming clubs to photography clubs to gymnastics clubs. If the clubs meet by Zoom, your kids will have an opportunity to make and 'see' new friends, too.
16. Hang Out at the Library – Virtually.
Your child can hang out virtually at your local library. Many libraries offer free online access to book downloads and audiobooks. Some libraries have community programs planned, including online presentations, classes, and activities.
17. Get a Pet.
If your kids have been begging for a pet, COVID summer might be the perfect time to finally say yes. Why? Because your kids (and you) will be around more than usual to take care of it and train it. And, there are so many pets right now in need of adoption.
18. Volunteer.
Encourage your children to find online volunteer activities in your community or beyond. For example, a teen might find an organization seeking online help, such as researching, writing, or helping with social media. Bonus for your teen is the chance to put volunteer opportunities on college applications or resumes.
19. Hire Your Child.
Hire your child or teen for the summer. Need the garage cleaned out or want to need closets emptied. You could pay your tech-savvy teens to clean, organize, and/or list your old stuff for sale online, such as on eBay or Poshmark. For other home job ideas for your teens, check out 20+ Side Hustles where you might find an option suitable for their age, ability, and/or experience.
Make This Summer Your Best Summer Yet
Even if life isn't back to normal this summer, and summer camp or daycare are cancelled, you can still have the best summer yet. These COVID-19 Pandemic summer camp alternatives are sure to help you plan a memorable summer for your children.
It might actually turn out to be your child's best childhood summer–and one they talk about for many years to come.
Follow Julie on Social Media! 😉