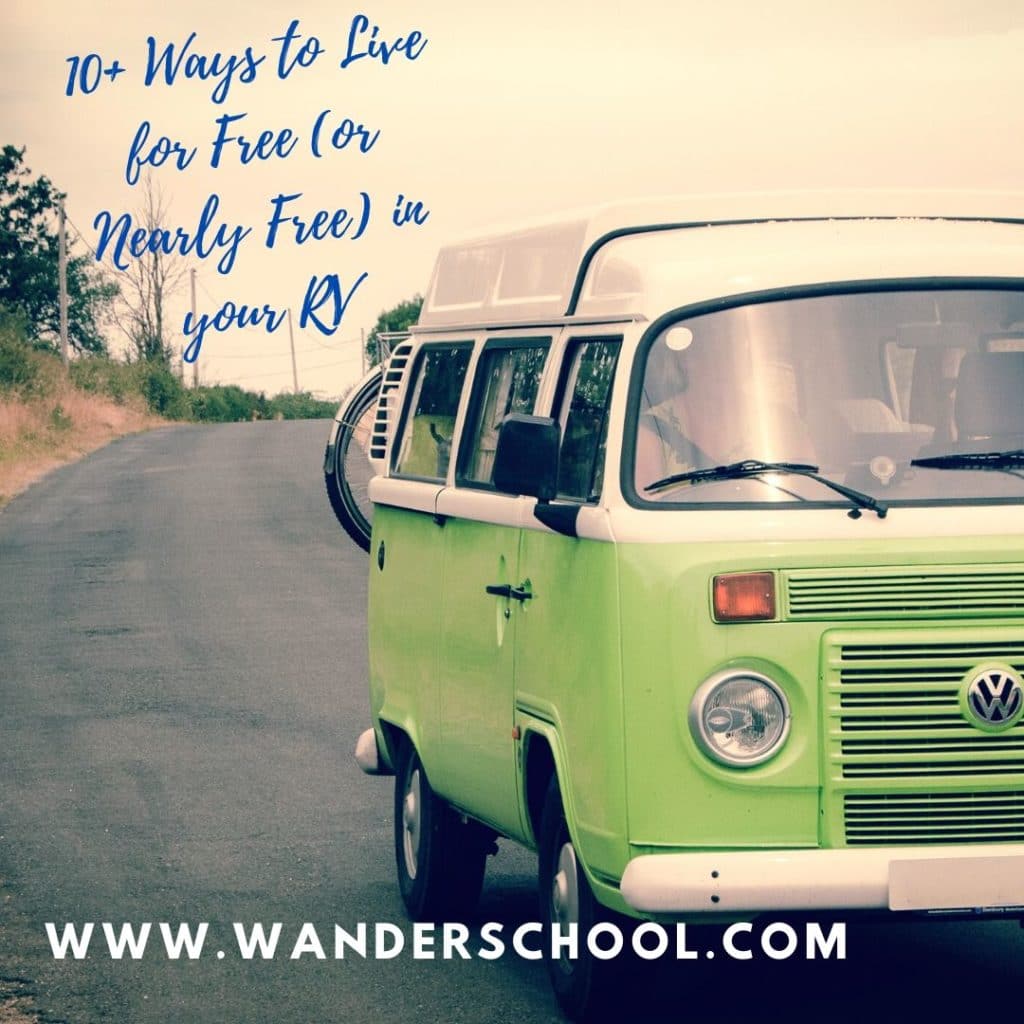 Can you really live for free or nearly free in an RV? Have you ever met someone who seems to live a non-stop travel lifestyle and it fires up your own wanderlust? Do you get jealous when your friends post about their travel vacations on social media sites and wish you were the one posting cool vacation pics?  Do you wish you could ditch your boring life for one filled with exciting adventures?
If you've answered yes to any of those questions, you should know that living on the road full-time in an RV (e.g., motorhome, fifth wheel, or travel trailer) could actually be significantly cheaper than living at a fixed location and give you a life of full-time travel adventure. Yes, you really can live for free or nearly free in your home on wheels!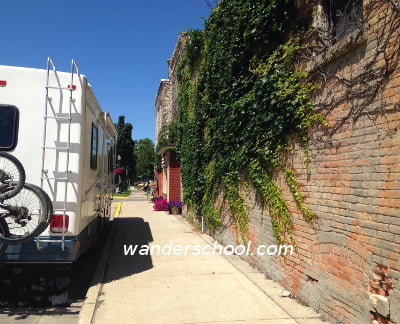 Here are 11 ways you can live for free or nearly free in an RV and travel full-time.
Workamping.  Workamping combines working and camping.  Individuals or couples who 'workamp' at some campgrounds can receive free perks or compensation in exchange for their time helping out at a campground.  For example, an individual who volunteers time and helps out with landscaping or works the registration desk on weeknights might receive a free campsite, free electric/water/sewer hookups, or free propane in exchange for their time.  Free perks such as a free campsite or free utilities could mean free or nearly free rent while you're living in your RV.
Boondocking, also known as dry camping, on The Bureau of Land Management Public lands (BLM).  Boondocking is living independently without amenities typically offered at campgrounds.  In the west primarily, there are 264 million acres of public lands which offer free boondocking opportunities.  If you want to travel west or already live in the west, boondocking on BLM land for free means you could put a serious dent in lowering your monthly living expenses.  The trade-off for living on this free land, however, is that you will need to find places to fill your RV water reservoir or devise a rainwater collection and filtration system, dump your black water (waste) tank, and generate electricity for your needs (generator or solar panels).
Overnight Boondocking at stores, parking areas, truck stops, or permissible rest areas.  With permission, select box stores, parking areas, truck stops, pull-offs, or rest areas permit short-term, overnight RV parking.  Stores and stops sometimes include Walmart, Cabela's, and Flying J's, among others.  The key is to ask permission before you decide to stay overnight.  If you see no camping or no overnight parking signs, observe the rules or else you could get a 1am knock on your RV door, towed, or worse. Here, I wrote about my first Walmart Boonbocking experience.
Camping in National Parks.  National Parks offer low-cost camping.  A limitation of National Parks camping, however, is that popular campsites can book up months ahead of time and you may need advance reservations.  There are usually restrictions on how long you can stay in one spot as well, usually 14 days.
Camping in State or Local Parks.  Staying in state or local parks, such as city parks, can offer low cost RV camping, sometimes as low as $13-15 per night.  Such stays can sometimes include utilities, but may also be limited to dry camping, but with common areas to fill your water tank or dump your tanks. There are also some parks that will allow you to stay for free.
Camping Club Memberships.  Camping clubs, such as Thousand Trails (TT), can be worth the upfront or monthly expense to join if you want to score cheap camping or keep your monthly camping site budget predictable, fixed, or low. For example, TT allows you to purchase zones, depending on where you plan to travel or camp.  With the purchase of a zone, members often get 30 days of free camping and then pay a few dollars per night after that to camp at a TT park.  The only catch with camping club memberships is that there can be restrictions and you will typically be locked into a contract. There are also other camping clubs, including Passport America, Good Sam Club, Escapees, and Boondockers welcome. 
Campground Card Discounts.  Certain memberships will earn you major or small campground discounts. For example, Good Sam or AAA membership can get you discounted stays at some campgrounds.  Other club members might get you 50% off weekly or monthly stays.
Deal Sites.  Sometimes cheap camping deals can be found on popular deal site websites such as Groupon.  Keep your eyes open for deals as they aren't always around, but when you see a deal offered you will want to jump on it!
Long Term Campground Stays.  Willing to stay parked at the same campground for a week, month, three months, or entire season?  At many campgrounds, the longer you stay, the cheaper your per night rate becomes.  Even better, utilities are often included in monthly stays, meaning for a low monthly rent you may be able to park your RV at a great site, and get electric/water and even cable included in your rent.
Exchange sites.  For a nominal annual fee, some online memberships, such as Harvest Hosts, allow you to park for free at farms or vineyards for an overnight or longer, in exchange for your small purchase at the farm or vineyard farmstand. Other membership online programs will allow you to boondock for free in another's yard or driveway, if you offer up your own yard or driveway.
Crashing with Friends or Family.  What are friends and family for, right?  If your friends or family are willing, you might be able to score free or nominal RV parking/rent for a short or extended period of time.  Drawbacks include having to deal with family/friends if there are issues about your stay or overstaying your welcome, lack of water/sewer connections or having to create them, and possible zoning issues depending on the location/town/city.
Other Related RV and Camper Life Reads:
>>> 10+ Must Have Gadgets and Gear for Your RV or Camper
>>> Buying a Motorhome as a Woman: Watch out for THIS
>>> Guide to Telework, Digital Nomad Life, Remote Work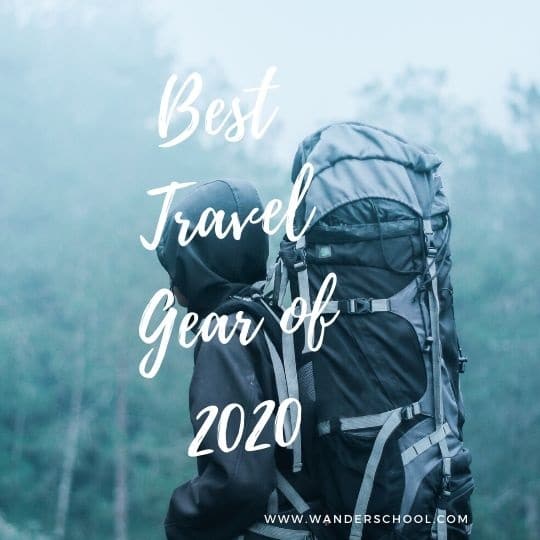 What else should be on this list of Where to Live for Free or Nearly Free in Your RV? Where have you found free camping during your RV journey or full-time RVLife or VanLife? Share your tips below in a comment.
Follow me on Instagram or Pinterest, and I will follow you back so I can follow your RV adventure!
Happy Wandering!

updated: 5/7/2020