When you're in love, you just want to shout out the news to the world, right? Well, that's how I feel about the guitar instruction my kids receive at New York City Guitar School in Midtown Manhattan.  And, so you know, I'm not receiving any compensation of any sort for this post.  I'm just a huge believer in giving shout outs for businesses that go the extra mile.
When our homeschool travels bring us to NYC, squeezing in a few guitar classes at NYC Guitar School ranks at the top of our city to-do list.  As a homeschooling mom of four, I've sat in/watched/listened to/interacted with a number of different music teachers and classes in many locations over the years–seeing first hand a variety of approaches, methods, styles, and teaching attitudes.  Not all teachers can teach.  Not all musicians can teach.  Not all music teachers can teach kids.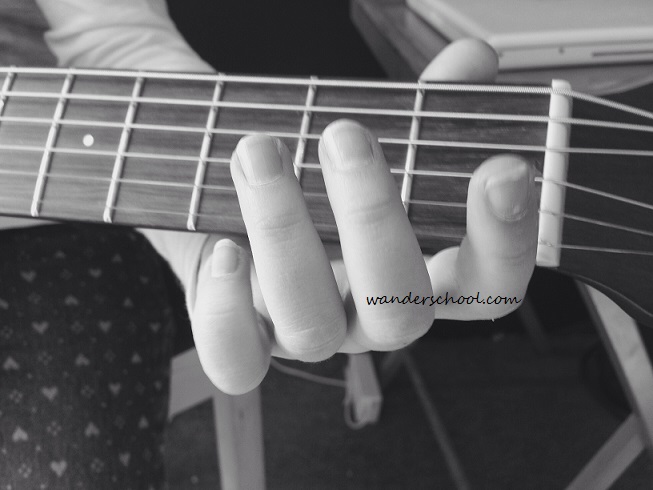 But at this school, where I sign my kids up for private classes due to our crazy, sometimes unpredictable travel schedule, I have found the teachers know what they are doing.
The two teachers my kids request, again and again, actually appear to genuinely like teaching kids. Their teachers are super patient and incredibly inspiring. After a lesson, my kids leave the school with the knowledge to play (even if lots of practice is needed) REAL songs, tweaked for their current ability.
For example, my little one worked on Katy Perry's Fireworks at a recent lesson. Tia, a gifted teacher, who can quickly listen to a song, pull out cords to transform the song into a simple version suitable for a beginner 7-year old, inspires confidence and keeps my kids eager to practice their instruments.  That makes hauling my entire crew to classes worth it.
The icing on the cake is that NYC Guitar's Founder, Dan, was homeschooled. Psst…he and his homeschooled sibs scored college scholarships, too.
If you're looking for classes for your homeschooler, or just passing through the city for a travel holiday, a class here might just get your kids hooked on music.
Happy Wandering! Happy Homeschooling!  Wander with us on Facebook.