You've just landed on my banking guide for digital nomads. Welcome! If you're interested in living the digital nomad life, it's my hope that this content makes your journey easier. Hopefully, a lot easier!
I'm glad you're here. And I hope you find useful information that makes international banking and digital nomad life easier.
Affiliate Links Disclosure: My posts sometimes contain affiliate links, which mean that if you click on them and make a purchase or sign up for an offering, I may earn a commission, at no added cost to you. I received no compensation for writing this post, and it reflects my own experiences, research, and opinions. You can read my my privacy policy here. Thank you so very much for reading my blog!
My Story
I get what it's like to live a digital nomad life. I've been living a travel lifestyle while raising four children for years. Actually, since they were babies. This means, I understand how exciting and overwhelming pursuing a digital nomad existence can be!
For example, I know how complex it can be to understand how to become a digital nomad. As well, I get how complicated it can be to understand remote work abroad. Not to mention, visa requirements (if applicable to your situation).
And things like the logistics of setting up a flexible lifestyle. You know, the nitty gritty details of life as a jet-setter. Of course, I also have an idea of the challenges that come with managing finances internationally. For example, understanding currency conversions and exchanges. And of course, knowing some of the important things to look for in a bank for the digital nomad lifestyle.
A Digital Nomad's Beginners Guide to Banking
When you're a digital nomad, sorting out banking is one of those things that must be done. After all, to live a travel lifestyle, you'll need to access your money. You'll need to make withdrawals, make deposits, transfer money between accounts, and check balances regardless of geography.
In this day, with modern technology, like WiFi, Apps, and Two-Factor Authentication, you'd think that International banking for a digital nomad would be a piece of cake. However, international life, work, travel, and banking abroad can be complicated at times.
And international banking can be expensive! Bank fees, like transaction fees and currency exchange fees, can really add up fast.
What is a Digital Nomad?
A digital nomad is someone who has a work from anywhere lifestyle. This can include remote workers. It can also include people who have location independent work. In brief, digital nomads can work from nearly anywhere, provided they have a decent WiFi connection.
A "Digital nomad" isn't a job per se. Rather, it's a lifestyle that allows someone to live a travel lifestyle and make an income while traveling.
Examples of popular jobs for digital nomads (location independent careers) include:
Virtual Assistant
Social Media Consultant
Computer / Technology Related Gigs, like Programming, Computer Security, Web design, Game Developers, App Developers, Tech Support or IT Technicians
Graphic Designers
Entrepreneurs – Business Owners
Recruiters, HR Assistants
Accountants
Project Management
Online Teachers (Read More: Where to Teach Online)
Consulting
Content writing
Freelance Writing
Blogging
Editing / Editorial Services
Resume Writing Businesses
Photography / Digital Editing / Videography
Affiliate Marketing – Sales
How to Get Started Living the Digital Nomad Lifestyle Dream
Wondering how do you become a digital nomad? Or, how do you take your remote work on the road? Learn how to live the digital nomad life by reading: The Best Digital Nomad and Travel Lifestyle Books.
And if you are in need of remote work or work from anywhere business ideas to begin your digital nomad adventure, be sure to read 37+ Side Hustles for Making Money Now from Nearly Anywhere.
Digital Nomad Banking Guide for Beginners
When it comes to living and working abroad, you'll want to look for a bank that fits your lifestyle and offers flexibility. You'll want to find the best bank for you and for your digital nomad life.
Things to consider in selecting a bank for your digital nomad lifestyle:
No or low fees
Easy to access account information, such as phone Apps with user friendly interfaces
Responsive customer service
Bank cards with chips and a PIN (especially useful in Europe and beyond)
Banking cards that allow for Contactless, No Contact or "Sans Contact" transactions
Low or no cost international transaction fees and currency conversion
Easy transfers
Allow VoIP technology or virtual numbers for phone calls or SMS texts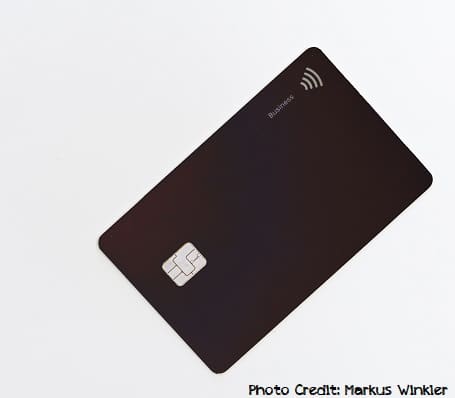 The Best Banks for Digital Nomads – Banking Guide for Digital Nomads
In no particular order, here are some of the best banks for digital nomads
Formerly known as TransferWise, Wise is a popular bank pick among expats, frequent international travelers, and digital nomads. You can read about my love and appreciation for Wise, and why I think it's a great money institution, here in TransferWise Rebands as Wise: Still the Perfect Banking Option For Travelers, People Living Abroad, and Digital Nomads.
Wise makes it easy to open an account. And it's free and fast, too. You can easily transfer and exchange currencies within your account, and keep different currencies at the same time (and only exchange them when you need to). This might just be the perfect borderless account.
2. N26
Headquartered in Germany, this Neo bank caters to people looking for the ultimate in banking flexibility and portability. Additionally, N26 offers accounts for freelancers. Bank by App. App available in multiple languages. Withdraw money anywhere.
3. Bunq
Offers a fully mobile banking experience for expats, travelers, and digital nomads.
4. Revolut
Headquarted in London, this finance technology company offers an easy and secure way to bank, move, receive, and withdraw money, and access funds.
5. Paypal
Who hasn't heard of Paypal, right? Allows you to transfer, pay for goods, utilize different currencies, and access money worldwide.
6. Payoneer
An international money solution for digital nomads. Send and receive money in different currencies. Bill clients. Easily transfer funds to your local bank account.
Share the Love – Pin This
Consider sharing the love if you found this Banking Guide for Digital Nomads helpful. Tweet it. Pin it. Share it. Bookmark it for later.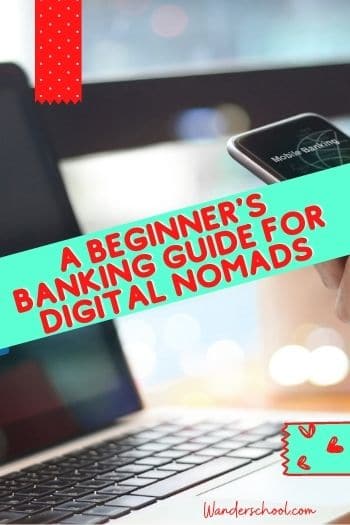 And drop a comment below and share your own banking experiences as a digital nomad. For example, what banks or banking tips have worked best for you?
Follow Julie on Social Media! 😉
Related Posts You May LOVE