Where to Teach Online
Dreaming about starting a teaching career online that will allow you to work and live anywhere as a digital nomad?
Then keep reading here! You're going to love this post.
It's jam-packed with awesome resources that will jumpstart your teaching career or teaching business.
Affiliate Links Disclosure: My posts sometimes contain affiliate links, which mean that if you click on them and make a purchase or sign up for an offering, I may earn a commission, at no added cost to you. I received no compensation for writing this post, and it reflects my own experiences, research, and opinions. You can read my my privacy policy here. Thank you so very much for reading my blog!
I'm going to walk you through some of the popular online sites where you can teach, launch a teaching career, sell courses, and get paid for doing what you love.
Why Launch an Online Teaching Career or Teaching Biz
One of the silver linings of the pandemic is that teaching online has become a bigger business than ever! People realize they can actually learn online, and they appreciate the flexibility and variety of courses and options out there to realize their own dreams.
And one of the best parts of an online teaching career? Teaching online means you can potentially work and live anywhere! For example, imagine where you'd take your life and family if you could work anywhere, living the digital nomad life!
LEARN MORE: What's a Digital Nomad?
But living the travel lifestyle is just ONE reason why a teaching career might be perfect for you! There are lots of other reasons to launch an online teaching business or sell courses online.
If you are passionate about teaching, here are some awesome reasons to consider teaching online:
Benefits of Teaching Online
Potential to work and live anywhere – location independent work!
Growing demand for on-demand and live online classes
Flexibility – set your own schedule, sell your own courses, work via your favorite teaching platforms
Money! – build a teaching career or business that allows you to maximize your income potential
Passive income! – enjoy passive income from online courses and related products, such as ebooks and digital products
Be your own boss – and ditch the 9-to-5
A career path compatible with digital nomad and full-time travel
It's never too late to launch a career as an online teacher on midlife dream!
If you dream about living life as a digital nomad or traveling full-time with your family, and are looking to launch a business to support your dream…maybe it's time to consider becoming an online teacher!
SUGGESTED READING: The 4-Hour Workweek: Escape 9-5, Live Anywhere, and Join the New Rich. Also Available in Audiobook via Audible.
Where You Can Teach Online: The Best Online Platforms for Teachers
If you love teaching or are passionate about the idea of creating your own business, you can create or find a teaching job online.
If you're eager and determined, you can find teaching jobs or start your teaching career or business online… TODAY! Seriously. With these popular online teaching platforms and online teaching sites, you can sign up as a teacher or build your own course, which you can market and sell.
Now, about that list…
Find the Best Online Teaching Platforms, Teaching Jobs, and Teaching Opportunities
1. Outschool.
If you love teaching children, Outschool is a great pick for building an online teaching career and generating real income. Outschool is one of my favorite homeschooler resources, offering online learning opportunities, classes, camps, and clubs for homeschoolers and children.
Outschool teachers use Zoom to offer live, interactive classrooms, teaching children from around the world. Your imagination is the limit when it comes to classes here, so use your expertise or experience to design a cool class for children, whether that's teaching a language class, how to tell time, stock market basics, yoga, or creating video gaming clubs.
2. Italki.
If teaching language is your thing, Italki is the place for you.
You can easily become a community tutor. Or, if you have a teaching credential, such as English as a Foreign Language certificate, elevate your earning and teaching potential.
READ MORE: How You Can Earn an English as a Foreign Language Teaching Certificate Online
3. Vipkid.
If you want to teach English and enjoy teaching children, check out Vipkid. This innovative online platform connects fluent English speaking teachers with students from around the globe.
4. Your Own Website or Blog.
If you have your own website or blog, or want to launch a site, you can offer online courses or sell learning resources, such as ebooks, directly from your site. You can also create your own website or blog grow your online presence and drive traffic to your online platforms.
LEARN MORE: How to Start Blogging
5. Teachable
Launch your course or class on Teachable. You can try Teachable for Free. I personally think this is a really nice platform for a student user.
6. Udemy
If you want to teach and get paid for what you already know, then check out the popular teaching and learning platform, Udemy. The plus, you earn money every time a student buys your course and you get paid monthly. If making money while you sleep sounds appealing, consider selling courses here.
7. UTeach
UTeach is a platform that can help teachers build websites for the teaching process. If you want to check it out, UTeach offers a free 35 day trial.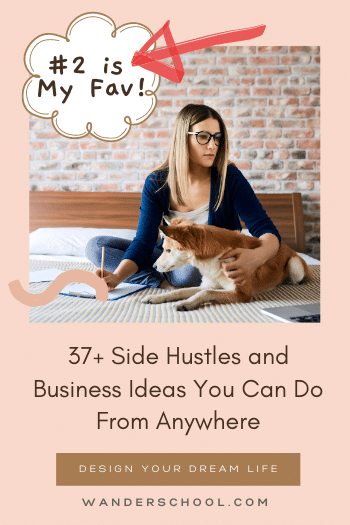 8. Tutor
If tutoring students is your thing, you might check out Tutor, a Princeton Review service, that vets tutors and offers tutoring in academic subjects.
9. BuddySchool
Another online tutoring platform, BuddySchool is another place where aspiring teachers and experienced teachers or tutors can grow a teaching career.
10. SkillShare
On its website, SkillShare says its top teachers make six-figures each year. You can teach classes on this platform and enjoy support to help you create classes that get noticed.
11. Teachaway
You can search for online teaching jobs at Teachaway. Search by job category, as well as learn about teaching certification programs.
Share the Love – Pin This Article
If you love this article and find it helpful for your own journey, please consider sharing the love! Pin it. Tweet it. Share it. I really appreciate it! 😉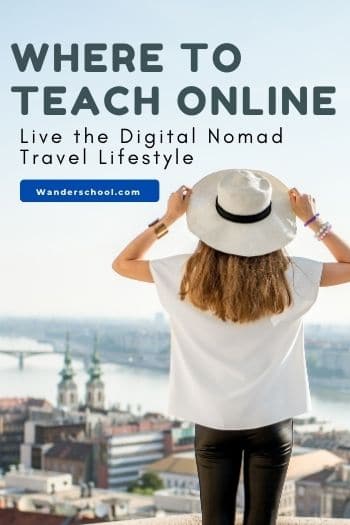 If you are considering teaching online or have launched your teaching biz, I'd love to hear from you. What are you teaching? Where have you found success teaching online? Drop a comment below.
Related Posts You May LOVE
Online Teaching Certifications That Will Allow You to Teach English Abroad
Countries That Offer Digital Nomads and Remote Work Visas
How to Become a Digital Nomad with Little or Few Skills or Experience