Virtual Phone Number Options for Expats & Nomads who want to make financial and banking life a lot easier overseas.
Are you trying to figure out the best virtual phone number options for international banking? If so, keep reading here. I've compiled pieces of my research and findings from my years of travel life in my own quest for international virtual phone number solutions.
Affiliate Links Disclosure: My posts sometimes contain affiliate links, which mean that if you click on them and make a purchase or sign up for an offering, I may earn a commission, at no added cost to you. I received no compensation for writing this post, and it reflects my own experiences, research, and opinions. You can read my my privacy policy here. Thank you so very much for reading my blog!
As you will see, I'm really focusing here on Americans living, working, or traveling abroad. However, I'm sure this info could also be useful to other nomads, travelers, and expats from other countries.
Ready to make your life wayyyyy easier and less stressful?
Let's go!
How do expats and nomads get a virtual number that rings anywhere?
When you're living or traveling abroad, having a phone number that allows you to access your financial accounts and bank anywhere is critical.
There's a good chance that you'll need to access SMS messages or banking codes sent via text messages. For Two-factor authentication — a pain, but a banking and travel security blessing, right? For account verification or bank verification codes. Or even for making changes or updates to your accounts, like your email address.
Here are some of your options.
Keep in mind, this list isn't exhaustive. I'm probably missing some clever ideas or solutions. And, please, if I am overlooking a phone number solution that could be useful to expats, digital nomads, or travelers living or working abroad, please drop a comment below and tell me what you think should be listed here.
However, these are some virtual phone number options and solutions that I've researched, heard other expats discuss, read about, or personally used over the years.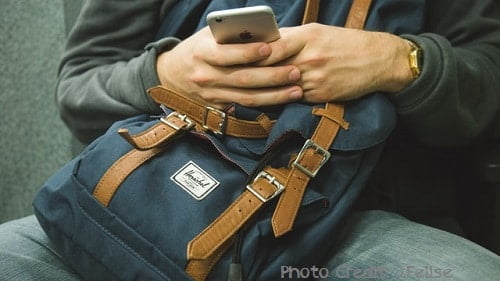 How to Get a US Phone Number Abroad
How can you get or keep an American Phone Number abroad? Here's that list.
1. Keep Your US Cell Phone Plan
Of course, you could always use your US phone number with your US cell phone plan, but let's be real. That can get expensive real fast!
Plus, if you only have one phone that doesn't have dual SIM capabilities, talk about a pain! If you also need a local phone number in your destination country, switching SIM cards in and out when you need a code is hardly the best or easiest solution.
Plus, depending on your destination, local phone plans can be pretty inexpensive and often include international calling and texting. So, this may mean you only really need a virtual US number that you can use for codes and account verification purposes.
Cons: The cost of keeping a US Plan. The inconvenience of swapping SIM cards. The possibility that your service won't work abroad or with reliability.
2. Get a Google Voice Number
Signing up for a Google Voice Number before you leave the US is probably one of the most popular options for banking oversees for expats and definitely my personal favorite for ease of receiving and making phone calls anywhere. You can port your ordinary cell number to Google Voice and keep your number.
Virtual Phone Number Options for Expats
This is handy not just for banking abroad, but also for keeping your travel life or new life abroad straightforward and smooth. With a Google number, you don't have to notify everyone under the sun or your friends or family about a new number each time you move or change places. They can reach you, as always.
If you're already overseas and need a Google number, don't despair, plenty of expats have figured out creative ways to get one. 😉
Cons: Some verification systems can't or won't send SMS texts to a Google Voice number. Google voice numbers are VoIP numbers and not true mobile phone numbers.
3. Get MagicJack
MagicJack is a solution that expats and digital nomads often talk about for easier banking overseas and communication. In a nutshell, you pay for a MagicJack device (currently $49.99 USD) which you can take anywhere and connect anywhere you have wifi or high speed internet to receive or make calls. You can even port your existing number. You get free calling to the US and Canada, and can take advantage of low international rates to other countries. Expats and digital nomads can also receive SMS texts.
Get the MagicJack Adapter
Cons: The cost. Also some people complain they can't always receive important SMS messages or short verification codes.
Share the Love – Pin or Share This Post
If you find this post helpful, please consider sharing the love. Pin it. Tweet it. Share it. I really appreciate it! 😉
Follow Julie on Social Media! 😉
How Do You Receive Text Messages Abroad?
What virtual phone options for expats, digital nomads, and travelers did I miss? Share the option that works for you. What do you recommend? I'd love to hear from you!
Related Posts You May LOVE
Countries Offering Visas for Digital Nomads, Remote Workers