Awesome Airbnb Host Tips That Will Make You More Money Fast
I love staying in Airbnb rentals when I travel. I've rented a lot of Airbnbs over the years. You see, I've raised my four children living the travel lifestyle.
I've been an Airbnb guest in beautiful homes, apartments, flats, and cottages around the world for various lengths of stays. For example, I once rented a tiny one room cottage in Scotland for one night, as my kids and I hiked a 100K route known as St. Cuthbert's Way. I once rented a gorgeous and massive villa on Airbnb in Spain's Canary islands for a week. And then there was a time when I rented a beautiful fifth floor Parisian apartment for a month. Most recently, I rented a lovely, and perhaps my favorite Airbnb ever, apartment in Provence, France for a long weekend.
Affiliate Links Disclosure: My posts sometimes contain affiliate links, which mean that if you click on them and make a purchase or sign up for an offering, I may earn a commission, at no added cost to you. I received no compensation for writing this post, and it reflects my own experiences, research, and opinions. You can read my my privacy policy here. Thank you so very much for reading my blog!
Be an Awesome Airbnb Host with These Superhost Tips and Hacks
In addition to renting many Airbnbs, I also have experience as an Airbnb host. Hosting can be an awesome experience and so much fun!
As I've previously written, becoming an Airbnb host is a great way to make money so you can live the travel lifestyle or become a digital nomad. It's also a cool way to meet new people and new friends from around the globe.
READ MORE: Earn Money for Travel with Airbnb
My Best Airbnb Hosting Tips
If you want to become a host, superhost, or simply have super reviews, these Airbnb host tips will help you get glowing reviews.
Reviews matter! Receiving rave reviews from your Airbnb guests means greater money making opportunities and potential for you! People generally want to rent Airbnb properties that have excellent reviews–and consistent, positive feedback.
READ MORE: Grab a Copy of the Highly Reviewed The Airbnb Playbook: Your Complete Guide to Start and Manage a Profitable Airbnb Business
Give Your Guests an Experience That Makes Them Totally Happy Guests
As you prepare your Airbnb rental property for a rental period, keep in mind that you want to make your guests happy.
You want your guests to have a positive first impression of your rental. As well, it's important that your guests feel from the get go that your listing accurately describes your place. In addition, you want to do what you can to ensure that your place offers what your guests need for the duration of their stay.
You want your guests to go home really happy and glad that they chose your rental. And definitely happy enough with their Airbnb rental experience that they want to leave you positive feedback…hopefully compelled to leave you a positive review.
10 Awesome Airbnb Host Tips & Aesthetic Hacks
1. Leave a Special Something for Your Guests
In my experience as an Airbnb guest and as an Airbnb host, guests love to arrive at a rental and discover a little gift. A gift from the local scene or culture is almost always well received. For example, maple syrup, local chocolates, local jams, a bottle of local wine, a basket of bread, or a little basket of fresh vegetables from your garden. Some Airbnb hosts even leave chocolate on the bed pillows. My kids love Airbnbs that allow them to discover chocolate on their pillows!
2. Don't Skimp on Toilet Paper
I once stayed at an expensive Airbnb in a lux European ski town, and arrived to discover that it only had one partially used roll of toilet paper. If you've stayed in Europe before, you know that European toilet paper rolls are small and don't last long at all. Especially if you are staying with four kids! So, rather than getting to relax and settle in upon arrival, I had to go grocery shopping before stores closed for toilet paper. Not a highlight. But definitely a point that sticks in my mind. Leave enough toilet to last at least a couple of days!
3. Make Sure Your Listing has TONS of Beautiful Photos and Accurately Represents Your Property
Go wild on photos. Take gorgeous, high quality photos that accurately reflect your rental. Highlight the best features of your property. Add the photos to your listing so your Airbnb listing glows. This helps ensure that there are no unexpected or disappointing surprises for your guests upon arrival.
For example, if you are renting out your old, rustic or primitive country farmhouse, make sure the photos show (and the description explains) that your farmhouse isn't some brand new, suburban replica. It's the real deal with all of its quirks, like uneven floorboards or squeaky stairs.
4. Provide Clear Directions to Your Place
I once stayed at a rental that seemed nearly impossible to find. Worse, I arrived late at night and there was little lighting or markings in the remote area. Don't expect that your guests will arrive with a working cellphone or wifi, especially if they are arriving from another country, and can easily call you for directions. Provide clear, detailed, and foolproof directions to your Airbnb place.
5. Stay in Touch with Your Guests
Check in on your guests during their stay. Ask if they need anything or offer to provide them sightseeing tips or tell them about an event or activity that is taking place locally that might be of interest. For example, if there is a free outdoor summer concert or morning farmer's market taking place during their stay, let them know. The little touches and personal connection can go a long way!
6. Be Flexible with Check-In and Check-Out Times
If you can have flexibility with your guests when it comes to check-in and check-out times, this can often really help go a long way toward happy guests and receiving positive reviews. Of course, if you can't accommodate an early check-in or late check-out, communication of this message in a kind and apologetic tone can show your guests that you understand their situation; letting them know that if anything changes on your end, you'll get them in early or allow them to check out late can help go a long way toward happy guests, too.
7. Stock Your Space with Books and Games
Beyond ensuring that your Airbnb place is sparkling clean, having it stocked with books, games, magazines, or entertainment extras can really add to the guest wow factor. For example, you might stock a bookshelf or closet with children's games, board games, playing cards, current magazines, or popular books.
8. Leave a Guide Book and Brochures
A neatly organized binder or guide book with local tips, information, and brochures can help your guests settle in quickly and help them plan an enjoyable stay. Of course, any personal tips or recommendations might also add to the happy guest factor. For example, if your guests love yoga, you might recommend a popular local yoga studio.
If you also have tricky to use appliances, entry codes, wifi passwords, or tv technology, coffee makers, etc. consider leaving detailed documentation on how to use them. Your guests will appreciate it!
9. Leave a Guest Book for Your Guests to Sign
For added charm, consider leaving a guest book for your guests to sign, to share their personal stay stories, and to read about other guest experiences from those who came before them.
10. Stock Your Rental with Quality and Useful Toiletries
Stock your rental with good toiletries. For example, you might leave shampoo, conditioner, tampons or sanitary products, paper towels, or nice hand soap or lotion. Nice toiletries can go a long way toward ensuring your guests are comfortable and happy during their stay.
Share the Love – Pin this Post
Please share the love and share this post. Tweet it. Pin it. Repost it. Share it with your friends or followers. I truly appreciate it! 😉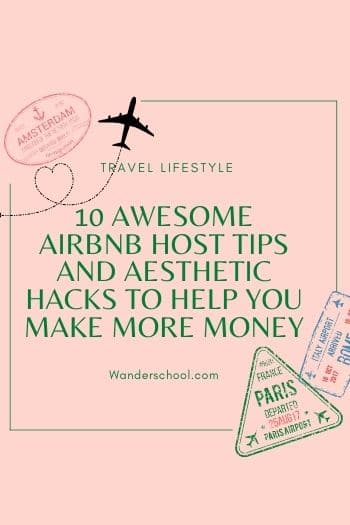 Of course, I'd love to hear from you too. Drop a comment below. What awesome Airbnb host tips do you suggest? What did I miss here?
Follow Julie on Social Media! 😉
Related Posts You May LOVE
Rent Out Your Place and Earn Money with Airbnb
37+ Side Hustles to Make More Money From Almost Anywhere
How to Become a Digital Nomad with Little Experience or Skills