Rarely do people talk about the dark side digital nomad life. But I'm going to pour my heart out here.
Affiliate Links Disclosure: My posts sometimes contain affiliate links, which mean that if you click on them and make a purchase or sign up for an offering, I may earn a commission, at no added cost to you. I received no compensation for writing this post, and it reflects my own experiences, research, and opinions. You can read my my privacy policy here. Thank you so very much for reading my blog!
What??? Is there Really a Dark Side to the Instagram Picture Perfect Digital Nomad Life?
Living a location independent life sounds pretty mind blowing, right? Maybe it sounds even more incredible if you're able to work, play, and live anywhere with a family in tow.
READ MORE: What is a Digital Nomad?
So, what's the catch?
What's this so-called dark side to the picture perfect digital nomadic lifestyle?
What could anyone living this lifestyle possibly have to complain about? An AirBnB lacking in plush towels? A malfunctioning air conditioner in a luxury hotel room? Not enough foam on a latte in a coffee shop in the Alps? Living life as a jet-setting, coffee shop hopping, successful entrepreneur?
In all seriousness, there are dark and not-so-glamorous elements to living life as a digital nomad.
Let me tell you about one aspect of this adventure travel lifestyle: the emotional pitfalls.
Emotional Pitfalls of the Digital Nomad Life
Imagine this.
It's a late February night. The kids are sound asleep.
But I'm not. I'm wide awake. I'm scheming. And researching. I'm planning.
But above all, I'm mega overthinking our next Wanderschool, epic travel adventure.  I know it's going to be good. Fabulous, hopefully. That is, if and when, it all comes together. I'm over-the-moon excited.  I can't wait to spill the beans.
Yet, despite the thrill and excitement, and the feeling that I want to jump out of my skin, there is a darkness. A feeling. A thought. That somehow, without fail, tries to squeeze into the adventure planning.
Reality.
Reality: The Destabilizing Effect
Despite the best laid plans and careful consideration of every possible detail or scenario, the reality of the digital nomad lifestyle is that it is destabilizing.
Packing it all up and moving on to a new place presents a very real, though short-lived destabilizing effect. Even if you can't wait to go to the next travel destination. Even if you are psyched about your next project in a new city.
My Experience with Children
When planning extensive travel, I've come to know what, for lack of a better description, seems to be a very real, though usually short-lived, destabilizing effect.
An anxiety of sorts that emerges with the reality that "I'm really going to do this crazy travel plan!" An excitement mixed with a fast shot of OMG… "what am I doing?" "What have I done?"
Eeek… "Am I making the right call?"
Lingering from somewhere behind all the exhilaration, pops the sudden realization that I'll soon be packing my backpack, running-workout clothes, cute shoes, books, clothes, and gear for the kids, and toiletries, and saying goodbye to my home base and everything familiar for an often lengthy period of time.
Trading in the familiar, including routine, faces, family, friends, for the unfamiliar open world is exciting. It's adventurous and enlightening. However, there's a real emotional impact. And it's not all pretty.  
Uncomfortably-Comfortable Travel
When you travel often enough, a strange familiarity and comfort with destabilization emerges. There's a knowing that loss and grief are on the horizon of every trip. An inevitable saying goodbye. The tucking away a life that once was, even if only temporarily, into a box in your heart.
And a letting go of important people and relationships, even if only in physical distance. Recognizing that this lifestyle means that the people you adore, appreciate, or admire the most, you may not see for months, if not longer.
And sometimes there's an awkward discontent or acceptance that despite your planning and sound logic behind your decision to head to another destination, you don't really know what you're really getting yourself into. Leaving a once unfamiliar, strange place that somehow transforms into a predictable, safe haven of sorts can feel like a cozy nest. And leaving can feel cold, unsettling, and scary unpredictable.
Whenever the destabilizing feeling rears its head, for me, it's without fail the same as the first time. And it is nevertheless unsettling. Sometimes it's feels frightening.
The Adventure Begins
But then the travel adventure starts. And the destabilizing effect is no longer. Sometimes it's gone as quickly as it arrived, and doesn't show up again until the time comes to move onto a new place or adventure.
That, Ahh, I feel much better.  
No one ever said leaving the comfort zone is easy.  But the adventurous magic that awaits is priceless.  
Thanks for the vent.  It's all good.  Back to planning the next adventure….
Share the Love – Pin or Share This Digital Nomad Travel Post
If you enjoyed reading this post, please consider sharing it with your friends or followers. Tweet it. Pin it. Share it! I really appreciate it!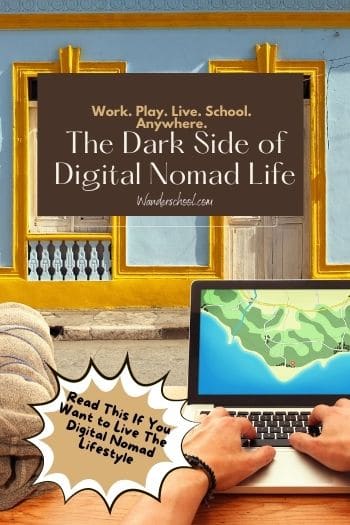 Follow Julie on Social Media! 😉
Of course, I'd love to read your thoughts. Please drop a comment below on the dark side of the digital nomad life.
Related Posts You May LOVE: