Transferwise rebrands as Wise.
TransferWise just got Wise. Maybe a lot wiser.
Affiliate Links Disclosure: My posts sometimes contain affiliate links, which mean that if you click on them and make a purchase or sign up for an offering, I may earn a commission, at no added cost to you. I received no compensation for writing this post, and it reflects my own experiences, research, and opinions. You can read my my privacy policy here. Thank you so very much for reading my blog!
TransferWise, the London-based financial technology company that has a niche–or let's say, a knack–for international banking and multi-currency money transfers, recently rebranded as Wise.
The company may have a new name and a new look, however, it remains the perfect international money-moving institution.
Though Wise is not officially a bank, but more a financial technology powerhouse, it's wise beyond the others. And, it's without a doubt, my favorite and preferred way to deal with money transfer and conversion for travel life abroad and expat living.
Wise is also a leading pick among other travelers, expats, international students, freelancers, digital nomads, and worldschooling families.
How do I know? Because I see Wise referenced again and again in expat circles and social media groups. I also personally know expats who use Wise. And, I am a very satisfied Wise user!
My Wise Experience
As a worldschooling family, Wise (formerly TransferWise) helps me easily and quickly transfer money internationally or send money abroad.
Like that time I needed to transfer a lump sum of cash to quickly buy a car. Wise makes it easy to send large amount transfers abroad.
I've also found Wise to be affordable for international money transfers involving different currencies. Really, the cheapest way to transfer money internationally. And definitely, the best way to send money abroad.
Wise comes in handy on the personal front, but also for business and working with clients in different countries who pay for goods or services in different currencies. But also to send money abroad, such as to make payments.
Similar transfers with ordinary brick and mortar bank are impossible or outrageously expensive. Banks that do international transactions normally charge a lot in transaction fees for overseas transfers.
Why Use Wise
Wise makes it super easy to send money to yourself. Wise also makes it easy to send money to other people anywhere in the world.
But perhaps most importantly, Wise eliminates any surprises of hidden fees in currency exchange, exchange rates, or transactions.
No Hidden Exchange Rate Fees
Unlike many banks and financial institutions or companies, Wise doesn't hide fees in exchange rates.
Wise is transparent.
This eliminates unexpected surprises for customers. For example, Wise always uses the mid-market exchange rates and charges low, upfront fees. The result is that using Wise for international transactions is up to 8 times cheaper than using a traditional bank.
Easy To Open an Account
It's easy to open an account with Wise.
You do everything online. So no need for appointments. No need to talk to anyone over the phone. Typically, the process to establish an account only takes 2 days. You do have to provide your official ID and any requested supporting documents, like proof of address, to set up your account.
As someone who has experience opening bank accounts in different countries and knows how challenging it can be as a foreigner or expat, Wise definitely makes life much easier.
Hold Multiple Currencies in Your Wise Account
Wise allows you to hold 50+ currencies in balances in your account. Wise also has saving "jars" so you can allocate money into jars so you can better budget or plan your money spending.
You can even set up direct payments directly to your Wise account.
Easy Currency Conversion
It's a breeze to convert currencies in your account, too. In a matter of a couple of clicks, you can transfer money from one currency to another. For example, from U.S. Dollars (USD) to Euros. And the best part? The conversion fees are low. In my experience, among the lowest I've found. And gee, I love to research ways to save money so I can travel more! 😉
Fast Transfers
Wise transfers are speedy. Over 30% of transfers with Wise arrive instantly! And get this, 53% of all transfers arrive within an hour and 81% of all transfers arrive within a day!
Seriously, it always amazes me to see how quickly I get notification of a completed transfer after I've initiated one with Wise.
Get International Bank Details
Now, this is probably one of my favorite features of Wise.
Your Wise account gives you bank details so you can receive currencies such as EUR, GBP, NZD, and USD with no fees. You actually get banking credentials, like an IBAN (used in Europe) to easily transfer and receive money. In Europe, for example, this makes life SO much easier when it comes to transferring money and making any payments.
How These Banking Details Work For You
Here's an example of how Wise banking details work for you, make transfers easy, and keep costs low.
When my teenager needed me to make payment to a language school abroad that only accepted payment in cash or via bank transfer, I confidently relied on Wise to convert my cash and promptly send it to the school.
With Wise, I was able to transfer funds from my US bank to Wise, without any wire transfer fees because I used Wise's USD bank details. The transfer to Wise was effectively like an electronic withdrawal/deposit.
I then converted the USD to Euros in my Wise account. Keep in mind, Wise allows you to keep your cash in the original currency or convert it (all of it or partial conversion). I then used my Wise European banking details to send payment to the language school using IBAN numbers.
The result? Easy peasy money transfer across borders.
Wise Debit Card
You can also get a Wise debit card for your account (depending on your location). You can then use the card to spend money with low fees.
Safe and Secure
Wise is a regulated company in the UK. It's regulated just like any bank by financial authorities in countries where it operates.
Wise also holds itself out to follow high security standards to keep your personal information, money, and transfers safe. Millions of people use Wise. And, I think that says something.
Wise Products
Wise offers a number of products and services to customers who need multi-currency accounts, currency conversion, or international money transfers. These include:
How Much You Can Save with Wise
To get an idea of how much money you can save with Wise, check out this handy Wise calculator.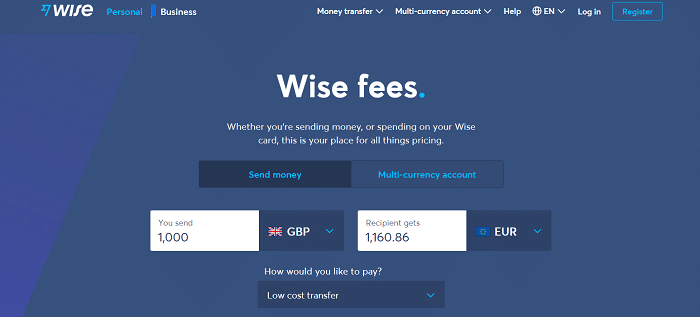 Rebranded, Yet Still Perfect
Though TransferWise has a new name, now Wise, it remains perfect for anyone who needs a borderless account, easy money access, and quick, low-cost currency conversions.
Whether making small or big money transfers, Wise is a smart pick for travelers, international students, expats, worldschooling families, freelancers with clients in different countries, and digital nomads.
How to Open a Bank Account – In the USA, UK, Europe, Almost Anywhere (e.g., Wise USA, Wise France)
Opening a free multi-currency account is easy. All you have to do is go to Wise and create a Wise account!
It's free!
No credit check
No required deposit
And… No monthly maintenance fees
Easily open a Wise business account, which is linked to your personal Wise account (and perhaps the best business bank account you can find anywhere)
Open from the comfort of wherever you are — no need to go anywhere!
Enjoy an account that is the cheapest way to send money abroad!
Enjoy the ease of the best way to send money abroad!
If you've found this post Transferwise Rebrands as Wise useful, please consider sharing the love! Pin it. Tweet it. Share it with your friends or followers. I really appreciate it! 🙂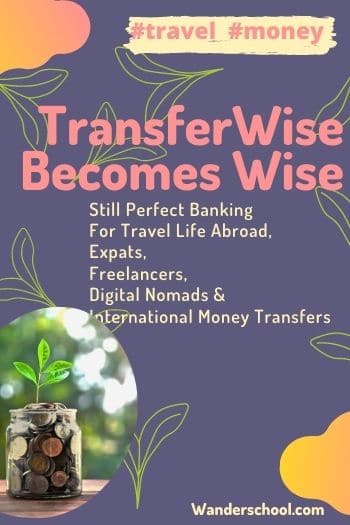 Of course, I'd love to hear from you about your thoughts on this TransferWise rebrands as Wise post.
Do you use Wise? If so, leave a Wise review or your thoughts below. Plan to Check it Out? Tell me what you think. Drop a comment below.
Follow Julie on Social Media! 😉
Related Posts You May LOVE