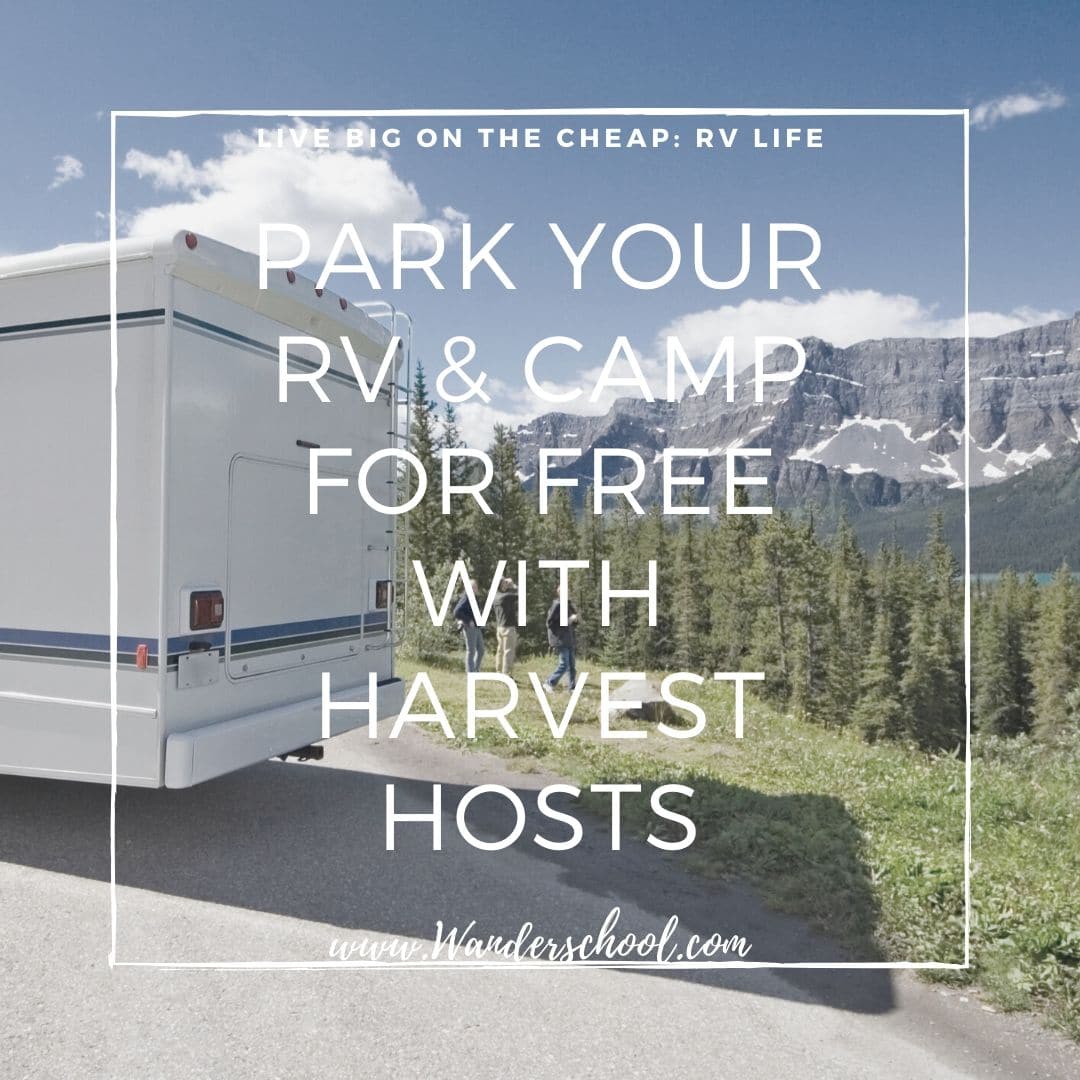 If you're living the RV life or thinking about it, finding free or cheap places to park your RV and camp for free is a big deal.
Landing unbelievable campsites on the cheap is actually part of the thrill of the adventure! When you score a place where you can camp for free, it's sorta kinda feels like winning the lottery. 🙂
Affiliate Links Disclosure: My posts sometimes contain affiliate links, which mean that if you click on them and make a purchase, I may earn a commission, at no added cost to you. This is how I am able to write this blog and keep content free. Thank you so very much for reading my blog!
Get Nearly Free RV Camping, Beautiful Campsites
Calling all adventure seekers and RV dwellers! If you are looking to live for cheap, but live big, read on. Harvest Hosts might be your perfect answer.
When the kids and I lived the RV life in 2015, I had a Harvest Hosts membership. I thought it was cool then. And I still think it's an awesome way to live and camp for practically free in your RV.
One of my favorite parts of the RV Life was finding an unbelievable campsite for free or cheap. I'm talking about one of campsites with those million dollar views. Campsites where you can't put your camera down because they are so breathtaking. Those spots where you park your RV and try to take photos that tell the whole store, but where you know you'll never capture the vibe or full appreciation of the experience in a square frame.
If You Love Wine and Farms, Harvest Hosts is the Camping Membership You Wants
Here's how camping for free with Harvest Hosts works and what you get with a Harvest Hosts Membership.
You pay: (current rate) $79 for an annual Harvest Hosts membership.
You get: Unlimited access to stay overnight in your RV and camp at over 1038+ wineries, breweries, distilleries, farms, and other unique locations in and around the USA.
Requirements: To join, your RV has to be self-contained. That is, it has a toilet, water tank and inside cooking facilities. You can't pitch any tents on the stay properties.
While it's not required, it's suggested that if you stay at a vineyard, farm, or other location where the host has a farm stand or sells goods, that you consider making a small purchase as a thank you or letting me stay on your awesome property.
For example, you might purchase a bottle of wine, a pint of fresh strawberries… you know, something that you'll use anyway or would normally buy during your RVLife. So, basically, you're really not spending any extra money to camp.
Off the Beaten-Path, Cool Experiences
What makes Harvest Hosts membership different than say typical camping memberships, like Thousand Trails or Harvest Hosts member to stay at some really cool, off the beaten-path places, like wineries and breweries.
Plus, many of the hosts are fine with you bringing along your pets or children. And many won't have issue with the age, style, or appearance of your self-contained RV. Anyone who has been at this RVLife thing and looked into camping memberships probably knows that some camping membership clubs impose restrictions, including age, pets, children, and RV type or condition.
Advice Based on My Own RV Life Experiences
If you're living the RV life or planning to live it and want to do so on the cheap, I recommend getting a camping membership (or a few of them).
Why? Because restrictions, stay limits, and unavailability of campsites might force you to look elsewhere. The last thing you want is to have to pay full price for an overnight!
My Memberships
When I was full-time RVing with my four kids, I had the following memberships: