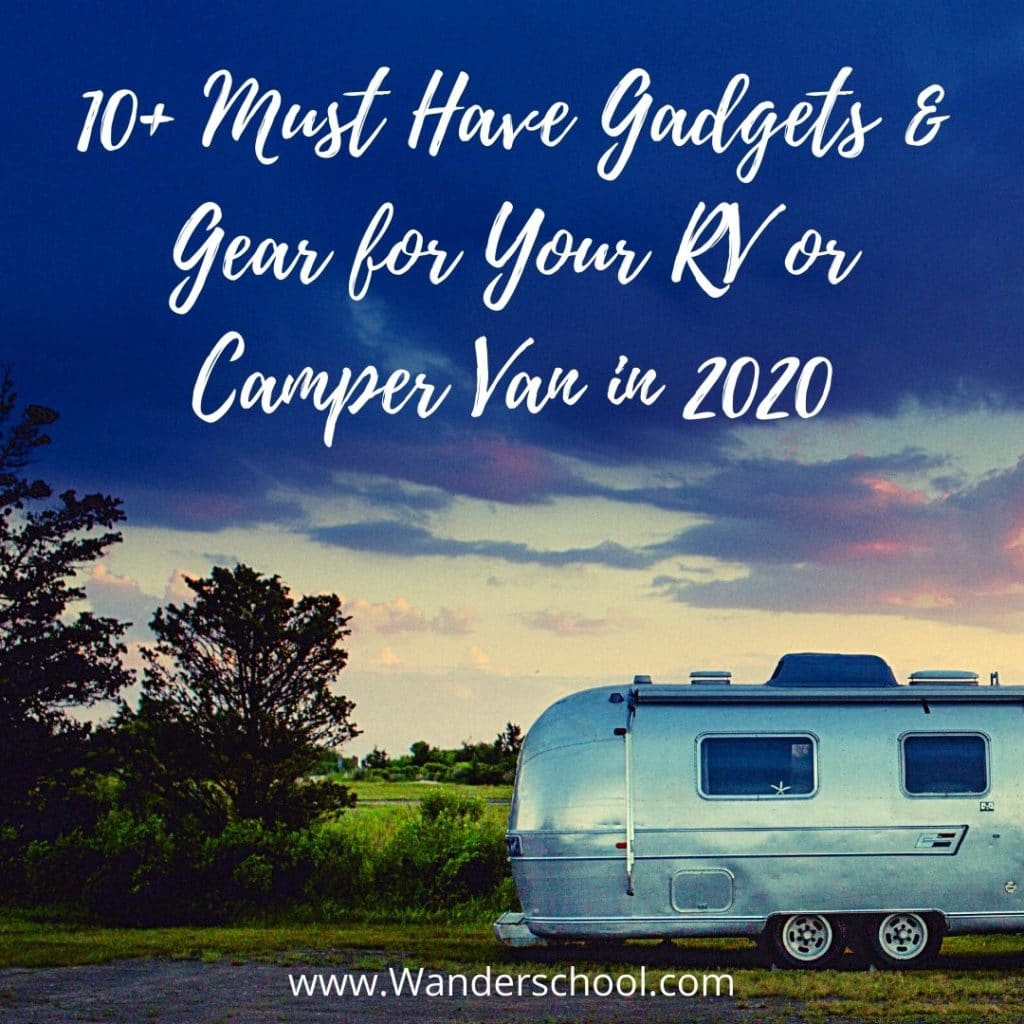 I'm excited to share with you my list of 10+ Must Have Gadgets and Gear for Your RV or Camper Van.
My RV Story
A few years ago, I spent much of an entire year living full-time in my RV (motorhome) with my four children. In my 31 foot motorhome, I set out to take my homeschooled children to see all 50 States of the USA.
The epic, whirlwind 50 States Tour of the United States was a life-changing adventure. We filled the bucket list. And, we checked off all 50 States (we flew to Alaska and Hawaii).
RV Life Stays With You
Every single day, those days of RV Life stay with me. They were some of the best days of my life so far. Songs on the radio, smells of fresh cut grass or smoke-filled skies, Hollywood movies, and photographs of the trip take me back to moments on that grand adventure. There are times when I can see and feel myself behind that RV wheel driving.
It turns out that some of the little or seemingly trivial things I did during my #RVLife turned out to be some of the best things. Like trying to find Free or Nearly Free Places to Live in my RV.
I can't help but smile now every time I pass a Walmart sign. Why? I think back at my times Boondocking at Walmart. I remember one time practicing yoga the morning after a boondock, in the parking lot on my yoga mat.
And then there was that nearly empty, pristine $5/night campground in Nevada with its million dollar sunsets.
Some of the other best things that I remember about my trip are the gadgets. And the gear. As well as the creature comforts that made full-time RV life an incredible experience.
Having your RV or Camper Van equipped with the right gadgets, gear, and accessories can make your experience comfortable, fun, and safe.
Do you already have the right gadgets? Gear? Accessories? If not, check out my list!
The Best Gadgets and Gear for Your RV or Camper Van
Preparing your RV or Camper Van with the right gadgets, gear, and accessories can take living in your RV or Camper Van to the next level.
Here are 10+ of the Best Gadgets and Gear for Your RV or Camper Van in 2020
1. RV Surge Protector.
I learned the hard way during a storm at a Florida campground how important a surge protector is while RVing. An appliance got fried. This resulted in a big repair bill. A surge protector is designed to protect you and your RV or camper van from electrical surges related to faulty campground or park electrical hookups.
Hind sight is 20/20. But if I could go back in time, I would have bought a surge protector before I started hooking up to campground electrical hookups. They come with different features and varying price tags. I recommend buying the best protector you can get for your budget.
2. Lead-Free Drinking Water Hose.
A lead-free drinking water hose is super important when you're living in your RV or camper van. It's important to have a new, fresh hose to use. This is particularly so, if you don't know the history of an old hose. Or, if the old hose has been sitting around in storage for some time.
Get a hose that's anti-kink so you don't have to go outside in your pjs during the night to figure out why the water is only trickling into your RV or camper sink.
3. Wheel Chocks.
When you park your RV or Camper Van, you need to know it's going to stay put. Chock blocks serve that purpose.
4. Holding Tank Fresheners.
Little drop in packs to freshen up your RV or van holding tank might not be what you had in mind for gadgets and gear. But trust me, having these tucked away for a rainy day will make your experience more comfortable, if not waaaay more fun.
5. Playing Cards.
Cards are a definite must! Even if you live solo in your RV or camper van, you never know who you'll meet along the way or at a campground. Lively evenings with campsite neighbors can make fun memories. Sure, you can go with a standard deck of cards. However, creative decks, like my kids' favorite donut playing cards are so much more fun. They are a surefire conversation starter. And they will look awesome in your "RV card night" Instagram or social media pics.
6. Sink Drying Rack.
A mini drying rack is one of those little extras that makes RV or Camper Life a little bit brighter. But it's something most don't think about ahead of time. I spent far too many minutes (hours maybe!?) wiping my limited kitchen space counter dry in my RV during and after dish washing time. A compact drying rack helps to keep drying dishes and excess water contained. Plus, it's one of those small things that makes an RV feel like home.
7. Portable Clothes Line.
While a rope and clothes pins will do, you definitely need something to hang dry your clothes and sheets. I used a piece an old piece of climbing rope to create a makeshift line, which I usually tied between my RV and a tree. But you can buy a premade portable clothes line or a basic clothesline that take up less space than an old bulky climbing rope.
8. A Super Bright Flash Light.
Yes, A bright flashlight or torch is an essential safety gadget to have in your RV or camper van. A high powered flashlight can also make ordinary, non-emergency situations much better, like walking to the campground bathroom when it's pitch black outside or looking for your missing earring that you *think* fell out somewhere near the campfire. 🙂
9. Hanging Closet Organizer.
Depending on the layout of your RV or camper van, a hanging closet organizer may or may not work. If you have one of those big closets, like in my RV, that could be made more efficient with shelving, hanging closet organizers can be a great way to maximize space. A hanging closet organizer is handy if you have children too–they can have their own "shelf."
10. RV 'Home' Security System.
Sure, some may balk at the idea of installing a home security system in an RV or Camper Van. However, if you are solo female traveler, especially, or love gadgets, a 'home' security system for your RV can be a really good idea. I know I really appreciated having one. And I liked knowing that no one had entered my RV when I was out or away from my home on wheels. There are security system options that work for RVs. They do not requiring wiring (some have "stick" on components). You will likely have to pay a monthly monitoring fee for a security alarm service. I paid $10/month. To me, that was worth the little extra solo female traveler with kids peace of mind.
If you are planning an epic RV or Camper Van life journey (or are already living this incredible adventure), I'd love to hear about it. Drop a comment below. And, follow me on Instagram. I'd love to follow your adventure.