The Best RV USA Sticker Maps
If you're looking for the best RV USA Sticker Maps (50 States), you're going to love this one stop collection. It's a mega timesaver.
Plus, if you're looking for fun stickers for your RV, motorhome, or camper van, I've compiled some sweet stickers that will make your rig look fab and stand out in the RV parking lot! You can find those below, too.
My RV Story
My four children and I spent nearly a year visiting all 50 States of the USA. We lived in our 31 foot motorhome.
I remember spending a few hours searching for the "perfect" USA sticker map to go on the side of the RV.
The 50 States sticker map was one of the first things I bought for our adventure! I was so excited to place the USA sticker map side of our motorhome. Of course, the kids couldn't wait to start filling it in with stickers! our 50 States RV Tour.
After you've browsed the best RV USA Stickers, be sure to read the full scoop on my 50 States USA Tour in 50 State RV Tour – Solo Mom Travel.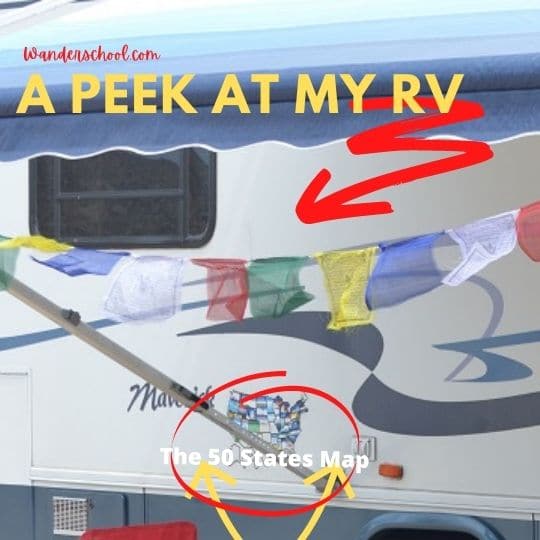 This Compilation of USA Stickers for Your RV, Camper Van or Motorhome will Save You Hours of Research
This super popular USA sticker map is made of high quality vinyl and will look great on your epic roadtrip adventure! Both adults and kids will love putting on each sticker when you make it to each state!
If you want a map with the name of each USA State written on each sticker, go for this sticker map. It's designed with quality vinyl for RVs and motorhomes. It's supposed to stand up well in the weather.
If you're looking for a USA Sticker Map for your RV, Camper Van, Fifth Wheel, or Travel Trailer, this map sticker features state flags – symbols. It's printed in the USA and features stickers that are supposed to last!
This is my USA Sticker Map pick! It's the map I completed! LOVE, love, love it and the memories associated with it! Great quality. Sticky adhesive.
Other Fun RV and Camper Van Stickers
Sure, this classic surfer camper van will look cute on your laptop, BUT it will look even better affixed to your RV or Camper van. Designed to hold up to the weather. SUPER Cute!!! And perfect for setting the travel adventure vibe. If you're a digital nomad living the #vanlife, get this for sure!
If you love the mountains and adventure, plaster this sticker on your camper van, RV, motorhome, or travel trailer!
How to Affix Your USA Sticker Map or RV Stickers
When your stickers arrive, be sure to read any accompanying instructors for sticker placement. For example, you'll most likely want to wipe the surface clean. After that, you'll want to make sure it's completely dry before you apply your brand new USA Sticker Map.
Keep in mind, some stickers are removable. Some are temporary. Some are magnetic. Other USA sticker maps and stickers for your vehicle are permanent. The adhesive is meant to stick for life! Plus, if your sticker map is in the sun, it's likely the stickers will bake onto your vehicle for added permanence!
If you found this post to be helpful and a timesaver, please share the love! Pin it! Tweet it. Share it with your followers, friends, and family! Thank you so much! 🙂