Walmart Boondocking
We did it!  Walmart Boondock. Done. Check. Oh, yeah!
Another bucket list item checked off! I camped at Walmart.
Affiliate Links Disclosure: My posts sometimes contain affiliate links, which mean that if you click on them and make a purchase or sign up for an offering, I may earn a commission, at no added cost to you. I received no compensation for writing this post, and it reflects my own experiences, research, and opinions. You can read my my privacy policy here. Thank you so very much for reading my blog!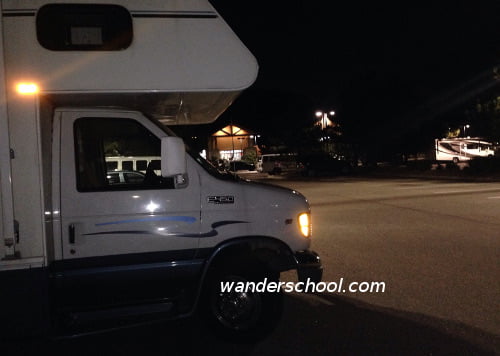 My First Walmart Boondocking Experience
It's pretty amazing how things unfold sometimes.  
I've wanted to boondock, a.k.a. dry camp, at Walmart, but it took me months of Rv'ing to finally do it.  
In my mind, the "bucketlist" achievement of boondocking at Walmart would represent the "New" American Dream:  the full-time work-travel lifestyle…wherever, whenever.
How Did My First Walmart Boondock Happen?
My first boondock at Walmart was unplanned.
It happened through a combination of not being able to find a campsite in Denver, needing to fill-up on gas, wanting to grab a latte at Starbucks, and spotting a kids' dentist (one kid had a toothache) all within a matter of feet apart of each other. This all sealed the deal on overnighting at Walmart.
Walmart is far from one of my favorite places to shop.
However, I found a fancy schmancy Walmart in the Denver suburbs and set up camp for the night.  A freshly paved lot, nice landscaping, and good lighting.  Oh, and a very friendly store manager who said it was fine to camp overnight and encouraged me to shop at the 24 hour Walmart as long and as many times as I wanted during my overnight boondocking extravaganza!
The kids want to boondock at Walmart again.  They think it's a "way better and cooler" experience than staying at a K.O.A. or typical RV park.  
Plus, it's free.  
I wouldn't be surprised if my kids are thinking about this from a strictly economics point of view:  Free Boondocking at Walmart means Mom can spend cash that might have otherwise been used at a campsite on Barbies and Legos at Walmart.
Quite honestly, Walmart's policy that allows overnight boondocking (although not all stores allow it) makes me like the store more.  I like knowing that a store values its customers.  RV overnight parking is one way Walmart seems to show that it likes RV customers–who undoubtedly buy lots of stuff, like food, Barbies, and Legos, whenever they park for an overnight.
Tips for Boondocking
1. Confirm that It's Okay to Boondock Where You've Parked
At this Walmart, I actually walked inside the Walmart store and confirmed with the manager that it was okay to boondock. I didn't want any unexpected middle-of-the-night surprises.
2. Plan Ahead if You Can
If you hope to boondock, try to plan ahead if you can. By this I mean, make sure your fresh water tank is filled up. And of course, make sure your gray and black water tanks are empty!!!
3. Invest in an Awesome Boondocking Guidebook
Finding places to boondock is SOOOO much easier with a guidebook (or App). Check out the Wright Guide to Free or Low Cost Campgrounds, for starters.
4. Save Juice
I'm talking about power here. Save on your batteries and extend battery life by installing LEDs and replacing old school incandescent lights. They won't draw nearly as much electrical juice.
Follow Julie on Social Media! 😉
Related Posts You May LOVE