We did it!  Walmart Boondock. Done. Check. Oh, yeah!
Another bucketlist item checked off!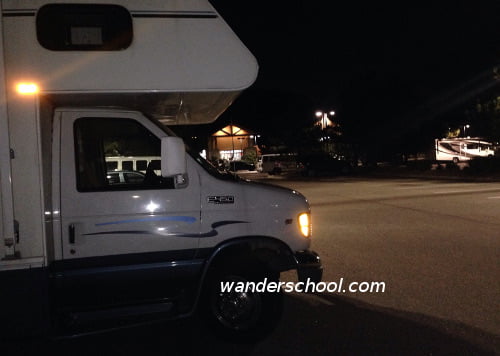 It's pretty amazing how things unfold sometimes.  I've wanted to boondock, a.k.a. dry camp, at Walmart, but it took me months of Rv'ing to finally do it.  In my mind, bucketlist achievement of boondocking at Walmart would represent the "New" American Dream:  the full-time work-travel lifestyle…wherever, whenever.
A combination of not being able to find a campsite in Denver, needing to fill-up on gas, wanting to grab a latte at Starbucks, and spotting a kids' dentist (one kid had a toothache) all within a matter of feet apart sealed the deal on overnighting at Walmart.
Walmart is far from one of my favorite places, but I found a fancy schmancy Walmart in the Denver suburbs and set up camp for the night.  A freshly paved lot, nice landscaping, and good lighting.  Oh, and a very friendly store manager who said it was fine to camp overnight and encouraged me to shop at the 24 hour Walmart as long and as many times as I wanted during my overnight boondocking extravaganza!
The kids want to boondock at Walmart again.  They think it's a "way better and cooler" experience than staying at a K.O.A. or typical RV park.  Plus, it's free.  I wouldn't be surprised if my kids are thinking about this from a strictly economics point of view:  Free Boondocking at Walmart means Mom can spend cash that might have otherwise been used at a campsite on Barbies and Legos at Walmart.
Quite honestly, Walmart's policy that allows overnight boondocking (although not all stores allow it) makes me like the store more.  I like knowing that a store values its customers.  RV overnight parking is one way Walmart seems to show that it likes RV customers–who undoubtedly buy lots of stuff, like food, Barbies, and Legos, whenever they park for an overnight.