Looking for ways to live for free in your camper van or RV in Europe? If so, grab a cup of tea or some craft brew and hang out here for a few. I'm so glad you landed here.
It may come as a surprise, but North America is not the only continent where RV Life and Camper van life is growing in popularity. Camper van, or camping car, life is super popular in Europe.
Europe's narrow roads and windy mountain roads don't seem to discourage Europeans and travelers to Europe from living the dreamy van life. And, thanks to social media, like Instagram, nomadic living is surely poised to grow in the coming years.
Everyone wants in.
And it's no wonder why they do. Camper van life is thrilling. Totally exciting, actually. Waking up to different views and vista whenever you feel like moving to a new scene. Meeting new people who share similar ideas of living life on your own terms. Visiting new destinations. Experiencing new cultures and social scenes. Eating amazing foods and regional specialties.
Plus, thanks to the Internet, work-from-home (or anywhere) technology, like Zoom and Google Meet, and Covid's silver lining of closed offices and telecommuting, more people than ever before are realizing that they can have it all.
They can live anywhere. Work anywhere. Play anywhere. All at the same time. A sort of instant gratification lifestyle and recipe for happiness now. Forget about waiting until vacation, holidays, or retirement to travel.
Forget about saving up for a travel fund to travel someday. Instead, ditch the mortgage. Ditch the rent. Buy a camper van or RV and live #vanlife NOW.
Sounds amazing, right? Of course it does.
But it gets even better. Seriously!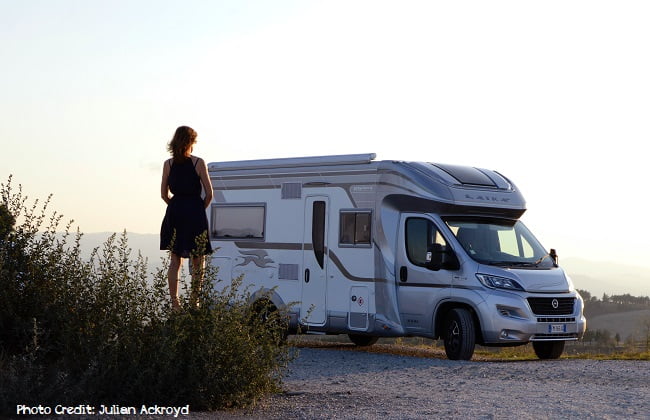 Free Camping in Europe with Your Motorhome – RV Life or Van Life Living at its Best
If you have a motorhome in Europe, you can live for Free (or nearly free)! How is this possible? Because they are so many opportunities for free camping in European countries.
1. Camp in Country or Regional Free Camping Lots
Many countries in Europe offer free overnight or limited stay motorhome camping in designated parking lots or camping areas. For example, in the Chamonix-Mont Blanc area of the French Alps, a tourist hotspot, there are designated, although temporary, parking and overnight areas for camper van parking. In many French towns, there are designated motorhome parking areas.
In many European countries, you are allowed to camp for free overnight in any legal vehicle parking spot. Often you'll find parking areas designated with large "P" signs.
2. Camp for Free with Workaway Gigs
If you have the Workawayer spirit, you could land a Workaway volunteer gig in Europe that allows you to live for free in your self-contained camper.
In exchange for your Workaway volunteer time, your Workaway host may allow you to park your campervan or motorhome and live for free while you are on the assignment. For example, I once saw a Workaway host in Portugal an offering a Workawayer private parking space and water for their camper van on their private property in exchange for help with their gardening projects. Learn more about Workaway.
Find a super cool campsite to stay at with your motorhome or campervan through Campspace. For a nominal cost per night (some as low as 1 EURO/night!), you can stay at some super cool places in Europe, including farms. You can find campsites that even include electricity and cool perks like snazzy firepits and picnic tables. If you are looking for cheap or inexpensive places to live in your RV or motorhome for nearly free definitely check out Campspace.
4. Wild Camping or Boondocking
In my favorite European Country (France), wild camping known as "le camping sauvage" is often permitted for motorhomes or campervans, but sometimes there are applicable rules. For example, it is generally considered okay to overnight on the side of the road or in parks, unless there are clear indications to the contrary, such as signs or specific rules. Many French towns have designated motorhome parking areas to help guide campers to where they want them to park and camp. In some countries, wild motorhome camping is prohibited.
In general, where there are not clear restrictions about parking for an overnight in your motorhome, you are expected to adhere to the leave no trace principle. That is, you camp with minimal impact, clean up after yourself, and respect the land, so that there is effective no trace that you were ever there. Learn more about Wild Camping in France. It's important to research camping rules in the country or region you'll be staying to ensure you are following applicable laws. If you are uncertain about camping rules, you can always ask at a local tourist office or town hall.
5. Camp in Cheap European Campgrounds
In Europe, you can find inexpensive campgrounds for camper van or motorhome camping. The benefit of staying in an official camping campground is that you often have access to camping facilities and amenities, including washing machines, swimming pool, picnic tables, electric and waste hookups, playgrounds, and community spaces.
You can find campgrounds by contacting the local tourist office or town hall. They often keep lists of local campgrounds. You can also find popular and inexpensive campgrounds in Europe through the resource Reidsguide, which links to major campgrounds and camping resources in Europe (by country).
Ways to Camp for Free or Nearly Free in North America
If you love camper van life, and want to take your camping adventures beyond Europe into the United States or Canada, be sure to check out my popular guide 11+ Ways to Live For Free or Nearly Free in Your RV.
Follow Julie on Social Media! 😉
Related Posts You May LOVE
7 Charming Towns in Haute Savoie, France
3 Open-Air Romantic Picnic Destinations in France
Best Coffee Shops for Solo Travelers & Adventure Seekers