If you've watched the Netflix hit Emily in Paris, and wish you could be Emily–or create a Life Like Emily in Paris–or a jet-setting travel lifestyle–this post is for you. So, read on.
Affiliate Links Disclosure: My posts sometimes contain affiliate links, which mean that if you click on them and make a purchase or sign up for an offering, I may earn a commission, at no added cost to you. I received no compensation for writing this post, and it reflects my own experiences, research, and opinions. You can read my my privacy policy here. Thank you so very much for reading my blog!
Live the Dream or Die Trying, Right?
Yeah, yeah, yeah, of course, Emily is a fictional character. But that doesn't mean you can't dream about living a life like Emily in Paris.
Moreover, if you're dead set on making your dream a reality, like living in Paris, becoming an influencer, traveling the world, or living in exciting destinations, there are ways to actually make your dream happen. And there is nothing fictional about it.
As Emily would do, let's get onto it and straight to the point
I'm a big believer that if you have a dream, you have to do what you can to pursue it. Otherwise, it's going to live inside you and gnaw at you, until you do something about it.
When it comes to pursuing that dream, you've got to be your own fiercest advocate and cheerleader. 'Cause you wanna know why? This is your dream. And there are going to be a lot of naysayers and dream crushers out there eager to stomp on your dream.
So, are you ready to be or live like Emily in Paris? Let's go…
How to Live Abroad – In France or Elsewhere
Once upon a time, I didn't realize that countries offered different visas for welcoming foreigners to live temporarily or permanently in other countries. I mean, I knew there was such as thing as a student visa because I once had one when I went to university outside of the USA.
But I think I had this idea in my head that if you weren't a student, the only other way to live abroad was to have citizenship elsewhere or to be a wealthy retiree.
However, years later, when I wanted to make a plan to spend more time in Europe, I got serious about looking into visas and the different types.
That's when I realized, wow, there are some pretty awesome ways and creative options to make living abroad a reality! You might have to look for them, do lots of research, join online groups, talk to visa specialists, lawyers, schools or employers abroad, but they exist!
You can learn more about some ways to live abroad in How to Live or Move Abroad to Create Your Dream Life.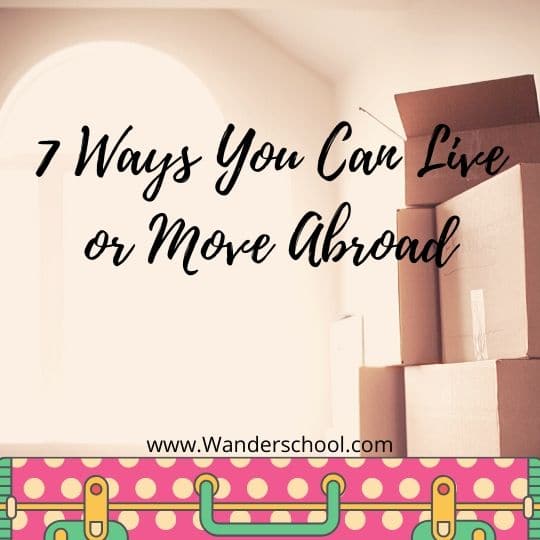 How to Learn French
Or, in other words, how not to be like Emily–and learn French before you go to France. Although, in my experience, learning the language before you go isn't always necessary, but it's certainly really, really useful to learn as much as you can.
There are so many incredible resources to learn French online and on your own schedule. For example, my teenagers love taking French classes with teachers from around the world on Italki. And I love that you can find teachers and tutors who fit any budget or schedule.
You can learn more about where to learn French and language resources in Where to Find Free or Cheap French Classes Online.
How to Dress Like Emily
Sure, if you were in Paris already, it would be a lot easier to dress like Emily. But until you're in Paris, you'll have to fake it until you make it.
Women in France are classy and fashionable. There's little doubt about it. One way French women achieve their elegant, sexy, always fresh look is to carefully select clothing pieces and accessories that can work in multiple contexts. Such as a classic blazer, which can be dressed up or down, like with jeans.
Keep in mind, Parisian apartments tend to be small. A lot of French women have mastered the art of clothing minimalism, investing in quality clothing over cheap, disposable fashion.
Oh, so you know, Vinted is a popular online French consignment store where you can at least admire French fashion from afar at decent prices.
You can learn more about French fashion by reading Who What Wear's 7 Style Rules French Women Always Follow or Belletag's How to Dress Like a French Woman.
MORE: Get ideas for looking French by following my French Beret and French Bangs Collections on Pinterest.
How to Fit into French Culture – like Emily does is Learning to Do
Immersion is the key. Live, breathe, soak up everything French. Preferably in France.
So, until you actually get to France to live your dream, read everything you can about France. Research everything you can about France, even if it's something off-the-beaten path, like Where to Get the Best Coffee Experience in the French Alps.
Take French classes.
Learn about wine. And cheese.
Work on the art of being social, without your phone, as in developing face-to-face convo skills.
Take time to study French geography. And history. Come to understand that while Paris is incredible, Paris is not all of France. There are so many beautiful places and regions in France that are too beautiful for words. You simply have to visit them to know.
You can also learn more about the France and the things French do differently by reading, Things the French Do That Will Blow Your Mind.
How to Become an Influencer or Social Media Guru Like Emily
If you're determined to become an influencer or social media guru like Emily, it can happen. However, it usually takes mega effort and time.
Emily makes it seem a wee bit too easy, like influencer or social media fame happens overnight. But if you're willing and ready to pour in some hard work–hopefully not blood, but definitely sweat and tears, you'll be on your way to becoming a lot like Emily.
You can learn more about how to become an influencer by reading, How to Become a Midlife Blogger or Influencer. You can also learn how to start a travel blog by reading, How to Start a Travel Blog.
Emily's Travel, Influencer Life Looks Good
But your own life reflecting your own dreams will look a lot better, on you. So, what are you waiting for? Set the wheels in motion and make a move on creating a life like Emily in Paris.
Follow Julie on Social Media! 😉
If you loved this article, please share the love and tweet it, share it, or pin it!! Thank you so much!
And… be sure to check out Emily in Paris vs. Reality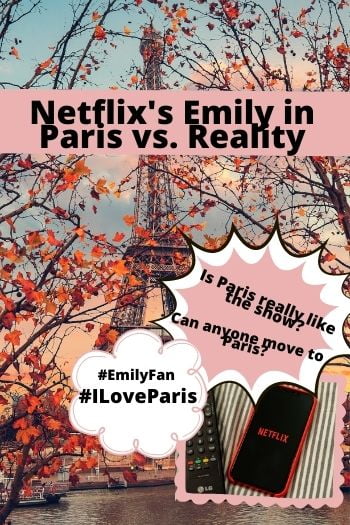 Hey, Emily in Paris Fans, drop a comment. Share your thoughts on this post. I'd love to hear what you think about living a life like Emily.
Follow Julie on Social Media! 😉
Related Posts You may LOVE