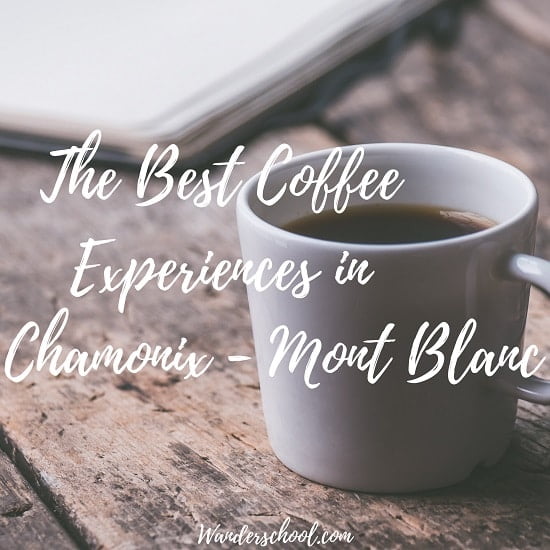 Wondering where to get the best Coffee experience in Chamonix-Mont Blanc, France? Wonder no longer.
If you love coffee and are in need of a caffeine fix while in the Chamonix – Mont Blanc region, you'll definitely want to bookmark this page–it's a list of where to get the best coffee experiences in the Chamonix – Mont Blanc area.
I've compiled a list of the best coffee and caffeine destinations in the area. Sure, decent coffee puts these places on the list. But the reason I've chosen these places goes beyond coffee.
These best coffee and caffeine destinations in Chamonix – Mont Blanc made my list because they offer an overall coffee experience that is noteworthy, whether that's because of friendly service, unique location, or noteworthy offerings.
Let's go…
Affiliate Links Disclosure: My posts sometimes contain affiliate links, which mean that if you click on them and make a purchase or sign up for an offering, I may earn a commission, at no added cost to you. I received no compensation for writing this post, and it reflects my own experiences, research, and opinions. You can read my my privacy policy here. Thank you so very much for reading my blog!
Où obtenir le meilleur café caféine à Chamonix – Mont Blanc, France
Where to get the best caffeine in Chamonix – Mont Blanc, France
If you are a Wanderschool regular, you know that my four kids and I spend a lot of time in coffee shops, working, writing, and home #coffeeshopschooling.
As I've previously explained in Best Coffee Shops for Solo Travelers and Adventure Seekers, a coffee shop doesn't have to serve "the world's best coffee" or hold any fancy titles or claims to be an awesome coffee shop in my book.
The Best Place to Get Coffee is Not Simply Based on Good Coffee
Sure, great caffeine helps. But it's the complete experience that counts. Caffeine is only part of the equation. For example, friendly, welcoming counter service and overall positive vibe/energy get high marks from me. Of course, other factors can boost a coffee shop's rank in my mind–even outweighing so-so caffeine–like fun music playlists, free wifi, cozy seating, and some sort of distinctive uniqueness.
Take for instance, Starbucks on Princes Street in Edinburgh, Scotland. A typical coffeehouse chain shop, with arguably average to above average coffee. However, atypical in that the coffeehouse boasts an outstanding view of Edinburgh castle. Who doesn't appreciate a room with a view while they're catching up on email, working, writing, or blogging? Certainly, a view to remember counts for something noteworthy in the quest for caffeine.
The Best Coffee in Chamonix – Mont Blanc Region
When it comes to coffee in the Chamonix – Mont Blanc Region, I have to say that in my book it's nearly impossible to get a bad cup of coffee anywhere.
How can I make such a bold assertion? Because you're in FRANCE! In one of the most beautiful parts of the Country, if not the whole world! So, how could the coffee be that bad, really?
Plus…
(1) Coffee is an important part of French life. A.k.A. coffee (café) is taken seriously–preparing it, making it, and serving it; and
(2) Even if you somehow were to get a dose of caffeine that you simply couldn't choke down, how bad could it really possibly be….after all, [back to my previous point], you're in beautiful FRANCE!
The List – Where to Go for the Best Coffee Experience in the Chamonix – Mt. Blanc Area
So without further ado…
In no particular order, here's THE LIST. It's where to go for an awesome coffee experience in the Chamonix – Mt. Blanc region. Remember, it's not just about the coffee. It's about the whole experience.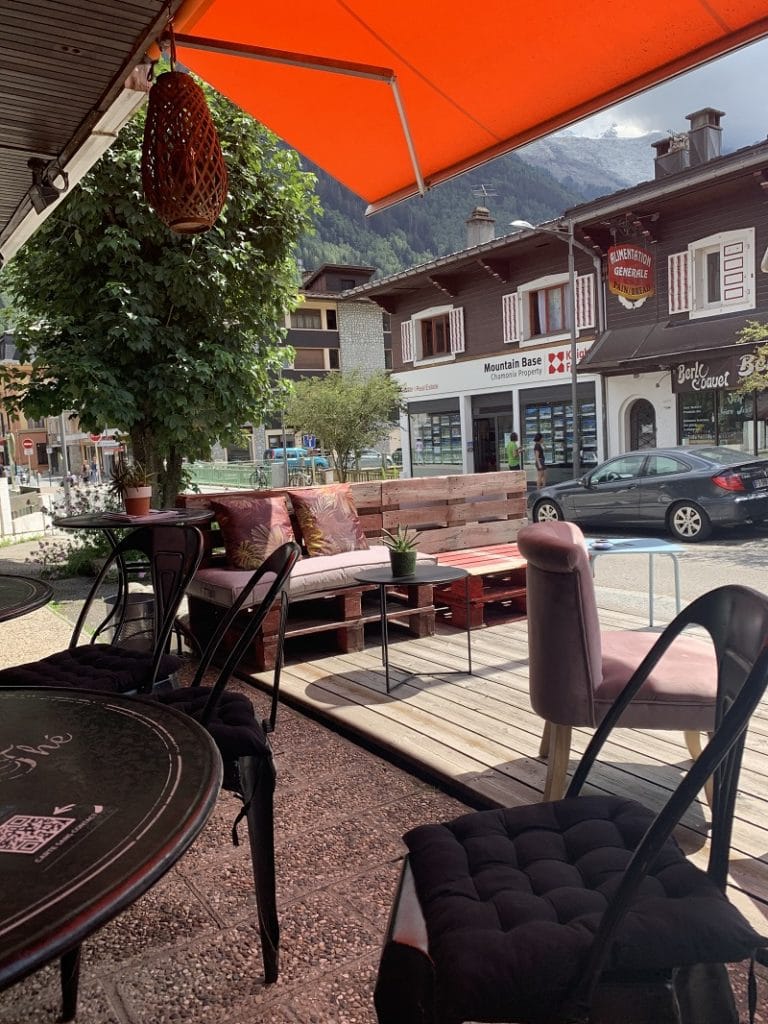 updated: 5/2023
Where: 199 Avenue de L'Aiguille du Midi, 74400 Chamonix-Mont-Blanc.
What: L' Alt serves Instagrammable coffee and espresso beverages with lovely latte art. But that's not the best part. You'll also find attentive staff, comfortable (under umbrellas) outdoor seating, as well as indoor seating, and a full menu.
Why L' Alt stands out: Friendly service, cozy deck seating along a busy street (perfect for people watching), Latte Art, good burgers and fries, welcomes English speakers, and overall chill vibe. The perfect post- trail run, hike, or adventure destination or 5pm spot to grab drinks with friends.
What I love to order at L' Alt: Cappuccino. Burger (sans pain) + Fries with mayonnaise and ketchup.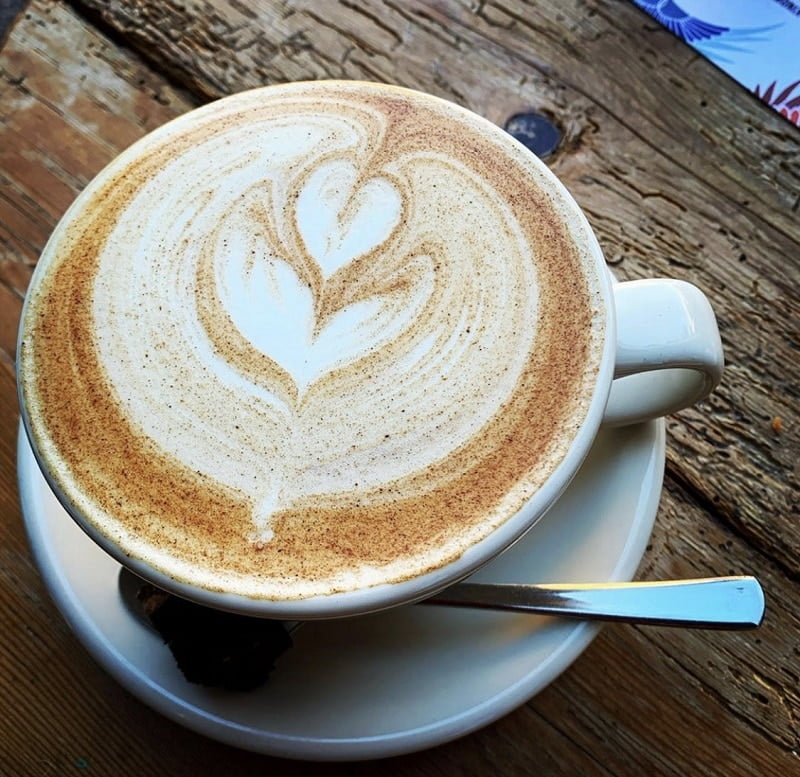 Where: 195 Avenue de l'Aiguille du Midi, 74400 Chamonix-Mont-Blanc.
What: Awwww…..this little coffee shop puts a smile on my face whenever I think about it. My kids absolutely love it too. Don't let the small coffee shop size fool you. What's that saying? Good things come in small packages. If you're in Chamonix, you don't want to miss Moody and its outstanding coffees and my favorite, chai.
Why Moody Coffee Roasters stands out: The owners and staff are welcoming – the owner Ian, always seems to be in a good mood…could it be because the coffee is that good?!? Great latte art, limited but comfortable inside bench and outdoor seating, delicious chai lattes, and great homemade treat selection, including big cinnamon rolls, vegan options, and gluten free peanut butter oat cups. Dairy milk alternatives, including Oatley's Oat Milk and Almond & Cashew Milk. If you speak English, no problem here. Oh, and there's wifi, too.
What I love to order at Moody: Chai lattes & pastries!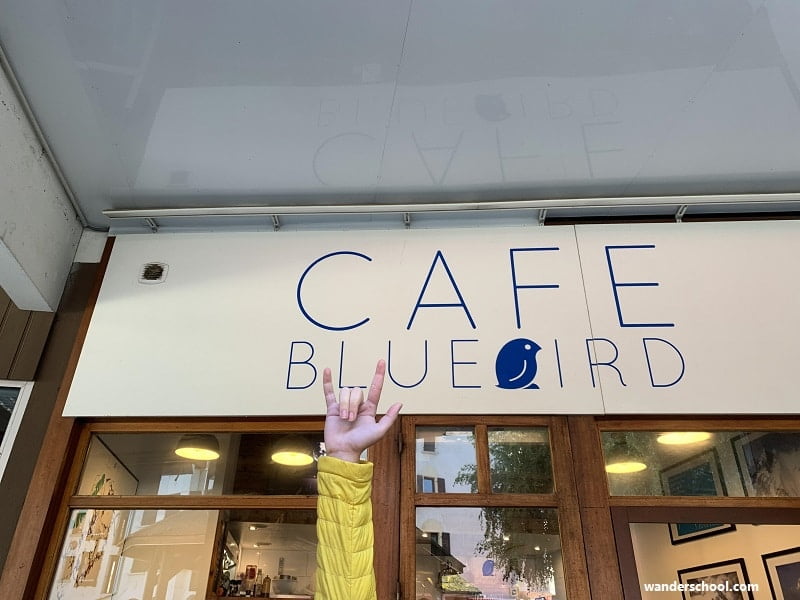 Where: 43 Pl. Balmat, 74400 Chamonix-Mont-Blanc
What: After a lengthy renovation, this "pink" restaurant that sits along the river is absolutely a lovely spot for grabbing a cup of coffee or a latte. It gives off old-fashioned fancy train vibes–even the bathrooms on the second floor feel like you're in a train.
Why Rose du Pont: Totally French restaurant vibes. Go early to get the quietest experience. Cappuccino and chocolat chaud (hot chocolate) are on point and served in pretty French cups that are worth a photo for Instagram. It's hard to go wrong with the morning museli with fresh fruit or an omelette with bacon.
What I love to order at Rose du Pont: Cappuccino and museli/granola mix.
Where: 196 Av. de Courmayeur, 74400 Chamonix-Mont-Blanc
What: This hotel has a restaurant that is the perfect spot for grabbing a cafe latte with friends or family. Features indoor and outdoor seating, including lounge-type couch and oversized chair seats, as well as indoor play and fun for children, like an indoor bowling alley.
Why Plan B stands out: The perfect spot for coffee, letting the kids play while you check your email (there's decent, reliable, free wifi). If you speak English, no problem here. It opens early at 6:30am, so you can grab a cup of coffee here after a morning run. It also has a full breakfast, lunch, and dinner menu–including a full bar, so you can refuel as well as rehydrate.
What I love to order at Plan B: Cappuccino and Cheese Board.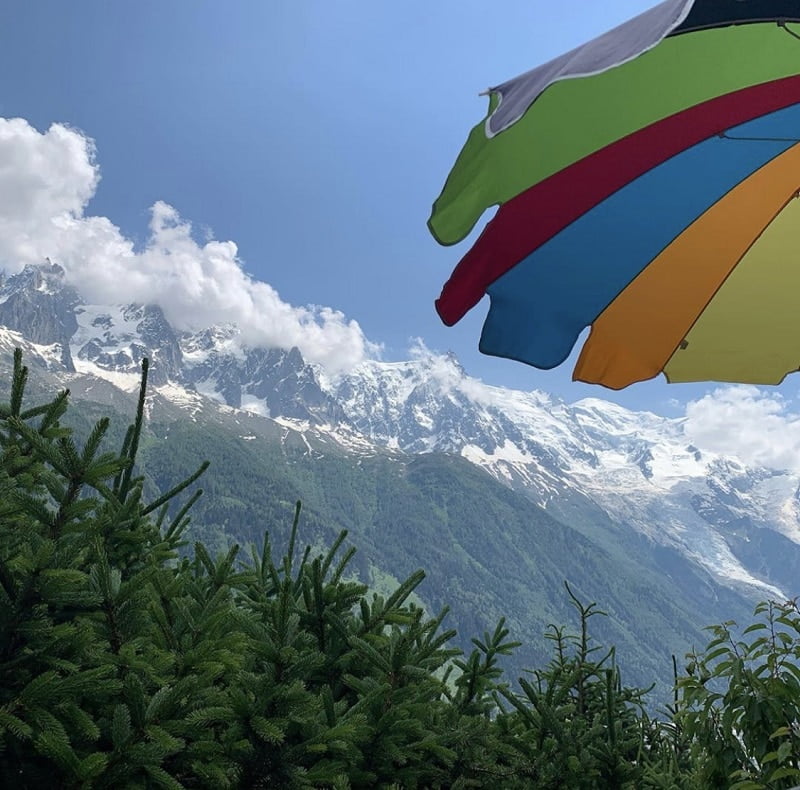 Where: South balcony 74400 Chamonix -Mont-Blanc. You've got to hike here.
What: This picturesque mountain-view chalet is worth the 45 minute hike for a memorable cup of cafe au lait.
Why Chalet de La Floria Stands Out: Location, location, location. The view. Hiking to—or for coffee is soooo worth it. The perfect coffee break while hiking or anytime.
What I love to order at Chalet de la Floria: Cafe au lait, fromage blanc, and Omelets.
For another great people watching in Chamonix coffee spot with Cheap, Though Push-Button Machine, Coffee:
La Panière118 Rue Whymper, 74400 Chamonix-Mont-Blanc
What's to Love: Sit outside at one of the large tables and soak up the views. 😉
What I love to order at La Paniere: Caffe Latte + a Chocolate Macaroon.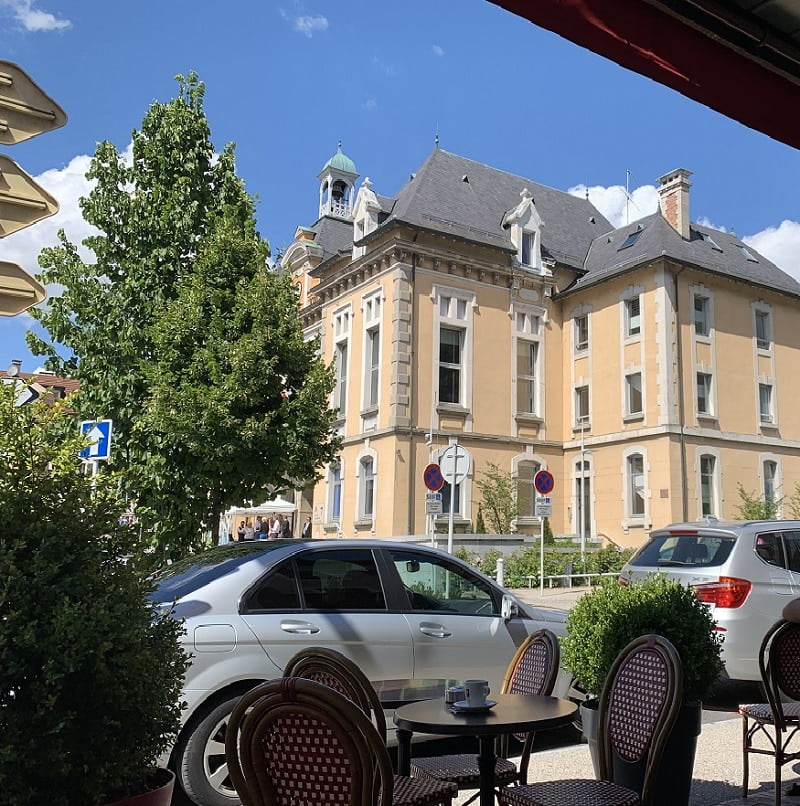 Where: 2 Rue de l'Hotel de Ville, 74300 Cluses
What: Thirty-minutes from Chamonix at the Foot of Mont Blanc, there's Sur Le Zinc in the charming little French city of Cluses. It is here where you can sip espresso on the sidewalk and feel like you're sitting in Paris under the mountains.
Why Sur le Zinc Stands Out: Parisian vibe, baby. Sidewalk seating, from where you can sip cafe and watch the hustle and bustle of the local scene. If you don't speak a lot of French, don't worry, you'll manage, but French is the word here.
What I love to order at Sur le Zinc: Cappucino. Super foamy. Love that. If you happen to be around when lunch is served, grab the Salade Italienne.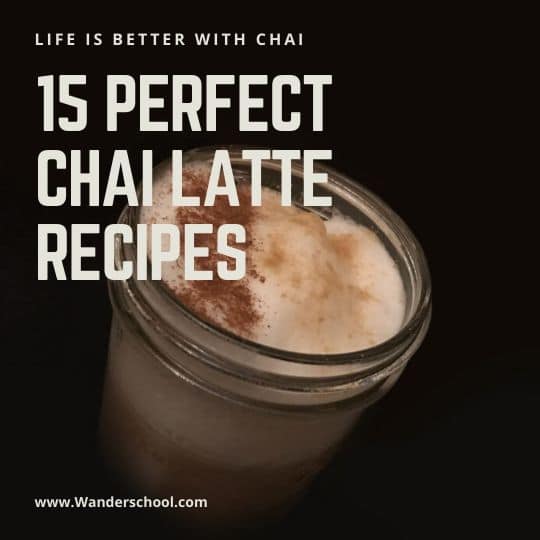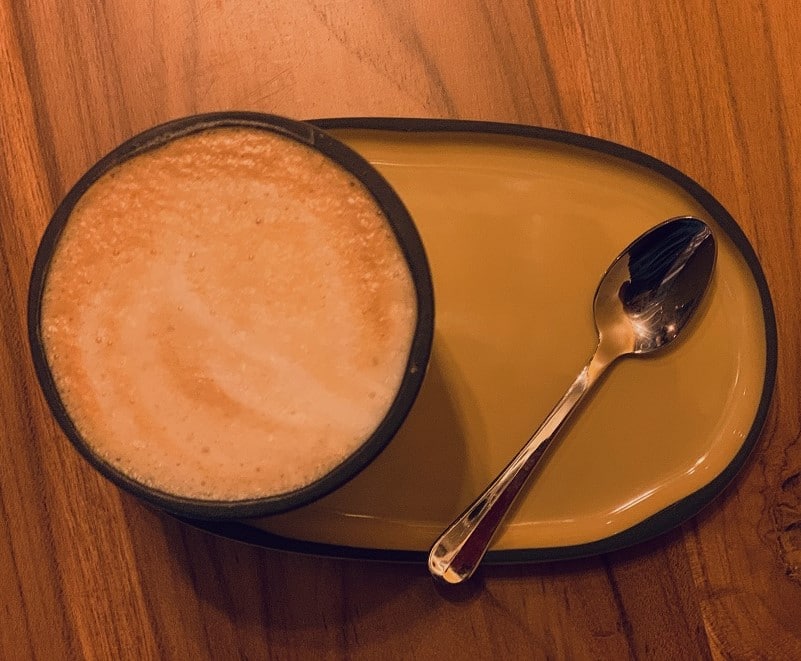 Where. 31 Rue du Bourg Dehors, 74950 Scionzier
What: Also located a short drive via the Autoroute from Chamonix, you'll discover one of the latest cafes/ coffee shops to rock Chamonix-Mont Blanc coffee scene. This beautiful and inviting vegan cafe is located at the Sanskriti Yoga Center. If you're scouting out cool places to go for awesome coffee, you don't want to miss this cafe.
Why Hungry Yogi Cafe Stands Out: Being a vegan cafe serving top-notch coffee enough is enough to stand out in this part of France. However, this place is Instagram worthy–as in heart-skip-a-beat gorgeous, with beautiful inside seating and a quiet outside terrace that creates that sitting in nature feeling. Sip amazing coffee while snapping pics to share with your followers.
What I love to Order at the Hungry Yogi: This place is brand new and I don't have the experience here that I have with the other coffee shops, but there's no doubt in my mind the Cappucino with Oat Milk is where it's at.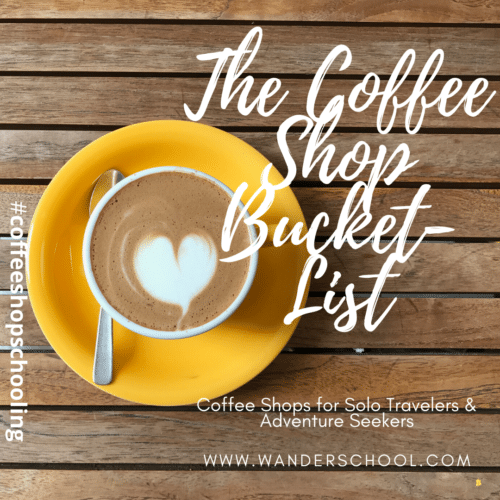 Follow Julie on Social Media! 😉
Where to Get the Best Coffee Experience in Chamonix Mont Blanc France
What's your favorite coffee destination and experience in the Chamonix-Mont Blanc region? Where do you go to Get the Best Coffee Experience in Chamonix Mont Blanc France? Drop a comment below.