Travel Gifts for Tweens and Teens
You're going to love this travel gifts for tweens and teens list. It's like one stop travel shopping for your tweens and teenagers.
Heck, it's also doubles as a handy packing list!
Obviously, I'm a wee bit biased, but this best travel lists for teens lists is one of the best. It's also offers good Christmas, birthday, and high school graduation gift ideas.
That's because it's compiled by moi, a mom who lives the travel lifestyle with her four children (three teens and one tween).
I get what are real travel essentials for teens. After all, my kids have grown up basically living out of a single, school sized backpack while we've traveled, worldschooling, and roadschooling.
Affiliate Links Disclosure: My posts sometimes contain affiliate links, which mean that if you click on them and make a purchase or sign up for an offering, I may earn a commission, at no added cost to you. I received no compensation for writing this post, and it reflects my own experiences, research, and opinions. You can read my my privacy policy here. Thank you so very much for reading my blog!
PRO Tips for Shopping Gifts for Traveling Teens and Traveling Tweens
Before we dive into this practical and cool list of travel gifts for young adults in the making, let's quickly talk pro travel gift secrets that will help you nail down your gift decisions.
Sure, there are essential travel items that every traveler needs. But make no mistake, there are travel essentials that every teen or tween NEEDS and WANTS.
Here are some tips to help you make sure you check off both the needs and wants, and score some mega big gift giving points!
Go Light + Compact. Opt for gifts that are lightweight and can compress easily
Think rugged. Travel gear will get jammed repeatedly into backpacks, rucksacks, bags, or luggage over time, so think tough and flexible. After all, the only thing worse than a bored traveling teenager or tween is one that is heart-broken after their favorite travel gear gets broken or damaged.
Consider Lifestyle. Where will this gear be used? Digital nomad lifestyle, RV or camper van living, or backpack adventures.
Cheaper isn't Necessarily Better. But sometimes it is. When you are buying travel gear, buy high-quality gear and travel equipment with good reviews. Never underestimate the reviews! Read 'em. You want to get stuff that holds up. As you will note below, one exception to this is when it comes to headphones. I'm not convinced you have to buy your teen or tween the most expensive ones. And take it from me, my kids have had (or have) them all, from Apple AirPods Max to Apple AirPods Pro to cheap no-name earbuds.
Think Age. In general, this list offers great ideas that will satisfy travelers on the full tween/teen age spectrum. However, the gifts can be tweaked by quality, size, or brand depending on the age or maturity of a child. I've updated this list to include my top picks by age. Keep scrolling.
The Ultimate List of Awesome Travel Gifts for Tweens and Teens
I love cool travel gear. I also like buying travel gifts for my kids because I know they are gifts that will get used and not just sit in their closets collecting dust.
However, I know it's not always easy to find 'the right' travel gifts for tweens and teens. Having a list of the best gifts for tweens and teens can be helpful.
This list will give you some great ideas for travel accessories, gifts, and things to buy for teens who are bitten by the wanderlust bug or are traveling on holiday.
Travel Gifts for Teenagers (and Tweens) That They Will Absolutely Love
With four kids who span the tween and teen range as travel gift guinea pigs, I've compiled this list of 17 Awesome Travel Gifts That Your Teen or Tween Will Love in 2022.
17 Awesome Travel Gifts Your Tweens and Teens will Love in 2022
As I explained in my Best Travel Gear Roundup, my kids love compression packing cubes. They are so much fun and make your luggage super organized. LOVE, love, love this lightweight adventure gear.
When my oldest two took their first flights alone (on separate occasions), I gifted them each a passport wallet. I gave one of my children a passport wallet like the one below. It comes it a variety of colors, so you can pick your tween or teen's favorite color; the colored options mean that your child will be able to easily distinguish his/her passport from a sibling's passport wallet.
My tween thinks clear toiletry bags are really cool. So does TSA. 🙂
The VSCO girl thing may be so 2019, but Hydroflasks are still 2022. Pricey, a bit. But worth every penny. These water bottles are great for tucking into teen and tween side backpack pockets. Just make sure they are empty before going through Airport Security!
They come in various colors and sizes, making them perfect sustainable water bottle choices for children of all ages and parents. Hydroflask also offers a coffee flask for teens who love hot beverages–or mom!
Tweens and Teens Love their Electronics Especially While Traveling…
Wireless Headphones make an awesome gift for young adults. My tweens and teens LOVE over the ear wireless headphones. I think the price and value is right for these to be a good pick for travel headphones–comfort, sound, color options, and packability. The best part: they are wireless OR you can use 3.5mm adapter and plug them into your computer.
I don't think you have to spend a ton on quality and comfortable headphones for tweens or teens, however, sometimes you do get what you pay for — see my best pick for older teenagers later in this post.
AirPods The Over the ears headphone alternative: If you're feeling in the mood to splurge, you can't go wrong with Apple AirPods. My teen absolutely loves her AirPods PRO.
An Original Buff is a super cool gift for a tween or teen. Not only can you wear a buff in like 12+ different ways, including the handy COVID-19 Mask style, but they often UV protected fabric so they can be worn as a sun protector, hat, neck scarf, headband, or hair tie.
Buffs come in tons of cool designs and prints, which will surely appeal to your tween or teen. Some even come in travel or destination themes. For example, if you follow Wanderschool, you've seen that my kids and previously hiked the Camino de Santiago. You can even buy a Buff with the Camino de Santiago theme!
Tweens and teens may love PopSockets, but smartphone ring holders are super fun gifts, too. They make holding a smart phone easier and waaaaay less tiring for teen and tween hands–hey, all of those hours watching videos and texting takes a toll.
You. Can't. Go. Wrong. With. This. Gift.
Pop Sockets come in so many cool and fun designs. For example, you can even find Wanderlust PopSockets! You just can't go wrong. Teens and tweens love these and they are great for holding onto a smartphone during travels.
Even the most wired teens and teens will appreciate a travel journal, complete with old fashioned paper, and enjoy looking back over their travel memories in the months and years to come.
Gotta keep those devices charged. Fully charged devices = happy tweens and teens.
Sure, you could go for card games like UNO, but you could also get your tween or teen some really sweet playing cards, like these donut cards. My kids love them–as do all of their buddies. They are so yummy looking though, so if your kid starts whining for a donut during the trip, you'll know why.
Alternative Card Game Option That Teenagers and Tweens Will Absolutely Love: Exploding Kittens. My teenagers and tween love to bring this game with them when they travel.

Teens and Tweens love hoodies. They are perfect for traveling, especially on airplanes…kids can just pull the hood up and snuggle into their own cocoon, especially while listening to music or watching movies. My kids love to wear basic, solid color hoodies like this one by American Apparel when we travel.
A smartphone or screen loaded with movies is a gift most tweens or teens won't refuse. A gift certificate toward movie downloads makes a fun gift and perfect entertainment on buses, trains, and planes. Travel gift certificates in any form rock really for anyone–teens, tweens, or adults!
If your teen or tween has an iPhone, you probably can't go wrong with an iTunes gift card. Traveling with music is fun, relaxing, and helps pass moments of 'boredom' (imagine that!) and home (or friend) sickness. Seriously, when it comes to gifts for teens, especially, anything "travel" gift certificates related, you can be sure they will most certainly be appreciated. Music for sure.
Gotta appreciate easy to slip on and off shoes during airport security checks. Also makes it handy for teens and tweens to slip their shoes off on the plane, so they can chill out.
No-tie, TSA friendly shoelaces, in a variety of colors are a fun choice for tweens and teens–and will look good in Vans or Converse.
A security-feature rich laptop bag, like the affordable Tzowla Backpack, is a great gift for teens or tweens. The Tzowla bag is water-resistant, and has a USB charging port and built-in lock.
Two of my children have these bags and have shuttled them to coffee shops, libraries, workshops, and classes all over the planet. For the price, this is a really awesome bag. I initially had doubts that it would be tough enough to hold up to tween and teen wear, and keep valuables like laptops safe, but so far so good! The bag comes in different colors, including floral print, which one of my kids absolutely loves.
A total must, especially for tween and teens who need an easy small carry-all for a smartphone and chapstick. This Adidas Cross Body bag is a hit with my crew.
Overall #1 Best Travel Gift for Older Teenagers
If I had to pick one travel present or essential to buy for an older teen (or mature teen or tween), it would be this:
Sure, I get it if you're rolling your eyes right now and saying, "OMG. No way!" Yes, the price is a mega turn-off. However, hear me out on this one, even if you don't ultimately buy the Apple AirPods Max.
Headphones make fantastic travel gifts, especially high school graduation gifts for 18 year olds. Whether the teen you're shopping for is planning to live the travel lifestyle, go away to college or university, backpack around Europe, live in a VW van, or just study at the local Starbucks, high quality headphones make the travel, work-life-study-play experience so much better.
When you spend a lot of time on planes, trains, buses, in coffee shops, or noisy hotels or hostels, noise canceling headphones can give a sense of private space or a quiet place to retreat to from the bustle.
Plus, kids are so wired these days, that having high-fidelity audio really makes things sound a lot better.
Advantages of the Apple AirPods Max
Noise cancellation
Incredible sounds
Quality
Effortless set-up
Awesome fit + memory foam comfort
Available in several colors
Can accessorize with cool ear covers – like different colors (teens love accessorizing, right?)
Warranty – you can buy an Apple warranty… I like this, a lot, especially since you can find Apple stores around the world.
PROTIP: Buy the Apple AirPods Max in Space Grey to Hide Travel Dirt and Grime.
My Overall Best Gift for Backpacker Young Adult Travelers
For older teens who are planning a backpacking trip, camping trip or roadtrip adventure, I highly recommend a top sleeping bag. For women, I think The North Face Cat's Meow sleeping bag is the clear winner.
Together quality, features, and price point make it a great gift idea. I talk about what there is to like with this sleeping bag in SELF.
Go Explore with These Awesome Travel Gifts for Tweens and Teens That They'll Absolutely Adore
I hope this list of travel gifts for tweens and teens helps you find the perfect travel gift for your teen or tween. These gifts and accessories are sure to make their travel, adventure, trip, or holiday even more enjoyable. And, of course, yours, too!
If you have other travel gift ideas for tween and teens, say hello and drop a note about your idea in the comments below.
Share the Love
If you liked what you saw in this Best Travel Gifts and Gear post, please consider sharing our re-pinning this post!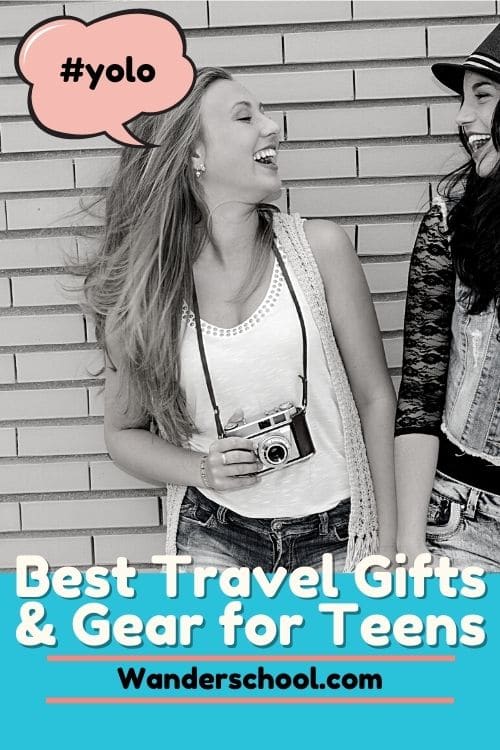 Happy Travels, Julie
Follow Julie on Social Media! 😉