Looking for the best travel dogs? Find inspiration in this list of best dogs for rv living, van life, roadtrips, and nomadic, travel lifestyles.
If you love to travel and long for a furry travel companion or adventure buddy, you might be happy to know that the two aren't mutually exclusive.
Affiliate Links Disclosure: My posts sometimes contain affiliate links, which mean that if you click on them and make a purchase or sign up for an offering, I may earn a commission, at no added cost to you. I received no compensation for writing this post, and it reflects my own experiences, research, and opinions. You can read my my privacy policy here. Thank you so very much for reading my blog!
Traveling with man's best friend is possible. RV living with a dog or dogs is possible. So is van life. And roadtrips and nomadic, travel lifestyles are also doable with dogs.
Though a travel lifestyle can be a heck of a lot easier and more flexible with certain types of dog breeds. Of course, there are dog lovers out there who can tell you what large breeds travel well.
My Story
For years my four children begged for a dog. Somehow a dog landed at the top of at least one child's Christmas wish list every year.
However, the idea of adding a dog to our travel lifestyle seemed overwhelming for a long time. A dog seemed like it would interfere with flexibility and travel spontaneity.
But then a time came when we I seriously started to consider the idea of welcoming a dog in our family. So, I began researching the best dogs for travel.
During my research, I quickly realized that certain dog breeds have the potential to fit well into the travel lifestyle–or rv living and roadtrips. searching for best dogs for RV living or for roadtrips. I also learned that dogs that stay small are not only good for travel, but can also make great family-friendly, cuddle buddies.
To be clear, I am not a dog expert by a long shot, but I've done a lot of research on the subject of travel-friendly dog breeds for my own worldschooling family.
I know there are some great dogs to have that are compatible with travel lifestyles.
I also know there are some wonderful dog breeds for busy owners, like on-the-go families, such as mine. Owners who don't want to be tied down.
And while I am not a dog expert, I am the proud dog mama to the sweetest little chihuahua on the planet. Pinch me…sometimes I still can't believe how amazing chihuahuas can be and how my family lucked out when we found our 10 month old fur baby.
If you want to travel with a dog, consider these questions
What comes to mind when I think of good travel dogs? (e.g., personality, temperament)
Do I want a small dog?
Do I want a small dog that travels well and can travel in carry-on with me?
How important that a dog that can meet airline requires and fit under a seat?
If a dog will be my RV living or Van Life companion, how much space will it need? How will I create safe outside travel space for it?
Best Travel-Friendly Dog Breeds
Theoretically, any dog breed could live a jet setter lifestyle. And any dog type could probably live in an RV, enjoy van life, or travel weekends internationally.
However, practically speaking, some dogs are simply more portable than others. Some dogs are simply more manageable to integrate into a travel lifestyle than others. For example, a dog that weighs only a couple of kilograms will be easier to carry on subways, trains, or planes.
For what it's worth, keep in mind when dog and travel planning that some destinations and countries are more pet friendly than others. To illustrate, in France, dogs are typically treated like family. They go everywhere. On holidays. Out to dinner. Along with the family for AirBNB stays. On ski trips, city outings, and beach adventures.
However, often these dogs living the good life are smaller in stature.
The Best Small Dog Breed for Traveling
The best travel dogs don't have to be small, but small size dogs can have benefits when it comes to the travel life, such as having the ability to fit under an airplane seat in carry-on.
For what it's worth, if you're at all curious what size dogs will fit under a seat, check out pet rules for your favorite airline. The rules vary by airline.
And, when it comes to buying a pet carrier, make sure it's airline approved and flight cabin friendly if your goal is to take your small dog in the cabin with you. Also, make sure you give it a trial run before your first plane trip, such as in a car, train, or bus, so you have some idea of how your fur baby will handle spending time in the carrier.
Size Matters
When it comes to finding the best dogs for rv living, roadtrips, and travel lifestyles, size matters. There's just no way around it.
Travel life can be a lot more flexible and manageable with small dogs. If you're thinking, but I want a big dog or I have a big dog…this doesn't mean you can't travel with your dog or that your dog isn't a perfect traveler.
After all, someone could have the "perfect" or ideal list making travel dog, but the dog's individual personality isn't well suited to travel instability or unfamiliar places–or becomes rowdy or completely unhinged when traveling.
So, when it comes to determining the best dogs for travelers, RV dwellers, Van lifers, frequent travelers, or nomads, dog breed size can be a valuable consideration. As you'll read, small breeds largely make up this best dogs for travel list.
Pets that Travel Well – Good Travel Dogs and Pups
In addition to considering size, it's also important to generally consider pets that travel well. While not necessarily breed-specific, dogs who are nervous, known for high-anxiety tendencies, such as barking, or are anxious with noise or people may not mix well with a high-travel lifestyle.
A dog's background and training may play a role in how well a dog travels or whether it will make a good travel buddy. For example, a fearful dog might require extra training to help feel secure in travel situations, such as airports, crowds, and new surroundings.
Dogs that are good for traveling
Dogs who are well raised, trained, and well socialized will likely make the best travel dogs. The more familiar dogs are with different sounds, smells, people, and environments, the better for travel. The less fearful they are of different stimuli, the better for travel too. Good training and socialization can go a long way toward the making of good travel dogs. And toward the making of easy going dogs.
Chill dogs who are travel friendly and low-stress, especially when you're also traveling with kids in tow.
Discover the Best Dog Breeds for RV living, Roadtrips, and Travel Lifestyles
This list is a compilation born out of my own travel-friendly dog research for my family.
Top 10 Small Dogs – Dog Breeds that Fit Under an Airplane Seat
1. Chihuahuas
Yes, I'm biased. I've got the sweetest chi. You can see a photo of him on my Instagram. Before my travel-loving family welcomed our chihuahua into our family, I admit, I wasn't sold on chihuahuas. But now…oooh la la. Chihuahuas can be cool small dogs! And…they can be easy going dogs!
Keep in mind there are miniature or teacup chihuahuas, as well as some chihuahuas that are smaller than others. This small dog breed can fit under an airplane seat.
2. Dachshunds (or Teckels or Doxies)
Sometimes referred to as hot dogs, dachshunds can make good travel buddies, particularly the small miniature sized dachshunds. The smallest dachshunds can be pricey (and hard to find for adoption). Depending on where you are on this planet, you might find them by the name of miniatures, minis, teacups, kaninchens, or nains. Dachshunds pretty consistently make top 10 best small dogs lists because they are overall considered family-friendly (especially for families with older children).
3. Yorkies
Mini, teacup, or small Yorkshire Terriers can make good travel companions (and airline cabin friendly). They tend to be family-friendly, adorable, and playful. Yorkies, as they are commonly called, also tend to be social furry friends. Plus, they are hypoallergenic. This is a big deal, not only for the comfort and health of your own family, but also for those traveling around you.
4. Toy Poodles
Toy or small poodles can make great travel buddies. They tend to be highly intelligent and easy to train. This is a big plus when it comes to training them for travel.
5. Brussels Griffons
These scruffy, bearded face cuties tend to weigh less than 12 pounds, but can be as small as 5 pounds. Because they like to stay close to their owners, are sociable, and easily trained, they can make good travel companions–particularly if they aren't left behind on adventures. Some say this isn't the best small dog breed for rough children, however, many find it can be a good travel mate.
6. French Bull Dogs
French bull dogs can be so sweet, gentle, and calm. They definitely are down to earth–sometimes called plain ol' lazy dogs. It is possible to find teacup or smaller sized French Bull dogs, however, they can still weigh more than airline cabin size regulations as adults. So, if you opt for a French Bull dog, be sure to check transportation requirements. The chill nature of a French Bull dog could be well-suited to RV life, especially if it has a cozy space to call home in your home on wheels.
If you're at all curious about how popular French Bull Dogs have become, check out 40 Celebrities With French Bull Dogs.
7. Russian Toys
Russian Toy Dogs aren't exactly the easiest breed to find, but they can make good travel dogs. These dogs tend to have big personalities in small packages. They are small enough that they should have no issues meeting plane rules.
8. Maltese
A fury white coat tends to come to mind when people think of the Maltese dog breed. These dogs tend to stay small, are affectionate and loyal, and easy to train. They usually don't weigh more than 7 pounds as adults. They definitely are well-placed on any top 10 little dogs list.
9. Shih Tzu
This is a popular small dog breed. Shih Tzus have the reputation of being a terrific family pet. Accordingly, given their small size and family-friendliness, they can make good travel dogs.
10. Papillon
Fancy Nancy would surely agree that the Papillon, which means butterfly in French, is a good family dog. And with a size and personality that typically well lends itself to travel adventures, this small dog breed could be a good choice for someone or a family looking for a small-space, travel life companion. A spaniel descendent, Papillons are lap dogs who love their humans. They certainly will be with you wherever you go.
Conclusion
If you're looking for a dog to fit your travel lifestyle, definitely dig into these options on this list and do your homework. Remember, the decision to add a dog to your family is a big, lifetime commitment.
If you found this post helpful, please pay the love forward and share it, tweet it, or pin it for your friends or followers to enjoy.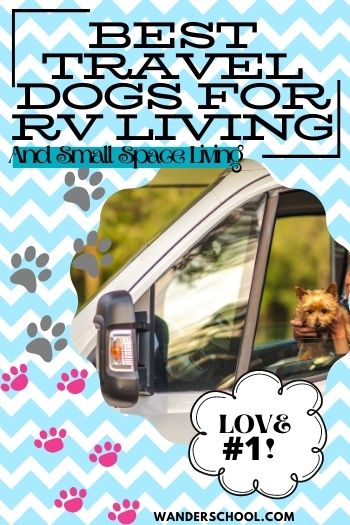 Follow me on IG and share photos of your furry travel buddies!
Happy traveling with your dogo!
Follow Julie on Social Media! 😉