The world is our classroom. And it can be yours too. It's time to start worldschooling!
Worldschooling, Roadschooling, or Homeschooling on the go (or Wanderschooling as my family calls it) is a lifestyle. It's life, learning, travel, and adventure all in one.
As a blogger, I am required to disclose that this post might contain affiliate link. This means at no additional cost to you, I may earn a commission if you click through on a link and make a purchase. You can read the full disclosure here. Thank you so much for your support and readership.
Travel to Make the Most of those Long Days and Short Years
Imagine if those long days and short years raising children were spent in new, exciting destinations? For example, under the Northern Lights in Iceland or in a rural New England, USA town?
What would your life look like if you could travel or live anywhere, all while giving your children ever-changing opportunities to soak up the world around them? What would your children's lives look like if they spent their days outside of four cinderblock, classroom walls, exploring cities, mountain trails, museums, libraries, or wandering small town streets? Where would you go? What would you see? Would you feel like you had finally arrived?
For over 10 years, I have homeschooled my four children. Unschooled them, actually. With the exception of my oldest, who very briefly attended public school, my kids have spent their school years not in school. Instead, their school experiences have consisted of roadschooling, worldschooling, and coffeeshopschooling. They've spent days in the mountains learning first hand about glaciers and climate change. As well, they've spent months traveling to all 50 States of the USA by motorhome (RV). They've spent months roadtripping to and through various destinations, weeks hiking legendary hiking routes. And, they've lived in rural communities and roamed the streets of New York City in search of Chai Lattes.
My kids are homeschooled through travel. Every new place, every new adventure, every new cultural experience or interaction is a new learning opportunity. Yours can be too!
You Can Do This Too! Start Worldschooling!
Not everyone has a job, lifestyle, relationship, or financial means that lets them easily pick up or pick apart their life to start traveling and homeschool.
Even families who already homeschool (or a parent who dreams about the travel lifestyle), can't always simply pack up and go away for a life of adventure away from home.
Sometimes current jobs aren't flexible.
Sometimes one parent can't convince the other parent to get on-board with the plan.
Often, there's not room in the budget for a weekend getaway, let alone a major travel adventure. But don't worry if this sounds like your situation, there are things you can do now to start getting your ducks in order to pursue this travel, homeschooling lifestyle.
Start Small or Go Big
The good news is that if you dream about integrating travel and adventure into your life, you can start worldschooling (or wanderschooling) or roadschooling for as short or as long of a time period as fits within the parameters of your life. Sure, you can go big, like hatching a plan to sell off everything you own. You can plan an extraordinary multi-month adventure, like the Crawford Family did when they Thru-Hiked the Appalachian Trail with kids. Or relocate your home base to a little apartment in Portugal. But you can also scheme up a plan to start small, without giving up your fixed address or going into debt for a dream.
So, go on, if the homeschooling, world traveling lifestyle is your dream, dive right in. Or dabble or take baby steps with day trips or weekend adventures out exploring your community or State, while keeping your eye on the prize of larger, bigger, and dreamier adventures.
It's time to start worldschooling! Are you ready?
The Educational Perks of Homeschooling and Travel
It's fun! When learning is a daring adventure, how can learning be anything but fun?
Homeschooling is an awesome educational opportunity, and when it's interest-led (unschooling), woweee the sky is the limit when it comes to what your child can, will, and wants to learn.
Travel at your own pace; your child learns at his/her own pace.
Fulfillment of travel dreams and life goals.
Cultivates a life-long passion for learning and discovery
Traveling homeschooling kids are often highly adaptable, curious, and resourceful
Exposure "to the real world" gives children front row seats to lessons in diversity, culture, world politics, religion, and social issues
School fits into life, rather than life fitting around school — which means new opportunities, and lifestyle and learning flexibility
How to Start Homeschooling on the Go:
1. Do your homework.  
If you're not already homeschooling, you'll need to first get the scoop on your state's requirements.  
If you are based in the United States, in some states, meeting homeschool legal requirements is easy peasy. At least that's according to homeschooling moms out there. In other states, homeschooling families have to jump through several hoops, but don't let that discourage you–raising kids can be a circus act anyway, what's one more hoop?
If you are based outside of the United States, you'll need to do some research into your local homeschool laws. Not all countries are homeschool friendly. Find a Homeschool Facebook group in your area to pose questions or peruse question archives. Or consult with the local governing body, education department or ministry. Or reach out to a lawyer for advice.
Read, read, read everything you can about homeschooling. There are some 'online homeschools' and distance schools that can sometimes help satisfy homeschool requirements and make your local homeschooling authorities happy, such as Oak Meadow and Clonlara.
2.  Consider your homeschooling goals, schooling philosophies, your children's learning styles and your travel interests or dreams.  
Is your goal to fill your bucket with one-of-a-kind adventures, like climbing a mountain on every continent?  Or is your goal to expose your child firsthand to as many world religions as possible?  Is your goal to see every state on the East Coast?  Is your goal to let your wanderlust take you and your homeschooling classroom wherever the wind blows? Are you a parent who needs to feel like every detail is planned or are you a go-with-the-flow kind of family?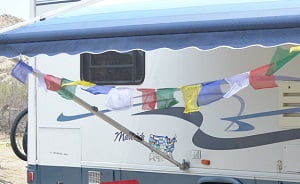 To learn more about the different approaches to homeschooling, including Worldschooling, Read 10 Popular Approaches to Homeschooling.
3.  Start planning.  
You don't need tons of money in the bank to start world schooling.  You can start small today. For instance, you can integrate short adventures into your homeschooling family's life. Such adventures could be something you ordinarily wouldn't do.
For example, perhaps that's renting a city bike and riding through town. Or maybe it's lacing up your sneakers and jogging a trail or hiking a route as a family. Maybe it's planning a pick-your-own berries excursion. Or perhaps it's finally taking the plunge and buying tickets for a weekend trip to Florida or booking an apartment for a three month stay in Spain.  
You can build your worldschooling adventure bank over time, as you build your own bank funds or slowly (or quickly) tweak your lifestyle/jobs to permit flexible work and travel.
For creative ideas on how to make more money for travel, check out 37 Side Hustle Ideas to Make Money From Anywhere.
4.  Get connected.  
More and more families are homeschooling. And an increasing number of families are looking to live the travel lifestyle. As such, many are looking for flexible, unique educational travel opportunities.  
Find a community online or offline that connects you with other like-minded homeschooling families. For example, if you're interested in RVing around the US, seek out blogs, Facebook groups, Slack Groups, and Yahoo groups dedicated to that same interest. Look for home exchange or family work exchange opportunities abroad that give you housing and sometimes meals in exchange for work help.
Of course, you can always connect with me and follow my family adventures here and on Instagram for travel, homeschooling, and adventure tips and inspiration.
If this worldschooling blog inspires you, please share the love! Pin it. Tweet it. Or share it with your friends, family, or followers. I'd really appreciate it! 😉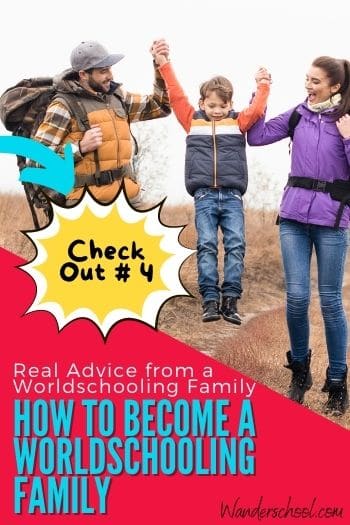 Are you ready to start worldschooling and traveling the world with your family? Drop a comment below. Share your travel dream. And share where you are in the world right now if you've already embarked on your grand adventure. I'd love to hear from you.
Follow Julie on Social Media! 😉
Related Posts You May LOVE