Is #Vanlife Overrated?
People are flocking to #vanlife and #rv life during the pandemic. But is this home on wheels, mobile, travel lifestyle overrated?
Affiliate Links Disclosure: My posts sometimes contain affiliate links, which mean that if you click on them and make a purchase or sign up for an offering, I may earn a commission, at no added cost to you. I received no compensation for writing this post, and it reflects my own experiences, research, and opinions. You can read my my privacy policy here. Thank you so very much for reading my blog!
The Van Life and Van Living Craze – Is #Vanlife Overrated?
New flexible, remote work arrangements combined with the urge to travel, and for some, closed schools has made van life and rv living increasingly attractive.
Of course, social media, namely Instagram, has something to do with it, too. After all, who can't scroll through photos with the hashtag #vanlife without some serious lifestyle envy?
The Pandemic's Influence on Living Life on the Road
According to USA Today, "Van life," or #vanlife as it's known on social media, has been around for years. But the pandemic has supercharged it." If you sift through social media, it looks like the hashtag #vanlife popped up sometime around 2011.
And money doesn't lie. RV sales are through the roof, thanks to the pandemic. Check out out in Buying an RV and RV Life in a Pandemic.
Why Van Life and its sister RV Life are Literally Taking Off During Coronavirus
Remote work arrangements and job flexibility to work or live anywhere, provided there's Wifi
Socially Distanced
Travel restrictions on flights and public transportation
Safe way to get outside, explore, and see new places
Eliminates or reduces monthly mortgages or rent bills
Can work for a wide range of budgets
Closed schools and Increased interest in homeschooling – roadschool
Growing recognition that life is short…who knows what could happen…so why not live now!
Time to renovate vans, old RV's, or school buses to convert into homes on wheels
Social Media
But is Van Life (or RV Life) Overrated?
Based on my own experience of living full-time in an RV with my 4 homeschooled children in 2015, while we set to explore all 50 USA States, I take the view that van life (or rv living) is UNDERRATED.
There is nothing like living on the road.
Let me say this another way.
Living on the road is one of the best experiences of my lifetime. Every single day something reminds me or my children of our memorable life on the road, living as nomads, exploring the United States.
Social Media Let Down
Sure, van life or rv life may not be for everyone. And sure, what you see on Instagram might gloss over some (or many) of the realities of life on the road.
However, if you buy into the van life or rv life based on what you see on Instagram and feel disillusioned with your experience because it's not as glamourous, sexy, adventurous, or postcard perfect as what you see on the gram, well…. that's really on you.
After all, it's social media!!!
Not to mention that accounts featuring picture perfect photos and thousands of followers are quite often motivated to some degree by money. Making money.
Getting you to buy into someone else's life sells. There's nothing wrong with that. Hey, I'm writing this travel blog, after all. However, there is no excuse for not thinking for yourself and recognizing the limitations and realities of social media, especially when it comes to undertaking something as huge and exciting as uprooting your life for a life on the road.
Why Van Life Can Be an Experience of a Lifetime
Van life (or rv life) can be an experience of a lifetime. There are seriously too many reasons to count as to why it might be one of the best things you ever do in your lifetime.
Some of the reasons why van life can be an opportunity of a lifetime:
Simple living – minimalist living – live with everything you need in your van
Spend time with the person or people most important to you
Opportunity to homeschool (roadschool) your children – the World is the ultimate classroom!
Live, work, play ANYWHERE
Visit National Parks, Beaches, Attractions, or see an entire region or country!
Live spontaneously
Develop new skills – like learning about solar panels and how to empty water or waste tanks
Experience life as digital nomads
Save Mega Money – you can live for nearly free or stay for free at vineyards, breweries, or golf courses with Harvest Hosts membership (so ditch the mortgage or rent!)
Meet cool, fascinating people, and make friends around the country or world, depending on where you go
If you do a van renovation or van build yourself, you can design your camper van to be exactly how you want it.
Wake up to beautiful sunsets, the sounds of waves or nature, in different locations, as often as you wish
If you want to live on the road with your family, make sure you check out Roadschooling Packing Essentials.
Please share the love! Tweet this, Pin this, or share it with your friends, family, or followers who might be interested in living van life or rv life. Of course, drop a comment below, too, I'd love to hear all about your van life dreams, plans, or experiences. And tell me, is #vanlife overrated? 😉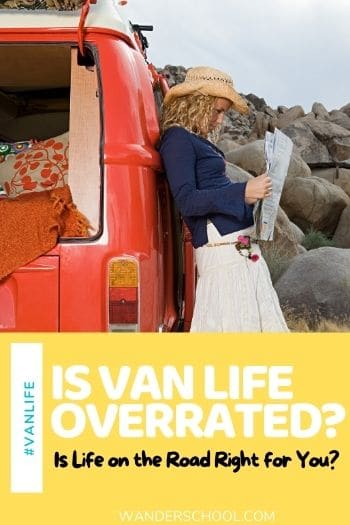 Follow Julie on Social Media! 😉
Related Posts You May Love