Hiking the Tour du Mont Blanc (TMB) with Children
If you love adventure, hiking & traveling, the TMB is an exciting must-do with or without kids in tow.
In August 2018, I hiked the legendary 100 mile Tour du Mont Blanc ('TMB') route with my four children, ages 15, 13, 10, and 8 years old. We spent ten days hiking and living gite-to-gite on the route that passes through France, Italy, and Switzerland. It was one of the best adventures, if not the best, that I've ever done with my children. I've answered questions about the TMB here.
If you love adventure, hiking and traveling, the TMB is definitely a life-changing bucket-list experience. The views, the gites (or auberges), the people you meet, the food, the heart-pumping days of exercise, the exposure (yes, there is exposure, more or less depending on whether you follow the traditional route or variations), the towns–everything that makes up the TMB–can't be fairly described. You have to experience it.
Hiking the TMB will leave you taking so many photos of breathtaking views, learning much about yourself, and perhaps wishing the days would never end–or that you could do it again.
In January, I bought Kev Reynold's Tour du Mont Blanc guide book and within days I had booked flights from the USA to Geneva, with the idea to hike the TMB with my four kids.
Two years earlier, while waiting to catch a flight from Geneva to Reykjavik, I met a guy waiting for the flight to our board who had just finished doing the TMB. He said it was an incredible experience and couldn't imagine how hard it was going to be for him to return to work after feeling so free in the mountains.
I decided that the kids and I would venture out in mid-August, giving us time to finish the route by the time my husband flew in from the USA for his own running race on the same route, the epic "UTMB," days later.
I planned to do the traditional CCW (counter clockwise route), starting in Les Houches, France.

A few months before the trip, I made hut-gite-refuge reservations using this website. Given there would be five of us during the height of the season, I didn't want to take any chances that we wouldn't find a place to stay on the trail. I know, however, many individuals doing the route do just fine without advance reservations.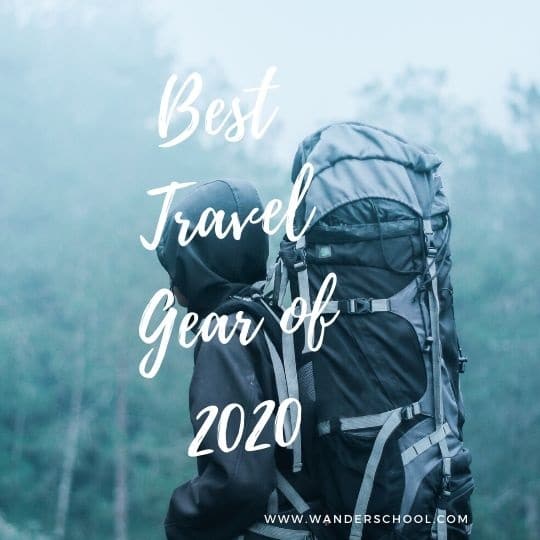 Our TMB Adventure: Arriving in Geneva
We took a flight from the USA to Geneva (GVA). We then took Alpy Bus to our gite in Les Houches, where we planned to start our adventure. I made advance reservations on Alpy Bus online.
Upon exit of baggage claim/immigration/customs, follow the signs toward the French Sector and find the Alpy Bus desk amid a bunch of transportation desks/kiosks, across from the wall of UBS bank ATMs.
Alpy Bus was great. When we arrived at the desk, we waited no more than 15 minutes for our bus. When I walked up to the counter with my tribe, the lady asked if I was Julie and welcomed me. Alpy bus dropped us off right at our gite, Gite Fagot in Les Houches.
Night 1 – Gite Fagot – Les Houches
Gite Fagot is incredibly well situated. It's a great location for starting the TMB. Plus, for a small fee the gite will store any excess baggage you may have while you hike. We arrived early, before the 2:30 check in, but the hostess permitted us to leave our bags while we took off to a nearby cafe and shops.
The tourist office is just a 3 minute walk away. The tourist office sells route maps, and we snagged one for 9.95 (Euros). Carrefour, the grocery store, is located behind the tourist office, also sells a number of route and local area maps. Near the tourist office there is a Bank Agricola ATM, a pharmacy, and a post office. There is also a restaurant/cafe that serves up a strong cafe au lait which is perfect for keeping sleep deprivation/jet lag at bay.
The bus to Chamonix passes right by the Tourist office, so if you need to get into Chamonix for any last minute hiking gear or for a pre-hike Chamonix visit, you can easily catch it into town.
The Bellevue tram is about a 10 minute walk from the tourist office along the Main Street through Les Houches. There is a sidewalk to walk upon, and although narrow in some spots, it serves its purpose and keeps meandering, curious kids away from traffic.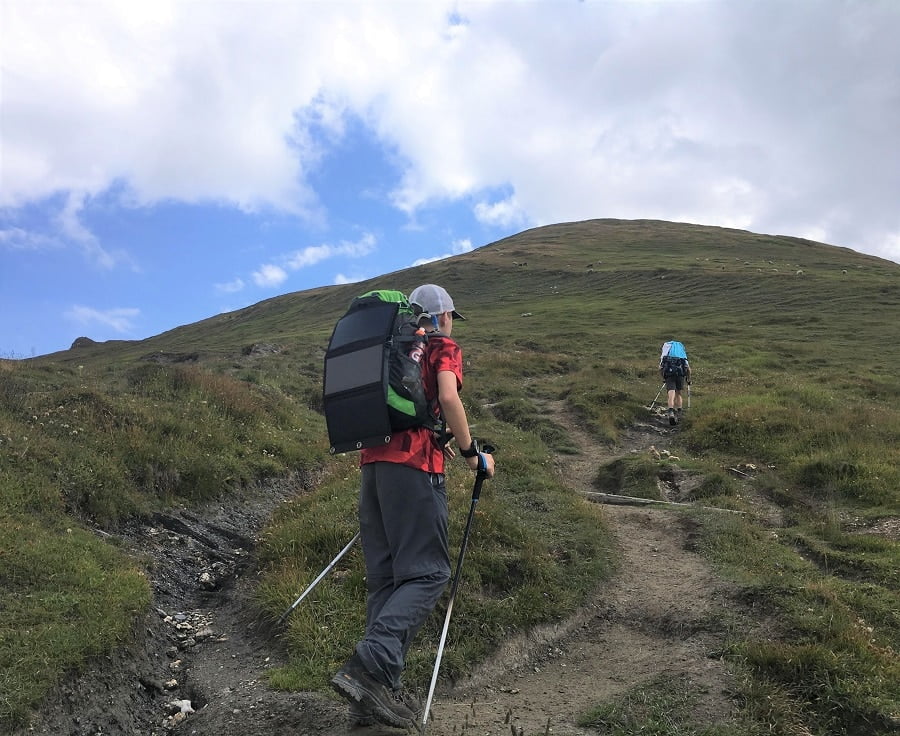 When it was time to check in to the gite, we discovered we had a simple, but clean bunk bed room all to ourselves. Dinner was served outside on family-style tables, and it was delicious. My pickiest eater gobbled up his entire dish of chicken curry. The cook also accommodated my gluten free needs. This was one of our favorite gite meals. We were so tired, however, that we left dinner as soon as desert was served and hurried into bed.
Night 2 – Chalet des Contamines (FFCAM)/Club Alpin Francais (CAF)
After a long, but absolutely beautiful and fun day of hiking in the sunshine, starting first with taking the first tram of the morning out of Les Houches, we arrived in the early afternoon in Les Contamines. We grabbed coffee, drinks, and a cheese platter at a little brasserie in the heart of Les Contamines. As we were there, it began raining, which then toured to a downpour. We waited out the rain until it turned back to light rain. We met some great ladies hiking the TMB, that we would later see along the route.
If you need cash before Courmayeur (keep in mind your gites before this point might only accept cash), you must stock up in Les Contamines. There are two ATMs in town.
After another ten minutes of hiking, we arrived at the Club Alpin Francais. We took up an entire bunkroom, minus one bed – the guy, John from New York, who shared the room would later be someone we would see here and there throughout our hike. The hostel hostess was super kind and welcoming of the kids. We had a great family-style dinner here, a huge crock of soup, with other hikers. If you stay here with kids, be sure to ask if there is a child discount.
Night 3 – Refuge de la Croix du Bonhomme
It felt so good to arrive here after a very long, steep day of climbing! Talk about a breathtaking view here! When you arrive, you'll see tons of Crocs. These slipper shoes are meant for you to wear around at the refuge and you keep your hiking boots (and poles) on shelves. Bonhomme only accepted cash when we were there. We were assigned our own room, which was small, but cute. We had no/limited electricity when we were there, as this refuge runs on solar. There was virtually no wifi or cell. There was limited hot water/showers, which were first come first served. My kids had to hike up a hill to find enough signal strength to send a message home that we arrived safely. This refuge was the one gite that came the closest to a camping vibe – except with beds. Dinner was awesome. We met some really cool people at our long, family-style table. My daughters took turns playing the guitar and cards in the dining/gathering room. In the morning, we grabbed breakfast early and continued on.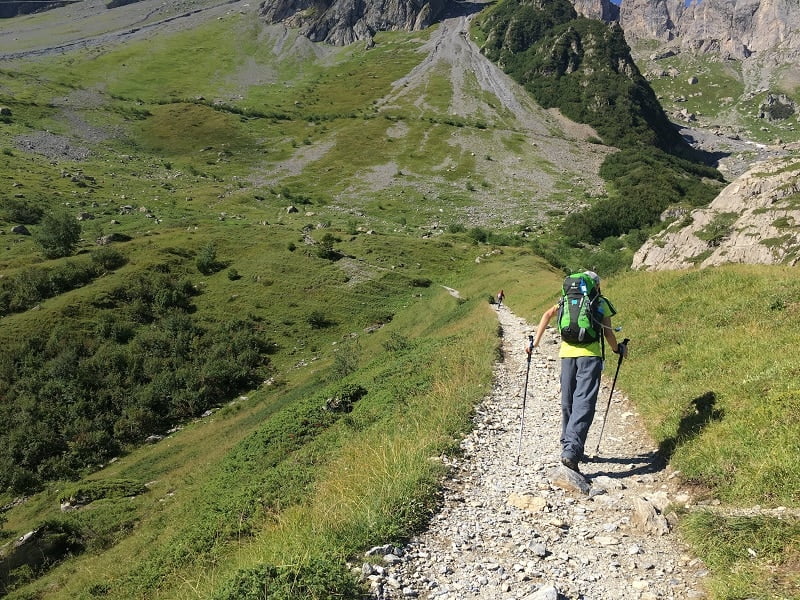 Night 4 – Rifugio Elisabetta (Italy)
After another exciting day of hiking, we arrived at Rifguio Elisabetta. My most memorable part was grabbing a hot shower and hanging out with the kids sipping Coca Cola, playing cards, and enjoying a spotty, yet present wifi connection.
Night 5 – Rifugio G. Bertone
After an epic day of hiking, adventure, a pit stop to do laundry in Courmayeur, we made it to Refuge Bertone. We lounged in the early evening sun on the huge deck, ate dinner, and crawled into bed early in our dormitory-style bunk house. At dinner, we met a cool couple from Israel, which we later saw again on the Tour, and continue to keep in touch with on social media.
Night 6 – Rifugio Alpino Walter Bonatti
The best cappuccino in Italy! It was exciting to arrive at Bonatti, after a very short hiking day. We enjoyed our lazy afternoon sipping caffeine, reading, soaking up the sunshine, and helping to look for a wedding ring that someone lost near the outside water basin. All supplies to Bonatti are flown in by helicopter. This was a posh refuge experience in the mountains. We met a bunch of awesome people here, including a Tour Guide, Emma from the UK, who was guiding a fun group of people from South Korea. We also met a guy from Lithuania and his Rainbow Gathering follower friend. We saw all of these people again on the tour and keep in touch with some of them to this day via social media.
Night 7 – Gite de la Lechere (Switzerland)
We will never forget our time at Gite de la Lechere. We had an awesome and cute little shared attic room, accessible by a loft-like ladder and head ducking to get into the room (liability issues would never allow this type of room in the US). We met a fantastic group of adventurous women from Spain, Los Montanas, saw John again from NY, and met a father/son from Israel. We still keep in touch with many of these people.
Night 8 – Pension en Plein Air
This pension is only a couple of minutes away from Lac Champex. It served a large dinner and we had a family room to ourselves. While I have no real complaints about our stay, and found the location convenient, the initial reception could have been more welcoming.
Night 9 – Hotel du Col de la Forclaz
The stay at Hotel du Col de la Forclaz was our least favorite. We were given our own bunkroom, which was nice, however, I this was the only place on the entire Tour that didn't feel very family friendly and the food seemed overpriced for what we got. If I had to do a redo, I would have continued on to the next town only minutes away, as many of our TMB friends did.
Night 10 – Gite Le Moulin (France)
The best French food on the TMB! Our gite keeper was absolutely serious about the presentation, quality, and quantity of his food. Huge portions and a big breakfast spread of fresh croissants and assorted jams. We arrived here earlier than expected as we made a detour off the Col through Le Tour due to a big snow/sleet/rain storm.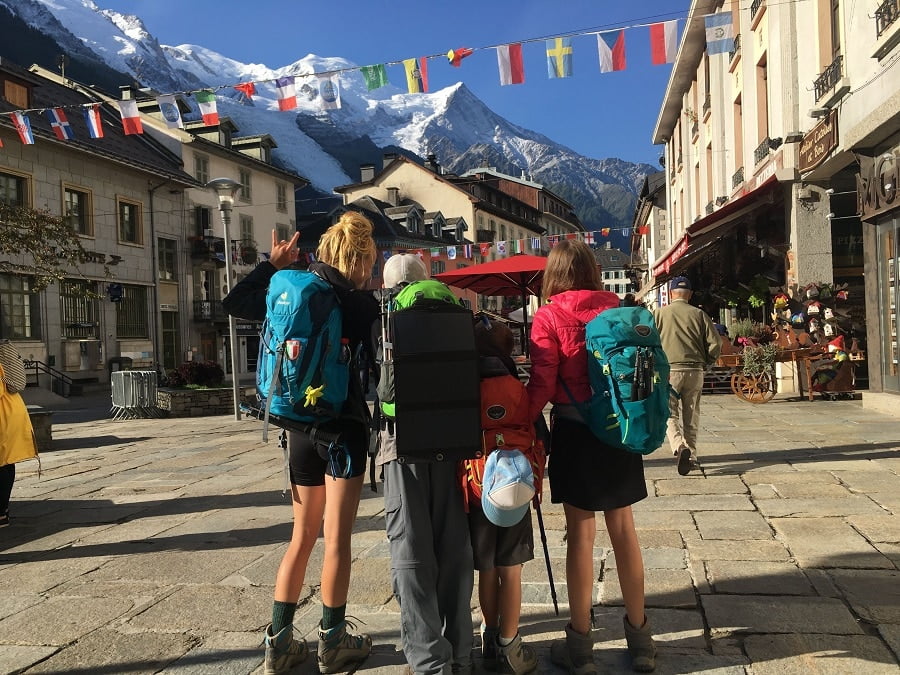 The next day we arrived back in Chamonix, finishing our epic Tour du Mont Blanc. We met so many wonderful people on the Tour, and enjoyed so many incredible hiking experiences as a family.
Hiking the TMB was definitely one of the best mom + 4 kids adventures we've ever done.
If you love hiking, you might be interested in our other hiking adventures:
Affiliate Links Disclosure: My posts sometimes contain affiliate links, which mean that if you click on them and make a purchase or sign up for an offering, I may earn a commission, at no added cost to you. I received no compensation for writing this post, and it reflects my own experiences, research, and opinions. You can read my my privacy policy here. Thank you so very much for reading my blog!