If you're wondering where to get the best chai lattes in New York City (with or without kids in tow), read on.
I'm the mom who drags her kids around Manhattan just to get a good chai latte. There is no such thing as a 'long block' when chai is calling my name.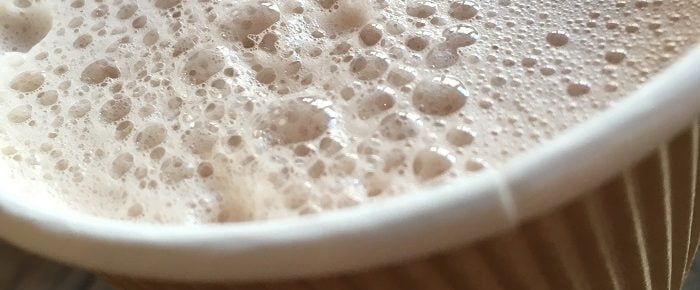 For me, a good chai latte consists of the right amount of spice and sweetness with mild, not bitter almond milk.
Given how much time I spend at Starbucks #starbucksschooling my kids, you might guess that I'd be obsessed with Starbucks chai lattes.  Nope, no sale.  I like Starbucks chai lattes if they contain regular, cow's milk, but I prefer to avoid dairy when I can. While my teen really likes Starbucks almond milk, I think it is bitter and has an overly roasted, almond, nutty taste. She thinks maybe I'm a bit nutty. I also think the chai concentrate that Starbucks uses is heavy on the sweetness and light on the spice.
When I'm in NYC, I enjoy trying chai lattes at the many unique coffee shops scattered around the city.  When I'm in the mood for a sure-to-like cup, these are my go-to coffee shops for a good chai latte. They serve chai lattes made not from real spices and/or a pre-made concentrate, and not from powder mixes.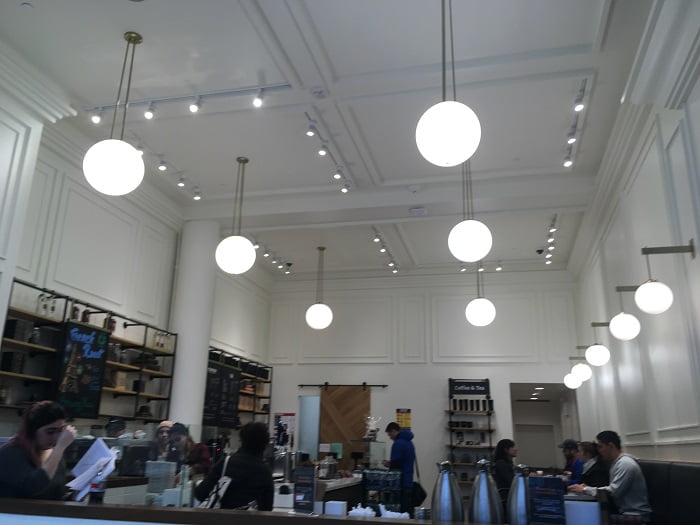 Best Chai Lattes in New York City
1.  Stumptown Coffee Roasters at the Amazon.com store. 7 W 34th St, New York, NY 10001. (Herald Square). Not only is the masala chai latte with almond milk here GOOD, but this little coffee shop adjacent to the Amazon store has window seating that gives you a great view of the Empire State Building, NYC's bustling 34th Street, charging outlets, and has super clean bathrooms. As a kid-friendly bonus, the bookstore has a great kids' nook and a table featuring the latest Kindles pre-loaded with kids' games.  A barista here told me that the secret ingredient to a good chai is love.  I'm all over a good cup of chai love.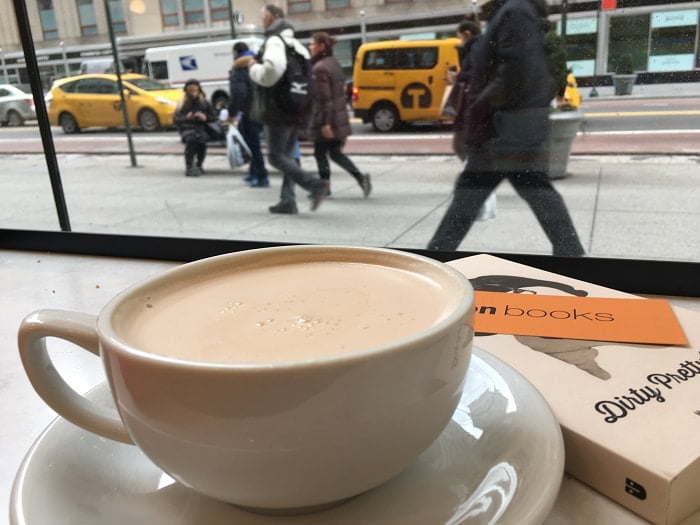 2.  McNally Jackson Independent Booksellers and Cafe. 52 Prince St, New York, NY 10012 (SoHo). OMG. I love this little bookstore! What makes it even better is the chai. You can't go wrong with a chai latte with almond milk here. Grab a punch card and get a free hot beverage/coffee when you buy 10. The seating is tight, but kids love the little foldout desktop seats. Don't forget to look up: the book pendant lights are classy.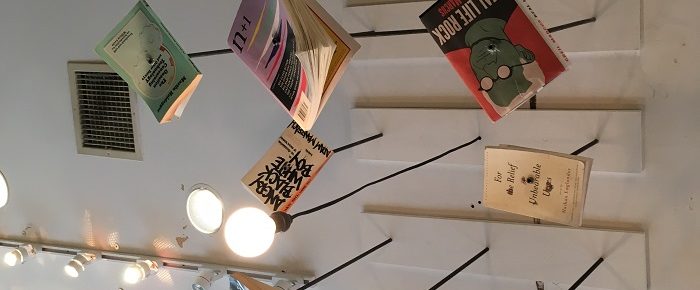 3.  St. Kilda Coffee. 328 W 44th St, New York, NY 10036 (Hell's Kitchen). This minimalist coffee shop is bare bones. No fancy logos or flashy seating. You'll find this shop at the bottom of a short set of stairs next to some cool graffiti art.  You'll find the chai latte listed on the blackboard menu on the wall under "stimulants." A great spot for meeting friends, hanging out for a bit, or grabbing a chai on the go. It's hard to believe that this quiet, tucked away shop is only a block+ to one of the busiest places in the world, Times Square. You can also find delicious locally made granola bars, donuts, which are made somewhere in NYC in old carwash, and pasteries at this coffee shop. Take your chai to go and head around the corner to the McCaffrey Playground on 43rd, and your kids won't complain the next time when you want to go for a hot bevi.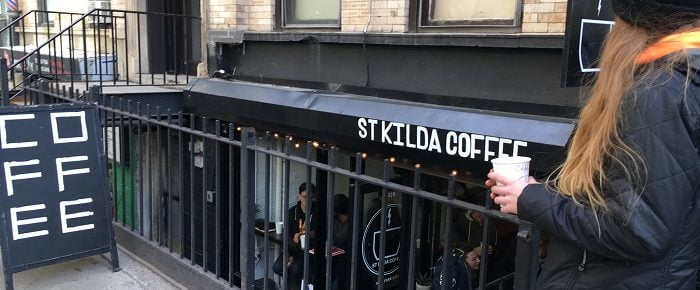 Happy Chai Time in the Big Apple!