If you crave solitude, fresh air, and a pilgrimage trek, St. Cuthbert's way could be the perfect trek for you.
About this time last year, my four children and I embarked on a multi-day hiking adventure between the Scottish Boarders town of Melrose and Holy Island (Lindesfarne), England.
After hiking the Camino de Santiago in 2012 with my children, who then ranged in age from 2 to 9, I learned about St. Cuthbert's Way. After walking the life changing Camino, I wondered, what's next? Right away, I knew I had to add St. Cuthbert's Way to my bucket list. Years later, I learned that a running group had created the Saint Cuthbert's Way Ultramarathon on the trail and that further fueled my interest in hiking the route 'cause my family runs ultras for fun.
It wasn't until 2019, though, that I finally walked the Holy Route with my children. If you don't know about the Camino de Santiago, watch the movie The Way.
St. Cuthbert's Way is a 100 km (62 miles) trail that starts in the cute, tiny town of Melrose, Scotland at Melrose Abbey and continues to Holy Island, which is off the coast of Northumberland, England. The route is named after Saint Cuthbert, who dedicated his life to religion and service, and is said to have traveled the route. Most people start the route in Melrose.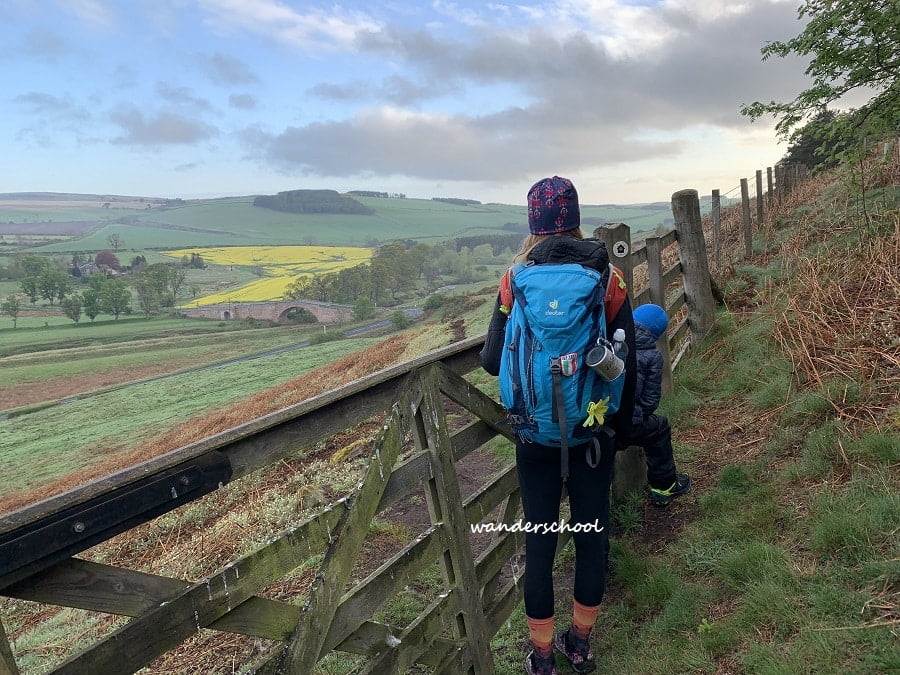 St. Cuthbert's way is a remote route. Towns, restaurants, grocery stores, accomodations, and supplies are very few and far between, so you need to plan ahead and carry emergency supplies, and extra food, just in case. However, the trail is well marked and perfect for quiet adventure. The route ends on Holy Island, which is only reachable by a causeway, so you have to time your walk perfectly or wait until low tide and it's safe to cross.
It's estimated that 2,500 people complete the route each year, which pales in comparison to The Way (Camino de Santiago), and promises you moments of complete solitude. Unless perhaps you're hiking with four kids in tow. 🙂
The kids and I began our adventure by flying into Edinburgh, Scotland. You can get cheap flights on Easy Jet out of London. Oh my, what a gorgeous city! The next morning we walked to the train station, and then took a train and then a bus to Melrose. We waited for a long time for a bus to Melrose at the tiny train station. It felt like we were in the middle of no where. We sorta kinda were.
At the bus stop, waiting for the bus to Melrose to start our 100 km trek, it felt like we were the only people left on the Earth, until an old Scottish farmer showed up and told us about his sheep farm. He couldn't believe we were all about to walk St. Cuthbert's Way. I promised to send him an email when we reached Holy Island.
One day one we saw a few people on the route. The morning of day two was the last time we actually saw or passed people on the trail. We were then completely alone until we reached Holy Island. We did see a couple people from day one at a tavern a couple of nights later.
With the exception of a couple of trail markers that were hard to find in a forest clear cut, most trail markers were fairly easy to spot. And, even those markers that were hard to spot wouldn't have been a problem if I had carried a route map with me.
Note to self: Don't wait until you're almost done the route to buy a map.
If you plan to walk the Holy Route, as a solo traveler, with others, or with children in tow, definitely plan ahead. Unlike the Camino de Santiago, you really can't wing this trip and hope to find accommodation or food along the way whenever you feel like stopping or get hungry. Also, it's the Scottish Borders, so you definitely need to bring weather appropriate gear.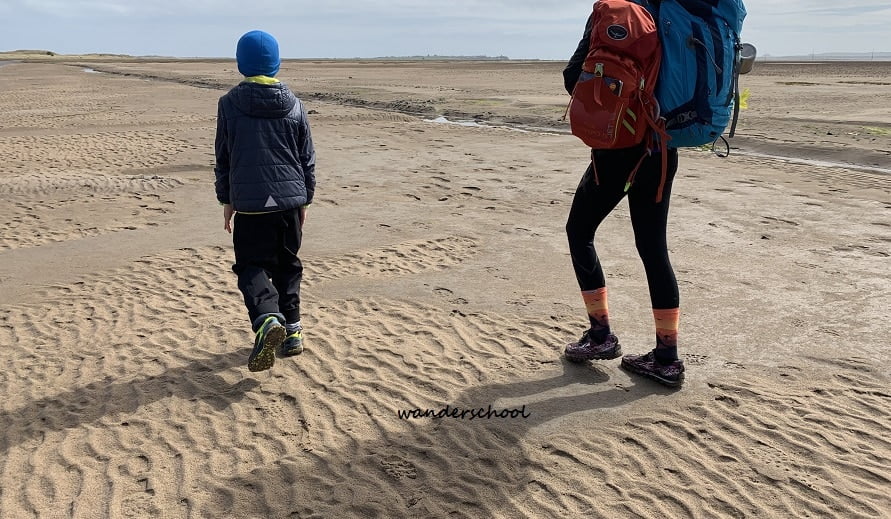 We lucked out and had sunny, beautiful weather everyday, except for one rain storm that caught us at the top of a big hill and followed us all the way until we reached our hostel.
You can learn more about St. Cuthbert's Way and plan your adventure through the Official St. Cuthbert's Way Resource Website. Of course, if you have any questions, drop a note below in the comments and I'll try to help.
If you hike St. Cuthbert's Way, I'd LOVE to know and see your photos. Tag your photos @wanderschooling on Instagram.
St. Cuthbert's Way during our late April trip was beautiful beyond words. It was an incredible hike, despite the fact that the kids and I felt under the weather the first couple of days (totally unrelated to the hike). The scenery was ever-changing and each day was different from the day before.
The kids and I hiked the route in 4 days. When we reached Holy Island, we grabbed a taxi that took us directly to the train station – and back to beautiful Edinburgh, where we chilled out at Starbucks, soaked up the sights, and saw the mega cute Panda at the Edinburgh Zoo.
Happy Adventures.
xx Julie
*Disclaimer: This post contains affiliate marketing links. When my readers make purchases of recommended products, I may make a small commission off the sale. These earnings are the way I support this blog and offer travel, solo travel, and unschooling resources. Thank you so much for your support and happy adventures to you!