Are you looking for the best mutuelle for expats in France? If so, read on below to see my thoughts on the best top up mutuelle for expats in France.
Affiliate Links Disclosure: My posts sometimes contain affiliate links, which mean that if you click on them and make a purchase or sign up for an offering, I may earn a commission, at no added cost to you. I received no compensation for writing this post, and it reflects my own experiences, research, and opinions. You can read my my privacy policy here. Thank you so very much for reading my blog!
My Story
If you follow my blog, Wanderschool, you probably already know that not long ago I launched a business in France. In doing so, I had to learn about France's universal healthcare system. This included figuring out how to navigate the process of setting up coverage and finding a mutuelle.
As an expat, this involved a steep learning curve. Quite honestly, everything about building a business and life in France involves a mega steep learning experience. And sometimes frustration and tears. Especially when you're barely able to speak in French.
I probably could have made my life a lot easier by hiring an expat hand-holder service, but I'm a DIY type, and I've done everything on my own from the get-go.
Naturally then, when it came to finding the best mutuelle for expats, I did my own research. Tons of it. I'm in no way an expert on Mutuelles or French healthcare. However, I found a mutuelle that seems to work for my situation.
It seems not many people or expats know about this mutuelle company yet because it's relatively new to the French assurance scene.
Finding a Top-Up Mutuelle
I'm head over heels in love with France. But if there's one red flag in my love affair or relationship with the Country, it's the cumbersome bureaucracy. This includes the French passion for face-to-face rendez-vous (RDV) appointments and passion for telephone calls. Je n'aime pas. Not. at. all.
I'm a let's do it by email or online submission kind of woman. And.be.done.with.it. I have wayyyy too much I want to do in a day (or lifetime) than spend my time on hold on the phone. Did I mention that I have four kids? That I homeschool them? And I hae a business to get off the ground? And a language and culture to figure out?
So…
When it came to finding a mutuelle, I wasn't thrilled to learn that most, if not all, French insurance companies expect to talk by telephone or insist on a local office appointment.
Since my French isn't great, all I wanted to do was research mutuelles and compare benefits from behind my computer with my new BFF, google translate.
However, it wasn't long before I learned that even those popular and helpful French sites that aggregate French mutuelle quotes and give immediate quotes, require you to jump through hoops like phone calls before signing up for a policy.
Oh, and then if you don't call them, rest assured, they will call you incessantly until you tell them directly over the phone in French that you no longer need a mutelle policy.
The Most Beautiful 4 Letter Word in the World of Mutuelles
But then as I researched top-up insurance in France, I heard the most beautiful 4 letter word in France.
A-L-A-N.
The Best Top-Up Mutuelle for Expats in France with Excellent Customer Service
First, let me be clear, I have no professional relationship with this company, Alan. I don't work for the company. I don't know anyone there. The only relationship is that I am using Alan for my own top-up insurance. This company does offer a referral incentive to its customers who recommend Alan to others. Anyone who signs up using my link below receives a month free from Alan and I get a little thank you kick-back.
I am recommending Alan because I have personal experience as a customer. And because as far as insurance companies go, I love it. Gosh, as far as companies go, I love it!
I signed up for this mutuelle thanks to another expat who offered a referral link. She also received a referral incentive from Alan (so it is my understanding). If my love for this company changes, I will update this post or delete it altogether.
Outstanding Customer Service Shout-Out
I believe in giving shout outs to companies that go the extra mile and really seem to care about customer service. And I believe in giving shout outs to companies that strive to go the distance to deliver quality products or services. I don't hesitate to dish out compliments and write letters or email messages of praise when compliments are due.
Alan makes the cut in my book. Compliments are due. I've had nothing but outstanding customer service and follow up to my questions from this company.
More expats and French people should know about this company, and that's my primary motivation in writing this blog post. I also hope other companies in France see Alan as a model. I also hope it inspires the creation of other high-technology start-ups in France.
Customer Service
I think shout outs are really important, especially for companies or businesses in France, where customer service isn't always a priority. Too often, it seems there is apathy in customer service in France. Sure, maybe there's better customer service in tourist hot spots or in certain regions, but on the whole, I think there is room for improvement.
It doesn't matter where I am in the world, I want to spend my money on companies, small businesses, products, or services that actually appear to care about their customers. I want to spend my money with companies who recognize that customers have choices when it comes to doing business. And, I want to offer repeat business to companies who appreciate my business.
The French Way
Sure, some may think I'm rejecting the French way by arguing that customer service is important and that there is generally room for improvement in France. But frankly, I think kindness, care, and appreciation needs to be shown by more people everywhere. By everyone. Simply put, I don't think any country or culture gets a pass just because that's the way it has been done.
I don't think poor or low-quality customer service or customer apathy is acceptable anywhere. And I also think it's important to appreciate that not everyone has time or the luxury in their lives to wait around. This includes waiting on the phone or in line at a store, while customer service representatives or workers seem aloof or apathetic about others.
No, I don't expect people to worship me or expats. I don't expect company representatives stop in their tracks to give top-notch customer service. Nor do I expect them to plaster on fake smiles. However, I think everyone is entitled to feel at least okay to pretty good about their experiences as a customer when leaving a place, store, buy something or sign a contract. I don't think it's okay for people to leave a customer service encounter feeling insulted, unheard, rejected, or unappreciated. Being kind costs nothing.
In my experience, and from what I've heard from other expats and even French locals, all too often the customer service experience leaves something to be desired in France. Quite frankly, I've seen some treatment that is borderline appalling and truly disheartening from a human-level perspective. Something I've never before seen in my years of travel or living in two other countries.
Online top-up Insurance Levels the Playing Field
Not everyone has the abilities, whether physical or, for relevance here, language skills to talk on the phone or to go to appointments to set up a mutuelle (let alone deal with other matters). I think that saying everyone is fighting their own battles, is quite appropriate here.
Online communication, interfaces, customer service chat windows, and email can really help level the playing field, for everyone, including people with disabilities or expats who haven't yet figured out the language thing.
The Best Mutuelle for Expats
With that said, based on my own personal experience and online reviews, I think Alan is hands-down the best mutuelle option for expats. This is especially the case for expats who come from countries where decent to fantastic customer service is the norm.
Everything is done online and everything is handled online, so you can Google translate everything you see, webpages or chat windows, to get answers or help.
Why I love Alan So Far
Instant online quote
Seemingly highly competitive coverage benefits (at least on my plan)
One price to cover a child and then includes all other children (a huge plus for me with 4 kids)
Set up everything online through the crisp and clear client web space
No need to talk to anyone or set up an appointment
Coverage in mainland France
Super quick reimbursements
Outstanding customer service (OMG, I've had great experiences)
Real-time customer chat window… no waiting for phone calls to be returned to answer your questions (and you can use google translate if your French is still a work in progress)
A newer technology start-up company in France (I love supporting start-ups who want to do good things) 😉
Seems to really care about giving customers a mutuelle insurance product that is easy to use, a user-friendly online interface, and great customer service
Cons So Far
A paper coverage card (I'm all about loving on the environment, but at least two medial places have done double and triple takes on my card, thinking it's not really a mutuelle card). I'd much prefer a rugged, plastic card for my wallet.
I heard from another expat that Alan doesn't insure people over 65. I haven't verified this, but I hope it's something Alan is working on to change.
Learn More About Alan
You can use this unique link (lien unique) of mine to Get A Free Month of Coverage. And nope, I'm not special. Once you sign up, you also can then start referring people to Alan, since you'll get your own unique link to share in your web account.
Learn More and Sign Up For Alan
What is a Mutuelle?
If you're wondering what the heck I'm talking about here…
A mutuelle, which also sometimes goes by the name of insurance top-up or complémentaire santé, is an insurance (assurance) policy in France that reimburses for medical costs that aren't covered by French Social Security. From my understanding, the government only pays around 70% for most healthcare costs. So, people in France typically buy a mutuelle to "top off" coverage, so there are no out-of-pocket surprises.
If you need a mutuelle, based on my own personal experience and interest in self-education, I definitely recommend shopping around. You will learn a lot about French health care just by seeing what is offered by different insurance companies.
Oh, and when you shop around, don't forget to also make inquiries with your bank. From my own personal research, it seems most banks offer mutuelles and offer varying levels of coverage, depending on your budget.
Share the Love – Share this Post or Drop a Comment
If this best top-up mutuelle for expats post was helpful, please consider sharing it! Pin it. Tweet it. Share it with your friends, family, or other expats.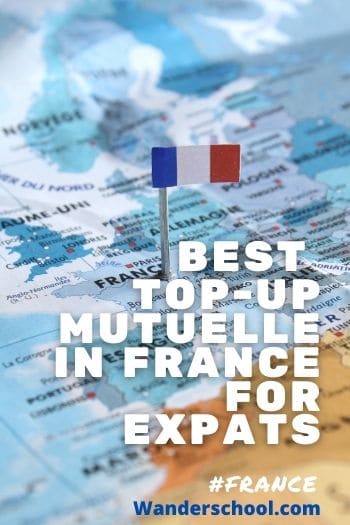 Also, I'd love to hear from you and your thoughts. Drop a comment below.
Other Related Posts You may LOVE