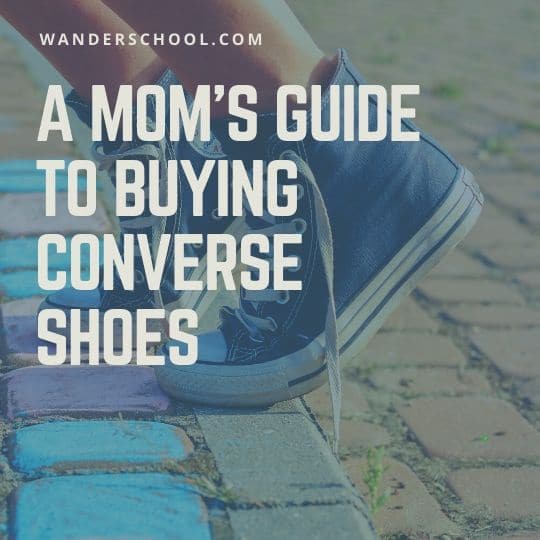 In my travels with kids in tow, I've learned that there is something quite legit to the cliche, when in Rome, do as the Romans do.  If you don't know what that phrase means, it basically means that when you are visiting another place, you should do what the locals in that place do.
'Cause standing out like an obnoxious tourist is not always a good thing, especially when you're trying to rock your solo mom traveler vibe.
Somehow whenever I think of do as the Romans do, a picture of Chuck Taylor Converse Shoes in a SoHO, New York City shop window comes to mind. I have yet to travel to another place that seems to love and appreciate Chuck Taylor Converse Shoes more than The Big Apple.
So, doing as the locals do in New York City necessarily means buying Converse Shoes.
And since it's always nice to buy a practical travel souvenir (something I much prefer over shelf knick-knacks), I've bought several pairs of Converse sneakers, especially in recent memory for my tweens, and know a thing or two about them.  I've also tripped over plenty of stray Converse shoes in the entryway, but that's a separate discussion.
A Mom's Guide to Buying Converse
First off, these are my own thoughts.  I am not getting any sort of compensation for writing this post.  My tweens are just fans of these shoes, and from walking the streets of NYC, it's pretty obvious that they aren't the only ones who think these sneakers are cool.
1.  Converse shoes tend to run big.  No need to freak out if the salesperson tells you that your kid needs a smaller size. That salesperson probably isn't trying to pull one over on you or scheming up a way to get you to come back in a couple of weeks for the next size up when your kid's foot grows.
2.  Lots of stores sell Converse.  Can't find the size or color your tween wants at one store?  Don't sweat it.  You can find Converse at lots of stores, especially in NYC, at boutique shoe stores or bigger chain stores, as well as department stores like Target, JcPenney, or Nordstrom, or places online such as Amazon.  So, if you can convince your kid to be patient a few more minutes until you get to the next store, you're likely to find exactly what they (and you) are looking for.  Happy Kid = Happy Parent and vice versa.
3.  You can find Converse second-hand.  If you don't want to break the bank and are okay with buying used shoes, you might get lucky and score a deal on a previously loved pair in like new condition on eBay or at consignment stores, like Once Upon a Child.
4.  Look for sales. As far as children's shoes go, Converse shoes are somewhat inexpensive.  Even better, Converse shoes do go on sale.  I recently found a pair of cute high-top Converse shoes for my youngest at 30% off.  Another store had a Converse buy one, get one 50% off sale.  You can also find free shipping options or promo codes online, depending on the store.
5.  Even Old Converse Shoes Look Cool.  One thing I appreciate about Converse shoes is that even when the white toe becomes less than bright or a pair starts to look well-loved, they still look fashionable.  Of course, as a Mom, I wish they would look pristine and dirt-free, but worn and dirty means my kids are playing hard and enjoying themselves–and their shoes.
6.  You Can Find Canvas Knock-Offs.  You can find lots of Converse knock-offs out there, including some "eco-chic" shoes (which have been the subject of Converse litigation) and canvas kicks with interesting and fun designs not found in Converse collections.  However, in my experience, my knock-off kid purchases haven't held up as well.  But it doesn't mean yours won't.  Sometimes you get what you pay for.
7.  They Come in LOTS of Colors, Styles, and Designs.  It doesn't matter how many kids you have.  They each can have their own unique look, if desired.  Low-cut, mid-cut, high-top lace-ups.  Blue, Light blue, Lighter blue, Light-light-light blue, Multi-colored blue, the list goes on and on….  Yay, no arguing over who gets what shoe or which shoes really belong to who.
8.  You Can Clean or Wash Converse Shoes.  There are YouTube videos and blog posts galore online about how to clean Converse shoes and restore them to oh, so fabulous.  As a mom, you can always wipe them off (and surely the 'ol mom spit trick could work in a pinch), maybe try a Magic Eraser or use extra elbow grease, to make them look fresher.
9.  There's a Reason They Are Popular in The City.  Converse shoes may be a good pick for city living, but if you live in places where there's variable weather, less pavement and more dirt, or where kids spend a lot of time outside in the elements, they may not be the most sensible pick.  The traditional Converse shoe is canvas.  It's not going to keep out the elements, like rain and snow.  The flat, sleek bottom, isn't necessarily going to be the ideal surface for playing on uneven terrain, running on trails or in the woods, or providing sufficient support for adventurous kid feet.  Wearing for video gaming, strolling around the city or mall, riding scooters or skateboarding, looking cool with other tweens?  Yes, definitely.
Oh, Mom, don't forget to treat yourself too! Converse shoes look great on Moms too! Check out my cute converse on my Instagram.
Do you have Converse Shoes hanging around your entryway?  What's to love or not to love about them? Anything I missed in this Mom's Guide to Buying Chuck Taylor Converse Shoes?
Happy Wandering!
#converse #converseshoes #conversesneakers