If you're looking for the best laptop for homeschooling, worldschooling, roadschooling, or unschooling, grab a cup of coffee and stay a while.
I'm so glad you're here.
Let's talk laptops and homeschooling.
Affiliate Links Disclosure: My posts sometimes contain affiliate links, which mean that if you click on them and make a purchase or sign up for an offering, I may earn a commission, at no added cost to you. I received no compensation for writing this post, and it reflects my own experiences, research, and opinions. You can read my my privacy policy here. Thank you so very much for reading my blog!
My Homeschooling Laptop Creds
So, I've been at this homeschooling thing for too many years to count. Well, let's say it's somewhere over 14 years….
And I'm raising 4 tech geeks. Well, actually they're raising me, but that's another story.
You see, my four kids have grown up traveling, homeschooling, world schooling, road schooling, and coffeeshop schooling, hmmm… since they were babies.
More specifically, they've pretty much grown up unschooled. And they are the coolest kids around. Oh, and they happen to love learning and seizing life's opportunities, like beyond you're wildest imagination.
For example, one of my kids is a legit, bona fide, professional-level computer programmer. He is self-taught. That's the power of interest-led learning, my friends. He's been doing the whiz kid programmer thing since he was in single digits.
Another graduated from homeschool high school at 16 years old and enrolled in University. She's well on her way to earning a Bachelor's degree. And she can speak 3 languages.
Obviously, I'm biased, but homeschooling my kids, three of whom are now teenagers and one a teen, is an incredible way to learn, live, and explore life's possibilities.
And nah, I didn't always plan to homeschool my kids. Nor was it always a piece of cake.
Homeschooling sort of fell into my lap. Never, ever, ever did I think or expect that I'd become a homeschooling mom in this lifetime.
But here I am. And here you are.
And… YOU need a laptop, or at least you think you do.
So, let's get to it.
READ MORE: Learn more about unschooling in What is Unschooling?
Do You Need a Laptop for Homeschooling?
Technology makes homeschooling and maximizing learning opportunities a snap. Honestly, we're a homeschooling family who can't live without wifi, technology, or laptops.
But do families in this high-tech world survive and thrive without laptops? Absolutely.
So, do you need a laptop for homeschooling? Need is relative. But, nope, I don't think you need a laptop to homeschool.
However… if you want to homeschool and maximize learning opportunities AND make life a whole lot easier for you as a homeschooling mom AND life a whole lot more exciting for your kids, yes, absolutely, I think you should invest in a laptop if you have the chance to do so.
And, if resources allow, I'd absolutely encourage you to consider buying an individual laptop for each homeschooler. After all, a laptop is a personal space. Sort of like a really sweet paper notebook. Would you want to share your notebook?
What's the Best Laptop for a Homeschooler?
The best laptop for your homeschool student is the laptop that fits your budget and meets your child's learning needs. Do you need to sink hundreds of dollars into a laptop or buy a high end MacBook for your child? Probably not.
Can you get away with a used laptop, chrome book, or hand-me-down laptop computer? Quite possibly, yes.
Don't Overspend on a Laptop for Your Home School Student
Whatever you do, don't overspend. A more expensive computer isn't going to make your homeschool kids smarter, more disciplined, more ambitious, more motivated, or more self-starting.
Think about it. Investing in a laptop is sort of like investing in a mobile phone for your kids. Do they absolutely NEED the latest iPhone? Probably not. Sure, it may look cool and be the popular thing among peers, but there's a good chance these days that anything they want to do, namely accessing social media, texting, and web browsing, can be done effectively from an older phone model… or gasp… from an Android phone!
So, my point here is… figure out your budget and work with what you can afford. Get the best value laptop that fits within your budget.
And seriously, don't overspend.
That will only stress you out. And the last thing your homeschooling kid needs is a parent who is more stressed out than they might already be.
After all, homeschooling rocks, but like parenting, it's not always stress free. 😉
What to Look for in a Homeschool Laptop
Versatility – Consider your user's age and user's needs (e.g., for a preschooler, would an iPad be most suitable?)
Type of Operating System

Chromebook with Chrome OS – Pros: inexpensive, easy to use, involves the Google ecosystem, secure; Cons: not as flexible as other operating systems
Windows – Pros: largest set of third-party software compatibility, mid-range in typical laptop expense, involves some adoption of Microsoft ecosystem; Cons: most often subject to security issues
MacOS – Pros: relatively easy to use with moderate third-party software compatibility, involves adoption of Apple ecosystem, consistent and generally strong hardware because hardware is also produced by Apple; Cons: most expensive
Price – Choose technology that fits your homeschool budget; don't overspend
PRO Homeschool Laptop Technology Tips
If you want a general purpose, yet secure laptop, go with a Chromebook.
If you want a highly flexible laptop, with a large variety of hardware options, go with a Windows laptop.
And, if you want a laptop for graphics, development purposes, and want the highest quality laptop hardware components and are willing to pay for it, go with a Macbook. If you have specialized requirements, including using Linux as an operating system, check out Purism.
Is a Tablet a Good Alternative to a Homeschool Laptop?
A tablet, like an iPad, is sometimes a good alternative or compliment to a homeschool program. Tablets are sometimes easier to use and better suited for young children. The portability of a tablet can be especially useful if you are home schooling on the go, such as road schooling or world schooling children.
The price point of a tablet might be tempting, especially if you are weighing laptop vs. tablet. However, there are drawbacks to tablets.
For example, tablets have their limitations in terms of what they can and cannot do. In addition, with a tablet, there is no dedicated keyboard or mouse. Tools which make computing and schoolwork a lot easier. Furthermore, tablets typically lack ports and DVD slots (or ports to attach a DVD player), which might be necessary for homeschool assignments or programs. And, some tablets have low processing speeds, which means reduced efficiency compared to a laptop.
However, if you have a young child who is only needs access to learning games, audiobooks, YouTube videos, or online language programs like Duolingo, a tablet might just be the perfect technology tool for your homeschool.
3 Top Laptops for Your Homeschool Student
It's Homeschool Back to School, or NOT Back to School! For many homeschool families that means it's time to shop for the best home school laptops. Whether you are a homeschooling mom or homeschooling dad who needs a computer to keep track of student assignments, progress, and state homeschooling requirements, or you need a laptop for your homeschooler, this guide has you covered.
When it comes to buying a laptop, it's important to do your homework. Check specs. Check details. Definitely do laptop comparison shopping! Oh, and check prices! You want to make sure you are getting the best value for your cash.
After all, whether you are buying a Chromebook or full-featured, high-end, professional grade Macbook, it's an investment. Not only are you investing in technology, but you're investing in your child's education and future. So, buy the laptop that feels right for your family, for your user, and for your budget.
Here are 3 Awesome Laptops Picks for Your Home School Student
Don't underestimate the HP Chromebook in your home school. And definitely don't let the reasonable, low price fool you. A Chromebook is a great laptop choice for many homeschoolers! In general, Chromebooks tend to be relatively inexpensive and easy to use. They use the Google ecosystem, so if you use Gmail and Google Apps, a Chromebook is awesome. While they are not as flexible as other operating systems, they do pack in useful features and are great for travel, remote work and study, and digital nomad life.
For example, the HP Chromebook 14 features:
Intel Celeron N4000 Processor
4 GB RAM, 32 GB eMMC
14" HD Display
Lightweight computer
Webcam
Dual Mics
Chrome OS
Students can use the Chromebook for school work, music, movies, social media, and more.
LEARN MORE: HP Chromebook 14
Another top Chromebook choice for homeschooling families, the Lenovo Chromebook Flex 5 offers student-friendly features, such as:
Intel Core i3-10110U Processor
4GB DDR4 Onboard RAM, 64GB eMMC
13″ Laptop
FHD (1920 x 1080) Touch Display
Chrome OS
Intel Integrated Graphics
Features tablet, tent, stand, or laptop mode
LEARN MORE: Lenovo Chromebook Flex 5
As always, I keep it real here on my blog. I'm a big time fan of Apple products, especially Apple MacBooks, for my older kids. When my kids were younger, I bought them Chromebooks. My tween only recently "graduated" to a Windows laptop. But now, my older kids get the high end technology goods for their schooling. Apple products hold up in my experience and I love the AppleCare Warranty options.
But, personally, like many moms who put their kids first, I use a cheap, inexpensive Windows computer for all of my needs…and I go through more computers than my kids do, if that says anything right there. 😉
Apple MacBook Air (2020 Model) Features:
Awesome Reviews – 2020 Apple MacBook Air Laptop
Apple M1 Chip
13" Retina Display – Awesome Display
8GB RAM, 256GB SSD Storage – Superfast Memory
Backlit Keyboard
FaceTime
HD Camera
Touch ID
Apple iPhone / iPad integration
Easy to use if you are familiar with Apple products
My four homeschoolers, who have grown up worldschooling, roadschooling, and doing home study from coffee shops around the globe, are huge Apple MacBook fans. Sure, the prices of Apple MacBooks can be a turnoff or parents' nightmare. However, I'm totally impressed with Apple laptops, the ruggedness of components, the AppleCare warranty and support, and availability of Apple Stores around the world (which has definitely came in handy once when I was traveling with my four kids and had a technology problem).
LEARN MORE: Apple Macbook Air (2020 Model)
Share the LOVE
If you found this What's the Best Laptop for Homeschoolers? article helpful, please consider sharing the love! Tweet it. Pin it. Share it. I truly appreciate it. 🙂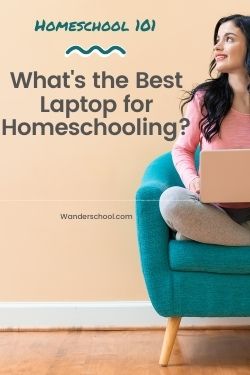 Of course, I'd love to hear your thoughts, too, so please drop a comment below and tell me what you think about this post, homeschool laptops, or how your homeschool planning is going!
Happy Homeschooling!
Julie
Follow Julie on Social Media! 😉
Related Articles You May LOVE:
5 Ways to Reduce the Anxiety of Choosing Homeschool Curriculum
Stay Sane: Don't Re-Create School at Home
The Absolute Best Reads for Homeschool Parents or Anyone Thinking About Homeschooling