Europe bound? Well, here's your ultimate what to pack Europe travel essentials packing list!
Pack Light
There's a lot to be said for packing light. Whether you are packing for Europe or elsewhere, overdoing packing can be stressful and expensive. First off, carrying lots of luggage or hauling it through airports or streets is no fun. Traveling with lots of luggage is also expensive. You could easily buy a cute outfit with what you might end up paying in extra baggage costs on airlines and cabs.
Plus, if you plan to store your luggage anywhere in Europe, you could be hit with monster luggage storage fees.
You Probably Won't Use Much of What You Pack Anyway, So Keep It Simple
In my experience… and in the experience of everyone I've ever known…. many of the things you pack in your suitcase or backpack probably won't get worn or used.
So, when it comes to packing, think minimalist. Think keep it simple.
How to Pack Less for Europe
Whether I'm Europe bound or headed elsewhere, I have one tried and true packing strategy that has yet to let me down.
To give you perspective about my ability to pack light… I was able to move to Europe with just the things that could fit into a carry on backpack. 😉
My No-Fail Packing Strategy
I put everything I want to bring into a pile. A sort of "packing wish list" pile, if you will. Humor me.
Cute shoes. Funky scarves. My favorite earrings. Cozy socks. The outfit I brought on the last trip, but didn't wear and still haven't worn yet. One too many books. Everything.
Then the fun really begins.
First, I pack in my bag or suitcase the things that I consider essential. Like absolute, non-negotiable musts.
Like toothbrush and toiletries. Check.
From what's left in my big pile, I ask tough questions.
Am I really going to wear this? Will this work instead? Could I find this in Europe (e.g., toiletries) or buy a replacement if needed? Do these jeans really spark joy? 😉
I then narrow down my pile.
After my bag is packed, and after I've sat on my bag to zip it (or asked all of the kids to help me close it), I put it aside. That is, if I'm not packing at the last second.
Later, I then open the bag and pull everything out. Yep, take it all out.
Again, I go through everything and separate out the essentials. I throw non-essentials into a leave behind pile. Somehow, on this second round, even the essentials that made the first round packing cut seem less essential.
If I'm staying at a place that has a washing machine (pro tip: look for AirBNB rentals with washing machines to keep your packing light, especially with kids), I weed my packing down even more. When I know I'll have washing machine access, my general travel rule is TWO outfits. Yes, just two.
ALL YOU NEED TO BRING: What to Pack for Europe Travel List
Forget about stuffing your suitcase or bag! Instead, think Pinterest or minimalist style. You're going to pack for Europe in a way that keeps your stuff organized, easy to find, and classy.
This approach doesn't just apply for adults headed to Europe. This simple and light packing list is also a packing list for teenagers and tweens. Oh, if you need travel gift or packing ideas for tweens or teens, check out Awesome Travel List for Tweens and Teens.
Packing for Europe – Europe Travel Checklist
Here are the basics that you need to pack for your European travel, vacation, or holiday to Europe.
1. Backpack or Suitcase.
Sure, it seems straightforward enough. However, not all backpacks or suitcases are created equally. Consider whether you want to check luggage. If you don't want to check luggage or pay for additional luggage if it's not included in the price of your airline ticket, you'll want a backpack or suitcase that qualifies for the flight cabin.
Make sure your backpack or suitcase fits the dimensions of your flight to go into the cabin. Pay close attention to the rules. I've seen some people get nailed on flights, and even have to pay an exorbitant cost for a bag at the gate because it didn't meet the airline's regulations.
Carefully Consider Your Bag, Backpack, or Suitcase Choice
You'll also want to make sure that whatever backpack or suitcase you bring is travel-friendly. By this consider its weight and portability. Does it have wheels? Handles? An over the shoulder or cross-body bag strap?
Consider what will feel most comfortable to you, especially if you have to carry the bag some distance. When you're going to Europe, don't count on a suitcase having wheels for easy maneuvering. Europe isn't always the easiest to get around with bags, even bags with wheels.
2. Toiletries
If you're someone who loves toiletries and makeup, it can be easy to go over the top packing. However, if you want to travel light, keep your toiletries simple.
Consider clear, see through bags, which are airline friendly for liquids. Like the TSA approved bags here:
Consider travel-sized containers. And skip the big perfume bottles. Get samples of your favorites or fill up a tiny travel, purse sized perfume sprayer.
Keep in mind, you can get most of the things you need in Europe. They may not be exactly the same, but you can probably find substitutes if needed. For example, if you don't bring all of your favorite lipsticks and you realize you need a certain shade when you're in Paris, you surely can find a store selling lipstick. So, when packing toiletries for Europe, keep in mind, if you don't bring something or forget something, you will probably be just fine — especially since you'll probably find a pharmacy on nearly every street corner.
3. Medications
Medications fall into the essential category. You should definitely bring any medications that you definitely need and any that you might need. For example, when I'm in the USA and Europe bound, I always stock up on Claritin and bring it with me–never know when my kids or I need one. Sure, you can find allergy medicine in Europe, but it's not quite the same as buying a mega deal at CVS or Target.
4. Clothing
What you bring to Europe for clothes really depends on the season, purpose, and length of your trip. Obviously, if you are headed to Europe for a summer wedding, you may need to pack different clothes than say for a winter ski trip to the Alps.
Generally, my personal rule is 2 outfits for a trip if there will be laundry facilities. This packing rule has also served me well traveling with my four children over the years.
It's often easy for tourists to stand out in Europe based on clothing. Blending in and dressing like locals has advantages. For example, there are Internet memes about spotting American tourists–those wearing t-shirts with big logos, sweatpants, yoga pants, or joggers, and sneakers. Generally speaking, Europeans tend to dress well and dress up.
Travel Wear
Clothing that packs well, dries quickly when washed, and isn't prone to wrinkles generally makes good travel wear. So, for example, an easy-to-pack, lightweight travel skirt that you can match with two different packed shirts can give you different looks.
Layers
Layers are a smart idea in Europe, or really, wherever you travel. A hoodie, button up cardigan, sweater, or jacket can dress up or dress down an outfit, and benefit you in different weather situations.
5. Rain or Cold Weather Gear
If you plan to do a lot of sightseeing or walking around (in Europe, there's often a lot of walking that can be done), you may want to pack a lightweight rain coat, like my favorite Outdoor Research Helium Rain Jacket.
Depending on when you travel, a hat, mittens, scarf or a buff (which is highly versatile as a neckwarmer, hat, sun hat or headband) might come in handy.
6. Shoes
Though you may be tempted to overpack shoes, don't! If anything, limit yourself to a comfy pair you wear and one extra pair, such as workout sneakers, heels, or sandals. Pick shoes that will be comfortable for lots of walking, but that will also go with different outfits. There are amazing shoe stores in Europe, so if you happen to have packed the wrong shoes or need new shoes, you can find a pair!
7. Socks & Underwear
Seems obvious, right? But how many of each? Depends on whether you have laundry facilities or don't mind handwashing in the hotel sink.
8. Workout or Lounge Wear
Packing workout wear that can also double as lounge wear or vice versa can come in handy. After a long day out exploring, you might want to slip into cozy lounge pants or comfy tights or shorts. Opt to easy to wash and dry and highly packable synthetic wear.
9. Technology
Pack your needed electronics. Consider skipping an added bulky camera if you have a high quality cell phone camera.
Don't forget to pack a power adapter. In Europe, outlets won't accommodate standard American plugs so you need an adapter!
10. SIM Card – Europe SIM Card
In Europe, it's easy to find SIM cards for cheap local or international cards. You can find them often at airports, train stations, or tabacs (Tobacco shops). You can also buy prepaid SIMS in advance, like the Orange Holiday SIM card on Amazon. I've purchased a couple of these SIM Cards in the past and had great experiences with them.
11. Compression Cubes – Sustainable Packing Cubes
I'm a big fan of compression cubes or compression bags for packing. I didn't start using them until recent memory, but wish I had started using them years ago! They are great fun for travel with teens (they've previously made my travel gifts and packing list for teens), but they are also practical for adults, too!
If this post is helpful to your travel planning, please share the love and pin it, tweet it, or share it! 🙂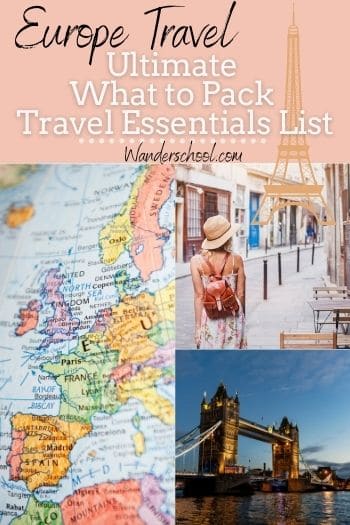 Other Travel Favorites
If you're Europe bound and need help packing, planning to pack, or making your packing list for Europe, definitely check out these other super helpful packing and gear lists:
Follow Julie on Social Media! 😉
Comment. What is the most important thing in your suitcase when you travel to Europe or elsewhere?