Hi, I'm Julie.
Welcome to Wanderschool! Wanderschool is the school for travelers.
Wanderschool is a travel lifestyle blog for anyone who loves to travel, but especially for families and solo parent travelers. If you hunger for a full-time travel lifestyle, more travel or more adventures in your life, you've come to the perfect spot.
My blog has resources and helpful information for you to discover the travel lifestyle, travel with kids, digital nomad living, outdoor adventures, and schooling on the go–unschooling, homeschooling, roadschooling, and worldschooling.
This blog is inspired by my real life story.
I started this blog in a tiny AirBnB apartment on the top floor of an old apartment building in Paris in 2014. You can read my very first post about how I thought Paris with Children Rocks. I still think it does. I spent the month in Paris, exploring the city with my four children. Little did I realize then, but that adventure and the start of this blog would come to pave the way for many future travel adventures, and ultimately my big decision to make France a big part of our lives. More on that part later.
I've spent the past many, many years traveling and homeschooling my children. It's actually more accurate to say that my kids have spent the past many years traveling and homeschooling me.
We are an unschooling, worldschooling, roadschooling, coffeeshopschooling family.
Four kids. No dogs. No cats. And no fish. Just a whole lot of adventure.
Although we have a fixed address, we spend much of our time traveling and on the road. Perhaps it's wanderlust that leads us to our adventures. Perhaps it's our desire to educate our children wholistically, in a way that reminds them that everything and everyone is connected, that compels us to wander. Maybe it's just that we see travel as an opportunity for our children to become truly self-reliant, culturally aware, worldly learners and thinkers who might just contribute a bit of goodness to others and the world after they've left our nest. We appreciate how travel naturally reminds our children that they are ultimately in charge of their own education, that learning opportunities are endless, and that there are intrinsic rewards to stepping beyond the comfort zone.
"Children learn what they live. Put kids in a class and they will live out their lives in an invisible cage, isolated from their chance at community; interrupt kids with bells and horns all the time and they will learn that nothing is important or worth finishing; ridicule them and they will retreat from human association; shame them and they will find a hundred ways to get even. The habits taught in large-scale organizations are deadly." – John Taylor Gatto, author of Dumbing Us Down
The world is our classroom. We have chosen to educate our children outside of the invisible cage of a school classroom. After all, children do learn what they live. Learning isn't seasonal in our family. It doesn't stop at 180 school calendar days or after snow days are made up sometime in June. Learning takes place everyday, 365 days a year. At any given hour, on any particular day, of any particular month you might just happen to find us on one of our wander school adventures. We look forward to having you wander with us.
About Julie:
I'm fueled by wanderlust. I'm a lawyer turned writer, blogger, yogi and homeschooling mom to four cool kids. Really cool kids.
I travel. A lot.
Though somehow never enough. But somehow enough to miss people and places.
My travels…always with my four kids in tow.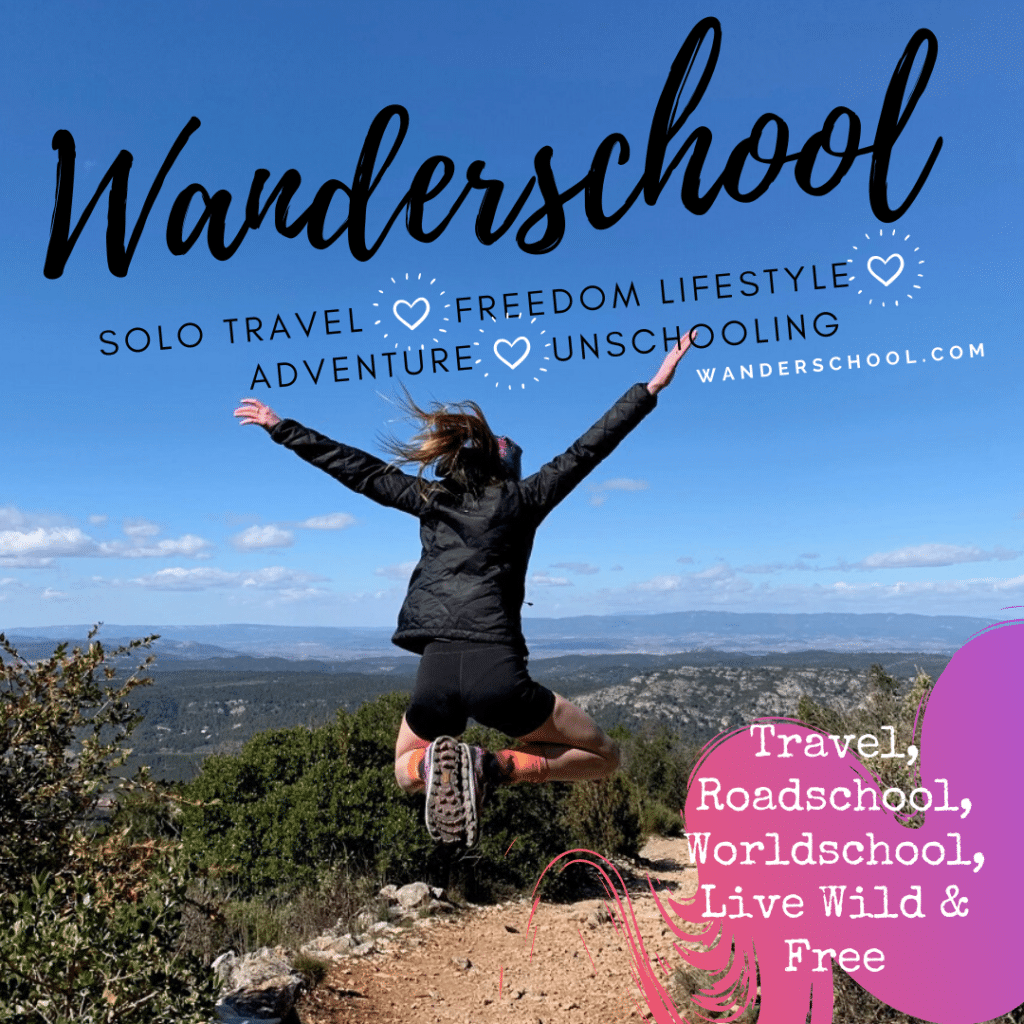 Yes, a life of travel is pretty sweet. For many people, it's the dream life. It's a life with lots of freedom. But it's life. And life is real. That means the travel lifestyle is not always pretty or perfect. It's sometimes complicated and messy. It's not always fun. It can be exhausting, lonely, and even boring at times. Sometimes there are tears, especially when I'm really, really, really overtired. Homesickness happens from time-to-time. And it hurts when it does, especially when you're missing someone you love and you're far, far, far away. The travel lifestyle can also be exhilarating, unbelievable, and breathtaking. Everyday brings the possibility of a new adventure, new experience, or the making of new friendships and dreams.
About Julie's kids:
The four kids I call my own–the same ones who follow me everywhere or maybe it's more accurate to say, I follow them–are ages 17, 14, 12 & 10. Once they were babies. (Grab a tissue or a whole box, please).
Welcome to our Wanderschool adventure. I hope you stay around for a while and come back often. I hope my blog inspire you to pursue your own travel lifestyle and adventure dreams.
Follow Wanderschool on Facebook, and Instagram, and Pinterest.
And who knows? Perhaps our paths will cross somewhere around the world. Quite possibly at a coffee shop.
xx Julie
*This post contains affiliate links, meaning, at no additional cost to you, I may earn a commission if you click through and make a purchase. It is through this links that I am able to write this blog and buy coffee. Thank you for your support and readership.