If you're researching the best espresso coffee machines for home latte art, this post has the scoop. 😉
I love coffee. It's an important part of my life.
And I love art and beautiful coffee.
So, a coffee maker has got to work magic. 😉
Affiliate Links Disclosure: My posts sometimes contain affiliate links, which mean that if you click on them and make a purchase or sign up for an offering, I may earn a commission, at no added cost to you. I received no compensation for writing this post, and it reflects my own experiences, research, and opinions. You can read my my privacy policy here. Thank you so very much for reading my blog!
How to Make Latte Art at Home
If you follow my blog Wanderschool or my Instagram, you probably already know that my four children and I are totally into coffee shops. And we absolutely love espresso coffee drinks served with latte art.
As a family living the travel lifestyle, we spend a lot of time sipping caffeine when we're on the road. We love visiting coffee shops, trying espresso drinks, and comparing (and photographing) coffee latte art designs.
You can find some of our favorite coffee destinations in Best Coffee Shop Destinations for Solo Travelers and Adventure Seekers or Where to Get the Best Coffee Experience in Chamonix-Mont Blanc.
When we're not on the road exploring and sipping coffee in adorable coffee shops or cafes, we're making coffee at home. But not just any basic coffee. We go all out every time.
DIY Coffee Art
My teens know how to make great coffee. And they know how to make really fantastic latte art. They are self-made baristas.
I probably should have seen this passion for coffee coming years ago when one of my kids chose a coffee bean grinder as a running race prize over the toy prizes–long before they could even spell c-o-f-f-e-e.
How you can be a self-made barista at home
At first, my children wanted to know how to make Starbucks drinks at home. Then they wanted to know how to do basic latte art at home.
They started small with a little Ikea milk steamer wand. Not long after, I found them at the computer researching the best milk frother for latte art.
Soon afterwards and with improved coffee art equipment, they taught themselves how to do basic latte art at home.
They also learned how to choose coffee beans for espresso. And they learned about the ideal coffee brew temp. They read home espresso machine reviews. And I found myself buying them better home barista coffee machines, so they could improve their coffee art.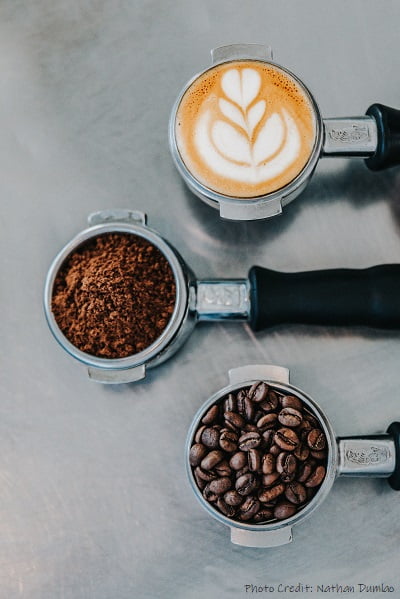 The Coffee Experience at Home
Coffee is an experience. It's even a better experience with latte art. After all, an espresso drink with latte art is like holding a mug of art in your hands.
If you want to learn how to make latte art at home. It's easier than you think to learn, especially if you don't mind practice, practice, practicing!
The Cost of a Barista-Quality Home Latte Machine
It might surprise you, but you can make incredible, fantastic latte art at home AND save tons of money on coffee in the long run.
Sure, quality barista machines are expensive–though probably not as pricey as you may think, especially when you take into account the money you're going to save by making your own coffee and latte art at home.
If you're looking for an excuse to justify buying a coffee machine that allows you to make beautiful latte art and coffee designs, like tulip latte art, try this: a barista-worthy machine at home is an investment that can save you tons of money in the long run and you can gain real-life barista skills.
How's does adding a new skill to your resume sound? And who knows, you might have so much fun making your own coffee beverages and latte art at home, that a side gig (or new job) as a Starbucks barista might look pretty tempting. I know all of my kids hope for future barista gigs.
What You Need to Make Latte Art at Home
If you want to make super cool latte art at home, you'll want to have a high-quality barista worthy home espresso machine.
Ideally, you want a machine that has a milk frother wand built into it. As my kids tell me, you want a frother wand that can move, so you can angle the wand in a good position. And you're life will be a lot easier with a stainless steel milk frother pitcher. When you froth milk you want to be able to produce a lovely "shredding paper" sound.
I highly recommend the book, Coffee Obsession: More Than 100 Tools and Techniques with Inspirational Projects, for getting started. You can also find some amazing how to make latte art for beginners tutorials on YouTube, like how to made good microfoam, how to texture milk for latte art, or how to make a heart latte art. You can also find videos on advanced foam and art techniques. Sometimes you can find latte art making classes locally at coffee houses (tip: search latte art class near me).
Of course, you also need really good, high quality coffee beans, too. Choosing coffee beans is a very personal taste decision. My favorite coffee beans are from Lavazza.
Best Espresso Coffee Machines for Home Latte Art
These machines are my family's favorite machines or are machines that we've heard great things about. I hope you find exactly what you're looking for in a coffee machine and fall in love with the craft of making coffee art!
My family is in love with this machine. My teens make beautiful latte art with this espresso machine. With practice, you can make incredible, fantastic latte art, too! If you're lucky, you might get a great deal on this machine during holiday Sales, like Black Friday, or Amazon Prime Days. I enjoy coffee from this machine so much that my kids have heard me say that I don't think I ever need to go to a coffee shop again! (haha, like that will really ever happen 😉 ). If you're looking for a winner, this coffee machine is it. Read the thousands of customer reviews, I'm not the only one who thinks so!
This Breville Barista Pro machine takes the Barista Max up a notch, with its LCD display that provides precise info for making coffee your way, every single time. Of course, the fancy latte art…that's still on you to learn and make!
Don't let this space saving design fool you. This De'Longhi produces a quality espresso and also has the ability to make good foam. My teens and I think this is an all around good cappucino maker, which is perfect for someone looking to dive into the barista at home life or needs a second machine. Keep in mind, you'll need a separate espresso bean grinder with this machine since it doesn't have one built in. We love the Cuisinart Supreme Grind Automatic Burr Mill, especially because of its time saving volume (holds up to enough for 32 cups).
This machine doesn't exactly give you the true Barista experience because it's automated, but I'd be remise to skip mentioning it here. We used this machine for years and it was the first high quality coffee machine my family fell in love with. It produces consistent, high quality coffee. Perhaps what we love most about this machine is the creamy, smooth, and rich milk froth it makes — part of its patented 'Cappuccino System.' If making latte art is your primary goal, I'd pick the Breville Max over this one. But if simplicity is your goal in finding a great espresso machine, this is it.
**If you go with this awesome automatic machine, you can still make super cool latte art designs with latte art stencils.
Please Pin, Tweet, or Share this blog post! If you found this post helpful or think your followers or friends will want to know how they can save a ton of money and develop a new art skill at home, please consider sharing! Thank you so much!!!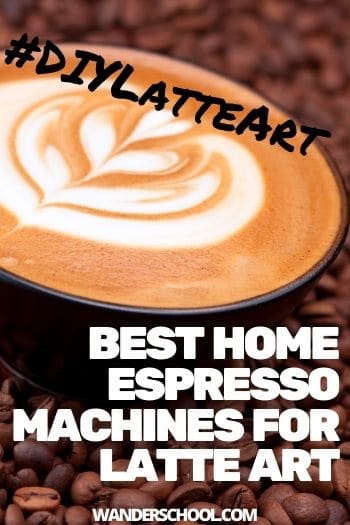 Drop a comment. I'd love to hear what you think about these espresso machines and latte art. Have you learned how to make coffee art at home? Do you have a favorite machines for home latte art?
Follow Julie on Social Media! 😉