In 2012, I walked "The Way" of St. James, also known as the Camino de Santiago, to Santiago de Compostella with my four children, then ages 2, 5, 7, and 9.  The movie "The Way" with Martin Sheen had just come out.  Once I watched the movie, by the time the credits rolled, I immediately knew I had to walk the way. It didn't take much to get my husband on board with the plan.
A short time later, our family of six landed in Spain, ready to begin our pilgrimage–an experience that would forever change everyone of us.
Can You Walk "The Way" with Children?
Absolutely.  In 2012, when our family walked the Camino de Santiago, it seemed like we were celebrities.  At that time, before the movie popularized the Pilgrimage, comparatively few Americans walked the route, and even fewer as a family.  When we arrived in Santiago, we were greeted by cheers and applause in the Pilgrim line.  It was an emotional finale.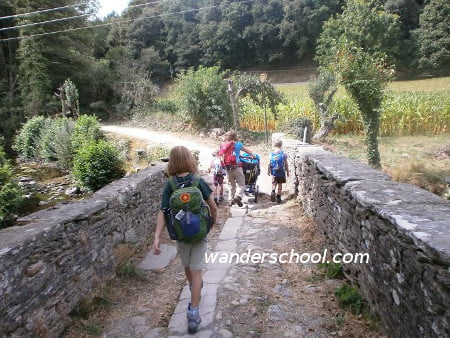 So how did we do it?  I like to wing travel, with little planning.  We didn't book hostels or rooms in advance.  We woke the kids very early each day, walking with headlamps until the sun made its appearance.  It was much cooler this way and made the adventure even more exciting for the kids–they still say their favorite part of the Camino was walking in the dark.  After lunch, we would begin looking for a place to stay for the night.  Only once were we turned away from a hostel/hotel–it was apparent the owner wasn't thrilled with the idea of children staying on the property.  This treatment was the exception.  The Spanish LOVE, LOVE, LOVE children.
Is it safe to walk The Way?
Recently concerns have emerged about the safety of walking the famous Camino de Santiago, when a 41-year old American Woman, Denise Thiem, went missing and never made it home to Arizona.  Obviously, this is a scary, tragic, and very sad ending to what should have been an inspiring and positive experience.
However, the reality is that no place is immune from crime, and that anything can happen anywhere–at home, at the local grocery store or movie theater, or abroad.  Millions of people have walked and walk the Camino de Santiago without incident–and have come home with lovely stories of an experience that has permanently and positively changed them.
When we walked the Camino as a family, the only real concern I ever had was with dogs.  We did encounter two instances of vicious, unleashed dogs, and heard or saw many, many more behind property fences.  A cow also came out of nowhere while walking in a small farm town and almost ran into my oldest daughter–a close call, but all turned out just fine.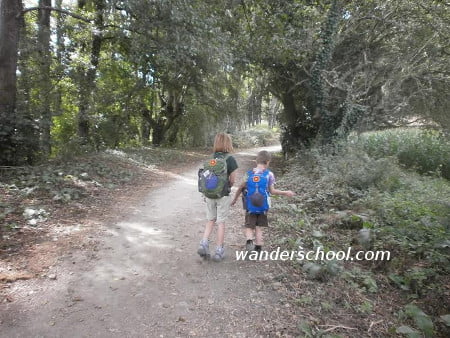 Staying Safe when Traveling with Kids
Staying safe while walking the Camino with kids in tow means taking similar safety precautions that you'd take anywhere when you travel to a new, unfamiliar place.  Some of these precautions include:
Keeping your valuables out of sight.  This means not being being flashy with expensive electronics.
Keeping your passport and money tucked away in a secure spot.  This might involve wearing a passport pouch with your passport (and your child's passport) around your neck, which you wear under your clothing.
Making sure you are aware of your surroundings at all times.
Never leaving your kids alone or unaccompanied.
Creating a family plan in advance should someone get separated from you or your group.
Giving someone (not traveling with you) your travel itinerary and checking with that person periodically.
If walking at dusk or in the early morning hours, wearing appropriate reflective gear and headlamps (or carrying flashlights) for better visibility and so you can have a sense of what and who are around you.
Don't touch stray animals, including seemingly friendly dogs or cats.
If you are thinking about walking "The Way" with your children, it could be one of the most wonderful and exciting travel adventures you ever do.  With some planning and good common sense to mitigate risks, you will likely discover why walking Camino is truly, positively life changing.
If you have walked the Camino or hope to walk it with your children, we'd love to hear from you! Please leave a comment below and tell us about your adventure!
Buen Camino!