Key West is now one of my favorite places for sunshine and R&R in the USA. My four kids and I had a blast driving the RV through the Florida Keys along the Overseas Highway, as part of our Solo Mom + 4 Kids, Roadschooling 50 States USA Tour.
The Overseas Highway is a 113 mile highway through the Keys all the way down to Key West and includes miles of bridge time. It makes a spectacular drive. We didn't do the drive in one chunk, though. We took our time, staying at a couple of different places along the way, including John Pennekamp Coral Reef. 
Our days of pouring rain at John Pennekamp campground gave way to bright, perfect skies on our way to Key West. If you're looking for a roadtrip or considering full-time RV life, you've got to make the drive to Key West.
Where We Stayed & Parked Our RV in Key West
We stayed for four nights at Boyd's Campground on Stock Island in Key West.  Our campsite was right on the water, with our RV's rear bumper only feet from the water's edge.  Though sites were close together, palm trees separated our site from our neighbors.  The campground was quiet and peaceful, unlike the experience some have shared on TripAdvisor.  The ladies in the office were kind and helpful.  The campground had a fabulous pool, where the kids spent nearly every waking minute when we were not off exploring Key West.
What We Did in Key West
We loved the Caribbean/Latino food at Paseo.  So much so, that we grabbed lunch there twice!  The first time, taking our food to go and heading to Smather's Beach.  The next time, after running a morning 5K.
We waited in line in the blazing sun to have our picture taken at the gigantic Southernmost Point buoy.  We encountered Roosters crossing the roads in downtown Key West.  We ate at the Southernmost Cafe.  We hung out on Duval Street, eating ice cream and checking out the used bookstore (right off Duval).  We had smoothies, treats, and iced mocha coffee at the Cuban Coffee Queen.  We ate gluten free pizza at Roostica.  We hung out in beach chairs on the water's edge, enjoying the warm breeze and hot sunshine….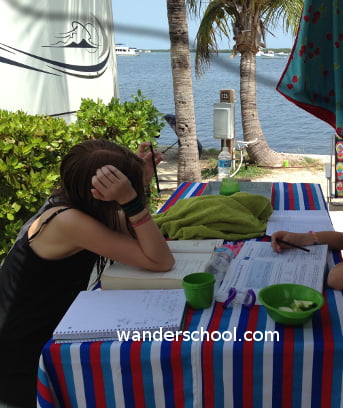 And, the kids did Saxon math lessons during downtime, under the RV awning, next to palm trees and turquoise water. Talk about the perfect way to roadschool. Talk about the perfect full-time RV life. Talk about living the dream.
This is Roadschooling Key West Life.  
I'm already dreaming about another trip to Key West.
Did you know you could live for free or nearly free in an RV? I learned this while traveling the 50 States with my children. Full-time RV living has some incredible perks.  
updated: 5/2/2020
Disclosure: This post contains affiliate links, meaning, at no additional cost to you, I will earn a commission if you click through and make a purchase. You can read the full disclosure here. It is through these links that I am able to write this blog. Thank you for your support and readership.