Are you a digital nomad dreaming about spending time in France and looking for the best coworking spaces? Or are you a remote worker who has no plans to return to the real office anytime soon?
Are you an expat looking for a cool, funky space to work, network, and grow your business?
Well, look no further. This blog is for you.
Affiliate Links Disclosure: My posts sometimes contain affiliate links, which mean that if you click on them and make a purchase or sign up for an offering, I may earn a commission, at no added cost to you. I received no compensation for writing this post, and it reflects my own experiences, research, and opinions. You can read my my privacy policy here. Thank you so very much for reading my blog!
Coworking in France
I'm going to share with you some awesome coworking spaces and ideas for making work easier and more productive on the go. The list that follows focuses exclusively on France.
If you are a regular to my blog or follow me on Insta, you know that France has my heart.
What is Coworking?
In general, coworking is when people work independently and share a communal workspace. In other words, people come together in a neutral space or work environment and get their work sh*t done.
When I think of coworking spaces, I often think of SoHO, NYC. Modern, chic, urban loft-esque workspaces where hipsters sit glued to their laptop screens, sipping caffeine from a green Starbucks straw.
But, nah, not all coworking spaces look like this. However, they do attract digital nomads and people who love flexible work arrangements and remote work.
As for age, well, thanks to the pandemic, all rules are off… coworking spaces are for everyone.
Coworking spaces are not just for 20 somethings.
They are for career re-inventors, entrepreneurs, students, freelancers, consultants, influencers, and mommybloggers looking to bust out their blog businesses into the mainstream.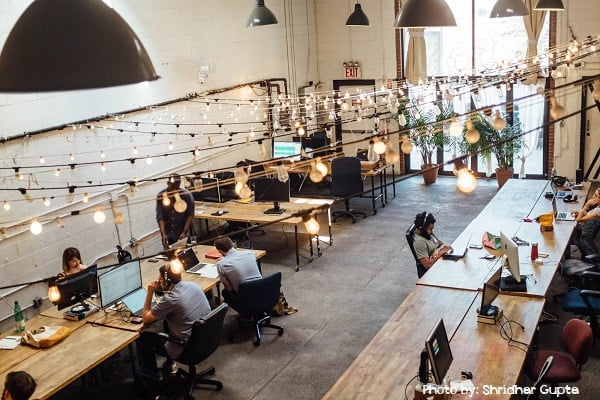 "Le coworking, ou cotravail ,, est une méthode d'organisation du travail qui regroupe un espace … annoncent environ 26 000 espaces de coworking dans le monde en 2020." -French publication
What is Cohoming? – Coworking vs. Cohoming
In France, cohoming is somewhat a new concept, though related to coworking.
Cohoming takes coworking to a more personal level. To someone's house or apartment. Think coworking at someone's house vs. an established commercial office space. In a cohoming arrangements, you might pay a small amount to offset electricity or internet costs and work the day away in someone's living room or kitchen.
Just so you know, I first learned about cohoming while studying in a French language course, while sitting at my kitchen table. 😉
Business Domiciliation in France – Starting a Business in France
It's worth noting that some coworking or business incubator spaces allow small businesses and start-ups in France to use their location, address, or offices for business domiciliation and business mail purposes. So, if you're looking for this, it might be an option at a coworking space.
Où travailler à Paris ? In the Alps? The Mediterranean? Or Beyond?
Whether you're visiting France, in France on a long stay visa, live in France as a permanent residence, or are enjoying expat life, what should you look for besides location in a coworking space?
What features or options should you look for in a coworking space?
What should you look for in choosing a coworking space? Of course, if you're renting a space to work you want to feel and BE productive when you're working in a coworking office!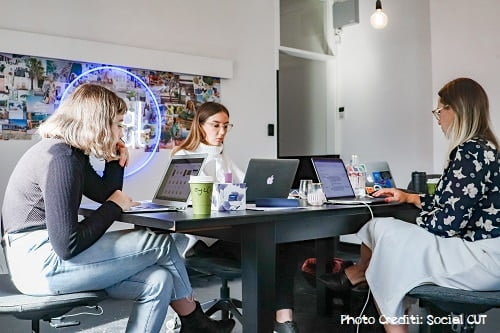 What to Look for in a Coworking Space
1. Location. A coworking space should be located in a good and practical location, so you'll actually use the space.
Practically speaking, not all towns and small cities in France have coworking spaces, so you may have to travel to find one that works for you. If you can't find one close to you, there are alternatives, such as public libraries and cafes.
2. Coworking Office Space Amenities. When choosing a coworking space, consider the amenities offered by the space.
For example:
How's the wifi speed? How's uptime/downtime?
Are there any usage caps, such as time or data allowances?
Is standard office equipment included?
Do you have access to printers?
Electrical Outlets easily accessible?
Charging or docking stations?
What type of desks or office seating available? Cozy chairs? Lounge chairs?
Do you have access to conference rooms and tables?
Are there private rooms or spaces for quiet, uninterrupted phone calls?
Are there showers? Or lockers?
Can you get a mailbox?
Are coffee, tea, or snacks included?
What's the parking situation or accessibility to metro or train like?
Is it easy to reserve desk space or conference rooms via Internet or phone App?
3. The Coworking Space Energy and Vibe. When you're choosing a coworking space, don't overlook the importance of choosing a space that meshes with your personality or work needs.
For example:
What's the vibe of the coworking space?
What's the aesthetic? Modern loft? Rustic, country farmhouse?
What's the environment like? Quiet? Spacious? Airy? Bright and Sunny? Dark? Air conditioning? Hot in the summer? Quiet? Loud? Bustling? Chill?
Does the coworking space offer a calendar of events or networking opportunities?
4. Cost & Flexibility
Coworking space cost is definitely important consideration. For example, to determine if coworking space is right for you, you might wish to know:
How does membership work? Is it subscription based? Pay as you go? Pay by the day? Week? Month? Is there a punch pass or card type system?
Is there a coworking contract?
Are there reduced rates or discounts for committing to the long term?
What do you get for what you pay?
How flexible is membership?
What's the commitment?
Are there any hidden or extra fees that you should consider?
5. Access & Security
When choosing a coworking space here are some things to consdier when it comes to access and security:
Can you use the coworking space facility whenever you feel like it? Is there 24/7 access? Or does it close at a set time each day? Or on Sundays?
How do you get in? Keycode? Key? Fingerprint Reader? Door person or front desk?
How secure is the building? How secure are the coworking office spaces? For example, do you need to badge in and out of a room? How secure will your expensive technology items be when you bring them along to work? For example, if you have to get up to go use the bathroom, will you need to pack everything up? Or are there places on the desks to mount laptop locks?
Get My Favorite Digital Nomad Shirt
Seriously, I love this shirt. It's super cute. Minimalist design. Perfect for your travel wardrobe. Organic cotton. And it's designed and made in France. And sold by a small French company. Oh, and it has a cute little French flag on the sleeve.
The perfect t-shirt for your digital nomad lifestyle.
Can't Find a Coworking Space in Your Area? Create Your Own
If you can't find a coworking space in your local area, why not make your own? Check Out The Ultimate Coworking Launch Sequence: How to Build a Successful Coworking Community.
The Best Coworking Spaces in France
Of course, this is the section of this blog that you've been dying to read, so let's finally get to it! Here are some popular coworking spaces in France that you should know about, particularly if you are living the digital nomad lifestyle, traveling to France, or are an expat living in France.
Possibly the world's coolest start-up program and space for entrepreneurs, start-ups, and everyone living or wanting a life on their own terms. There are even co-living arrangements!
A coworking and incubator space with a Manhattan-esque vibe at the foot of Mont Blanc in the French Alps.
Located in Chamonix (Sud), the Ski Locker is steps away to some of the best skiing, trail running, and adventure in the world.
READ MORE: Chamonix is a super cool destination. When you're not working, you can find lots to do outside and inside Chamonix.
Offers "espaces coworking" in multiple locations, including offices for 2-30 people, Domiciliation d'entreprise services, and networking events.
Follow Julie on Social Media! 😉
Related Posts You May LOVE
The Best Books to Help You Become a Digital Nomad