Can you write off your motorhome on taxes?
As remote work becomes more sustainable and people increasingly consider the RV travel lifestyle, the question arises can you write off your motorhome on taxes? Or deduct your RV or camper van on your taxes?
The information contained in this post is provided for informational purposes only. It is not legal advice, nor should it be construed as legal advice on any subject matter. You should seek legal or other professional advice for tax matters for answers specific to your situation.
Affiliate Links Disclosure: My posts sometimes contain affiliate links, which mean that if you click on them and make a purchase or sign up for an offering, I may earn a commission, at no added cost to you. I received no compensation for writing this post, and it reflects my own experiences, research, and opinions. You can read my my privacy policy here. Thank you so very much for reading my blog!
First off, whether you can get any home or business tax advantages related to your RV, Motorhome, or Camper Van life may depend on where you claim permanent residency, your citizenship, and/or where you've registered your vehicle. Obviously, the tax laws vary between countries. For example, the US tax code is not the same, as say, the tax rules in Australia.
Also, if you are serious about living the RV life or are thinking about selling everything you have to live the travel lifestyle, and need to know the tax consequences of this lifestyle, you should consult a tax professional or lawyer who can discuss the specifics of your unique situation.
Is a Motorhome an Investment Property that Appreciates with Time?
Generally speaking, a motorhome, RV, fifth wheel, or camper van is not considered the same as investment property. These rigs all depreciate in value, like an ordinary vehicle does. A camping vehicle isn't going to appreciate or gain value with time, like a house or other property generally does.
Depreciation is one of the reasons some people opt to buy a used motorhome. Compare buying a new motorhome to buying an ordinary new vehicle. A brand new car loses value immediately after you buy it and drive out of a dealer's lot, and then continues to lose some of its value every year that follows. The same idea generally applies to new motorhomes. You will never fully recoup that original, brand new lot sticker price once you've bought it.
READ MORE: If you are looking to buy a motorhome, especially if you are a woman, you might enjoy reading Sexism on the Lot: Adventures in RV Shopping.
Can a Motorhome Be a Tax Write-Off?
Ways You Might Save Money on Your Taxes with an RV for Home or Business
Keep Good Records
As with anything tax related, if you live or work in your RV, you'll want to keep good records. This way, you'll be more likely to have the information you need should you decide to claim any deductions or tax advantages come tax time. For example, among the documents you may want to keep:
Share the LOVE – Pin or Share This
If you found this post helpful, please consider sharing the love. Pin it. Tweet it. Share it. I really appreciate it, and I know others who are looking for this information will too!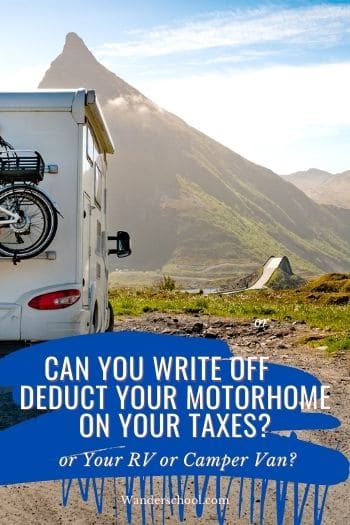 Of course, I'd love to hear from you. What are your thoughts on Can You Write Off Your Motorhome on Taxes? Does living or working in your RV help you save on your taxes? Drop a comment below.
Follow Julie on Social Media! 😉
Related Posts You May LOVE