Looking for the best things to do in Vermont?
Well, you're in luck. This is the ultimate bucket list for Vermont.
So, whether you're looking for perfect Vermont adventures or finding the best things to do in Vermont, this bucket list has you covered! You'll find 38+ Best of Vermont Things to Do, See & Experience.
Affiliate Links Disclosure: My posts sometimes contain affiliate links, which mean that if you click on them and make a purchase or sign up for an offering, I may earn a commission, at no added cost to you. I received no compensation for writing this post, and it reflects my own experiences, research, and opinions. You can read my my privacy policy here. Thank you so very much for reading my blog!
My Vermont Love Story
Vermont has my heart. I highly recommend putting Vermont on your travel bucket list. It's one of the best places on Earth. Seriously.
If you regularly read my Travel Lifestyle Blog, Wanderschool, you probably already know that I have spent time in all 50 States with my four children. A few years back, we did the ultimate USA road trip adventure and spent most of a year exploring all 50 States. I've spent more time in my life in Vermont than any other state, as have my children.
There is simply no state in the United States like Vermont. It's beautiful. Gorgeous, really. If a state could have a personality, let's just say that Vermont would have that personality that keeps you hooked and coming back for more.
If Vermont isn't yet on your bucket list, it's time to put it on it… ASAP.
Why Visit Vermont?
Vermont, also known as the Green Mountain State, is a tiny state nestled in New England. It's sandwiched between New York and New Hampshire, with Massachusetts at its southern end and Quebec, Canada at its northern top.
The State of Vermont is home to just over 600,000 Vermonters. Next to Wyoming, it's the second least populated state. It's the least populated State in New England.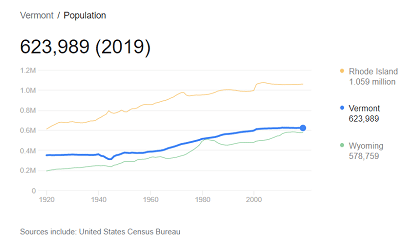 There's so much to do in Vermont. And yes, there's something for everyone! Oh, and you don't have to be a a complete outdoor lover or totally comfortable in the great outdoors to appreciate the best of Vermont either.
Fun Vermont Facts
There are some pretty cool things about Vermont (VT). These things and facts make Vermont a pretty unique place. And definitely a place guaranteed to give you unique trip memories.
VT has more than 100 covered wooden bridges;
VT is Known by locals as the 802 because it only has one area code;
People born in the State are known as "Native Vermonters" — anyone born outside Vermont is often referred to as a "flatlander"… even if they've lived in VT for years and years;
Vermont once existed as an independent country;
Maple Syrup is a big deal in Vermont and to Vermonters… just say no kids to fake maple syrup. 😉
Billboards are a no-go. You won't find bill boards littering the sides of I-89 or I-91;
So, are you ready to see the Ultimate Vermont Bucket List featuring the Things to Do in Vermont? Yep, I thought so.
38+ Best Things to Do in Vermont
Here are the things you must do in Vermont. This travel list includes the best things to see in Vermont. It also includes the best places to visit in Vermont. And, of course, it features the best things to do in Vermont.
In no particular order, here are the 38+ Best... and favorite things to do in the little ol' Green Mountain State.
1. Cycle along the Burlington Bike Path.
Rent a bike and ride the Burlington Bike Path. You can even ride along a causeway and take a bike ferry.
2. Drive Through & Hike in Smugglers Notch.
You can only drive through the notch in the summer and fall months, but this beautiful drive is a drive you'll never forget. You'll find parking areas, from which you can park the car and go hiking. I highly recommend hiking to Sterling Pond.
3. Go to the Cabot Cheese Factory.
Cheese is life. But not just any cheese. Cabot Cheese is the producer of award-winning cheddar cheese. When the kids and I are traveling the world, the one thing we always miss about Vermont is Cabot Cheddar – Extra Sharp. 😉 Make a trip out to the Cabot Cheese Factory in the cute town of Cabot, take the cheese tour, and enjoy cheese samples in the gift shop.
4. Visit Ben & Jerry's
You can't visit Vermont, without a trip to the Ben & Jerry's factory in Waterbury. You just can't. Yes, it's a mega tourist spot, but it's a must-do. Don't forget to check out the Ben & Jerry's Graveyard, where unpopular ice cream flavors are laid to rest.
5. Whales in Vermont
What, what?!? Whales in Vermont! If you're driving along I-89 North toward Burlington, you're bound to see the "Whales Tails" sculpture on the right side of the road between Williston and Shelburne exists. Drive into Williston, make your way through the Industrial park (past the big box stores), park the car, and take the short hike out to one of the best and most Instagrammable locations in Vermont. Reverence, a.k.a Whales Tails. You can find a photo of Whales Tails on my Instagram.
6. Catch a Concert at Higher Ground
Higher Ground in South Burlington is an adorable, all-ages music venue that features some really incredible artists. Definitely make a point of catching a show or getting an introduction to emerging independent music artists here if you love music. I've seen some amazing musicians perform here, including Trevor Hall and Citizen Cope.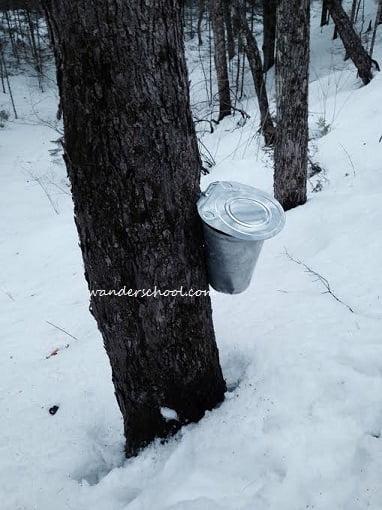 7. Make a Stop at Maple Grove Farms
In VT's Northeast Kingdom, learn about Maple Syrup, Maple Syrup production, and grab a box of Maple Sugar candy "seconds" at a great price at Maple Grove Farms.
8. Hike Camel's Hump
Camel's Hump makes a lovely and memorable hike. Always make sure you are prepared to hike.
9. Learn About Apple Cider
Make a stop at Cold Hollow Cider Mill in Waterbury. Learn how cider is made and sample some fresh Vermont apple cider. There is nothing like it.
10. Go to Shelburne Farms
A classic VT attraction and fun for the whole family.
11. Take Gondola Up to the Top of Mount Mansfield
A gondola ride up to the top of the highest mountain in Vermont, is sure to be a highlight of your trip to the Green Mountain State.
12. Go to a General Store
There are many general stores in VT. Definitely make a point of visiting one, such as Dan & Whit's in Norwich.
13. Eat a Grinder
A grinder is what Vermonter's call subs. The best place to grab a real grinder is at a convenience store. My kids love the great grinders and sandwiches at Mike's off I-89 (Ascutney/Windsor) exit.
14. Enjoy a Maple Creamee
You just have to try a maple creamee, also known as soft-serve, at least once in your life. And there is no better place to try one than in Vermont.
15. Shop on Church Street
Even if you're not in the shopping mood, you'll definitely want to make a point of visiting Church Street in hip, downtown Burlington. It's probably one of the most, if not the most, photographed places in Vermont that says Burlington.
16. Grab Coffee in Montpelier, Vermont
Grab coffee at Capitol Grounds in Vermont (famous Bernie's coffee). Take it to go and go for a stroll down the street to the Vermont Capitol Building. There you can check out the beautiful gold dome and see Ceres, the Goddess of Agriculture, statue on the top.
17. Drive Through Covered Bridges
Taking photos of Vermont's covered bridges was cool long before social media. But don't just take my word for it. Drive through some covered bridges or go check them out!
18. Go Apple Picking
Apple picking in the fall in Vermont is one of those things you just have to do.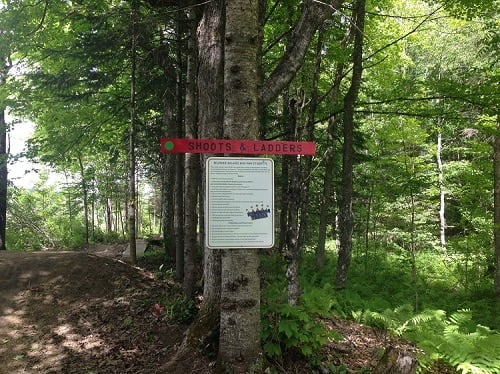 19. Mountain Bike on Kingdom Trails
Bike the award-winning Kingdom Trails in Vermont's Northeast Kingdom. The information center is located in East Burke.
20. Drive the Toll Road to the Top of Mount Mansfield
Take in an unbelievable view of Vermont from the top of Mount Mansfield. Find the access road in Stowe.
21. Drive the Toll Road Up Burke Mountain
For an epic view of Willoughby gap, drive the toll road up Burke Mountain. Better yet, hike up the road!
22. Swim in Lake Willoughby
Lake Willoughby is a picturesque, postcard perfect lake. You have to see it. Bring a picnic and soak up the view. You can also take a hike up Mount Pisgah (find a trail head near the south shore).
23. Visit the Echo Museum
The Echo is a fantastic science museum in Burlington on Lake Champlain. Kids and adults love this place. Learn all about Lake Champlain and VT's geological history.
24. Visit the Montshire Museum
This hands-on, discovery science museum is a kids' favorite.
25. Visit the Fairbanks Museum & Planetarium
This museum is definitely worth a visit. Kids will love it. Don't miss a show in the planetarium.
26. Learn How Teddy Bears Are Made
A stop at Vermont Teddy Bear Factory is a must when visiting Vermont with kids.
27. Go Night Skiing
Go night skiing at Bolton Valley Ski Resort or at a small ski hill like the Lyndon Outing Club in Lyndonville, Vermont.
28. Stop at the Museum of Everyday Life
In Glover, this unique museum will make for fun Green Mountain State memories.
29. Catch a Bread & Puppet Theater Performance
Also in Glover, you'll find the Bread & Puppet Theater. Don't miss a performance.
30. Watch the Stars & Stripes Parade
Don't miss the annual July Stars & Stripes Parade in Lyndonville.
31. Go Cross-Country Skiing at Craftsbury Outdoor Center
If you've never tried cross-country skiing before or love Nordic skiing, put Craftsbury Outdoor Center on your bucket list!
32. Grab a Sandwich at the Craftsbury General Store
In Craftsbury, you have to make a stop at the Craftsbury General Store and grab a homemade sandwich. Try the BLT! And the Kale Salad!
33. Hike Mount Ascutney
For a beautiful Vermont summer hike, put a trip to Mount Ascutney in the central/Southern part of the State on your adventure list.
34. Stop at Pete's Greens Farmstand
Make a stop for Fresh produce and Made in Vermont food goods at Pete's Greens Farmstand in Craftsbury.
35. Enjoy Farm-to-Table and Pizza at Parker Pie
In Glover, don't miss a trip to Parker Pie Pizza.
36. Grab Ice Cream at the Freighthouse
Grab a scoop of ice cream at the Lyndon Freighthouse. Don't forget the jimmies. That's what Vermonters call sprinkles!
37. Go on a Craft Beer Tour
This State has so many incredible craft breweries. So make your own beer tour. For example, check out Hill Farmstead Brewery in Greensboro Bend. And, of course, don't miss The Alchemist in Stowe.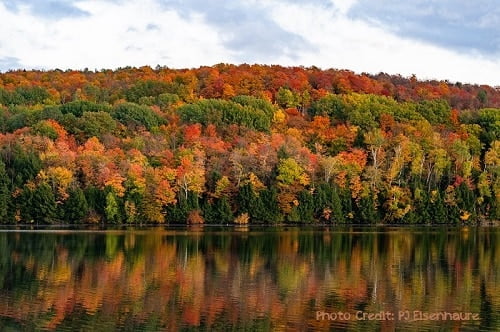 38. Fall Foliage
There is nothing quiet like seeing this incredible State in the Fall. The colors!!!
If you liked this post, please consider sharing the love! Pin it. Tweet it. Share it with your friends or followers. I truly appreciate it!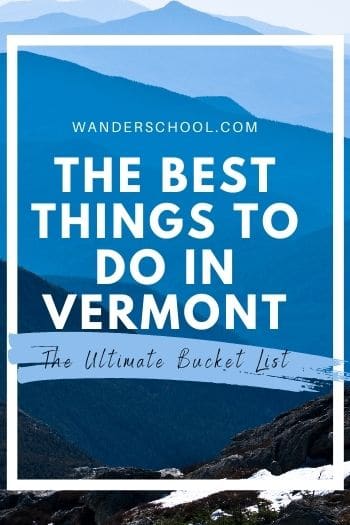 Follow Julie on Social Media! 😉
Related Posts You May LOVE