How does hiking New Hampshire's 4000 footers with children sound? Looking for a new challenge and love hiking, if so, hiking New Hampshire might be something for you and your family.
Affiliate Links Disclosure: My posts sometimes contain affiliate links, which mean that if you click on them and make a purchase or sign up for an offering, I may earn a commission, at no added cost to you. I received no compensation for writing this post, and it reflects my own experiences, research, and opinions. You can read my my privacy policy here. Thank you so very much for reading my blog!
Hiking New Hampshire's Forty-Eight 4000 Footers is a tall challenge, and for some the perfect short or long-term adventure
In the tiny little state of New Hampshire, you can find forty-eight (48) 4,000 ft high mountains. Locals and avid hikers call them the 4,000 footers.
The majority of these peaks are found within 'the Whites' (White Mountains), including Mount Washington, the highest peak in the Northeastern United States at 6,288.2 ft.
The idea of hiking all 48 peaks is fascinating to many people who love to hike and also to those looking for a short or long-term challenge.
I have several friends who love hiking in the White's, some of them make peak bagging in the Whites a regular outdoor activity.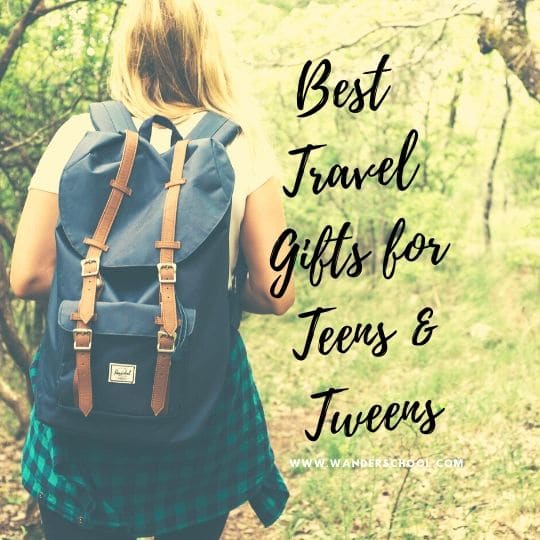 People come from all over the US and world to hike in New Hampshire.
People who hike all 48 of New Hampshire's 4,000 Footers can earn a respectable NH48 patch.
If you're looking for a new life goal or short-term project, hiking in New Hampshire might make a good adventure.
If you're new to hiking or want to encourage someone to start hiking, bookmark How to Start Hiking: A Beginner's Guide.
Don't Be Fooled, Hike the Whites Prepared
Regardless of your fitness or hiking experience, don't be fooled by the precautions and preparations you must make to hike in the Whites. And if you're hiking with kids, you have to be even more prepared.
Even in the summer. Spring. Fall. And especially for winter hiking in New Hampshire.
You definitely want to get your hands on a copy of a good Hiking in the Whites guidebook, too. And a waterproof trail map definitely is a good idea, too, even if you have digital maps or a navigation app on your phone.
New Hampshire Mountain Unpredictability
The 4,000 footers may seem short compared to mountains in the Alps or the Rockies, but you still have to be prepared for anything.
The conditions, geography, and isolation of New Hampshire mountains can make hiking unprepared or hiking without smarts, simply dangerous. Plus, the remoteness of the trails can mean that getting help can take a long time.
To illustrate, in the winter of early 2021, two trail runners were rescued from New Hampshire's popular Mount Lafayette, after a trail runner lost his shoe in the deep snow. Though the NH National Guard responded quickly, it still took time for the runners to be rescued off the mountain.
Mount Washington
Mount Washington alone is known for its unpredictable weather. Warning signs inform hikers that it is one of the deadliest mountains. Even in summer, one can find snow, freak storms, and other dangers, such as rockfall.
A few years ago, the kids and I attempted a hike in the Whites in mid-June and turned back after several hours of hiking due to the snow and ice we encountered.
Since then, we've lucked out with beautiful hiking weather. Though when planning to hike in New Hampshire, I check the weather conditions frequently before heading out.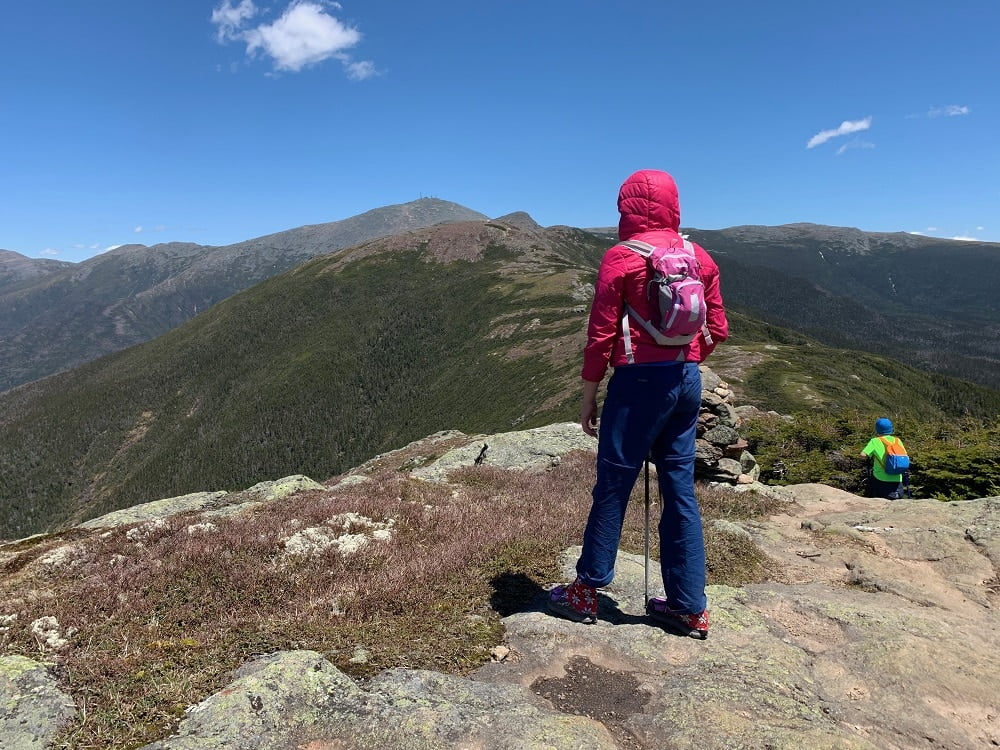 Photo above: One beautiful late summer day, the kids and I knocked out two of the forty-eight footers in one swoop. We hiked Mount Pierce and Mount Eisenhower. We have great hiking memories of that day, except for the bugs. Below treeline the bugs were horrendous. And I accidentally left the bug spray in the car!
Hiking New Hampshire's 4,000 Footers with Children & Beyond
My accomplishment list of 4,000 footers in New Hampshire with my children is short compared to others' lists. However, the kids and I have extensive hiking experience. NH's mountains are a good warm-up and training for epic hiking adventures beyond New Hampshire.
I follow a family of three on Instagram who recently finished hiking the forty-eight 4,000 peaks of New Hampshire. I also recall seeing a blog by a woman who was attempting to hike all of the peaks with her two young daughters.
Of course, hiking more in New Hampshire and checking off more of the 4,000 footers is on our permanent bucketlist. 🙂
Hiking Beyond New Hampshire's 4,000 Footers
I have previously blogged about some of my hikes with my four kids. These hiking adventures include St. Cuthbert's Way, a 100K Hike in Scotland, from Scottish Borders to Holy Island in England. As well, we've hiked The Camino de Santiago. And, we've hiked The Tour du Mont Blanc (170K).
Hiking Challenges Beyond New Hampshire
Looking to the future, after you've done all 48 big peaks in NH, there are other hiking challenges to consider beyond the 4000 footers challenge. For example, you might want to set your eyes on:
Vermont 4,000 footers (there are 5, including breathtaking Camel's Hump)
Maine 4,000 footers (12 of them, including Mount Katahdin – the famous "end" of the Appalachian Trail)
Hiking all Vermont Peaks
The Vermont Long Trail (doing it as one big swoop or section hiking it)
Hiking the Appalachian Trail
Pacific Crest Trail (Mexico to Canada, Watch the Film It's the People)
Hiking with Kids
I certainly believe that many things are possible with children. Hiking with children is one of them. Hiking New Hampshire's 4,000 footers is an adventure that certainly may be one of possibilities with children.
However, you definitely have to do independent research on each of the peaks before you set out, so you know what you are getting yourself and the group into.
This means ensuring that you are prepared, know the weather, have some prior hiking with kids (or outside) experience, are adequately packed with the right gear, have a map and know how to use it, and have a backup/change of plan strategy.
Plan Hiking with a Child's Abilities and Personality Always in Mind
Keep in mind, its imperative to consider the age, fitness, abilities, and unique personality of your child. Know that hiking adventures, especially specific hiking adventures like tackling 4,000 foot mountains is not for everyone.
It's important that you don't bite off too much to chew too soon. The mountains aren't going anywhere anytime soon.
It's also important to ensure that everyone has a good, positive experience. If your child has good experiences hiking, he or she will want to hit the trails again.
Happy Trails – Happy Hiking in New Hampshire
Some people complete all 48 peaks quickly. Some in less than a year. Others over a span of many years.
Whether you're hiking with children, solo, with a friend, or in a group, with plans to do one, several, or all 48 peaks, you're sure to create an experience you'll remember.
And, if you can't make it to New Hampshire, look for trails closer to home and create your own challenge!
Happy hiking!
If you liked this post on hiking New Hampshire's 4000 footers with children, please consider sharing the love and pinning, tweeting, sharing, or passing along to a friend!
Of course, I'd love to read your thoughts and NH hiking ideas, so drop a comment below. And, if you do end up hiking New Hampshire's 4000 footers with children, I'd love to hear all about it!
Follow Julie on Social Media! 😉