When we were on the Oregon Coast, we squeezed in a sandboarding class at Sand Master Park in Florence, Oregon.  We had a fabulous instructor–his name escapes me now, but he is the instructor with wild, two-toned, fabulous hair–who was incredibly patient with the kids and fun. 
This is what our PE class looks like on the road.  Sure beats my public school gym class days, where girls were given a choice of doing aerobics via VHS videos or playing floor hockey (and yes, the girls were definitely encouraged to "try" aerobics instead).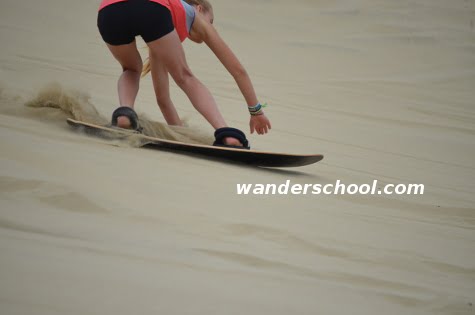 –
My kids are now hooked, especially since sandboarding makes a nice interim board sport until snowboard season.  They've actually asked if we could skip Yosemite and hit up Pacific Coast dunes instead.  Hmm… PE class vs. Science/History.  We'll have to wait and see how this roadschooling thing unfolds.
If you're anywhere near Oregon, make your way toward Sand Master Park in Florence.  You can even park your RV there overnight for $15.  Sandboard rentals are $16 for up to 24 hours.  That's pretty sweet because after a lesson you can drive down US 101 South a few miles to Siuslaw National Forest/Oregon Dunes or Jessie M. Honeyman State Park for more hours of sand riding (or board sledding, as my kids opted to do after they got tired).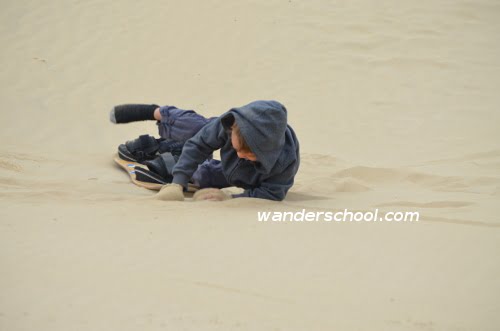 Happy Sandboarding!  Happy Wandering!
Know of an awesome spot to sandboard?  Won't you please share it?  My kids want more sandboard fun and I'd love to know where to go!