Solo Mom Travel – You Can Do It!
If you've ever dreamed of traveling, but you have children, are a single parent, have a reluctant significant other, a spouse who is unable to get time off of work to travel with you, or another challenge that seems to make your dream seem out of reach, read on.
Seriously, keep reading if you are serious about your travel dream! Or if you are serious about pursuing a dream like Living Abroad or adopting a digital nomad lifestyle.
Affiliate Links Disclosure: My posts sometimes contain affiliate links, which mean that if you click on them and make a purchase or sign up for an offering, I may earn a commission, at no added cost to you. I received no compensation for writing this post, and it reflects my own experiences, research, and opinions. You can read my my privacy policy here. Thank you so very much for reading my blog!
Dream It. Do It. Travel Solo with Your Kids
Let me be the first to tell you: you can travel solo with your kids!
I know it's possible!
How? Because I travel solo with my four children regularly. And sometimes on mega, epic trips and adventures.
I've traveled solo with my children since my first child was two weeks old!
Solo Travel to Venice, Italy
A flashback to a wanderschooling pic in Venice, Italy (circa 2012).  Solo mom travel with four kids. Proof that anything is possible.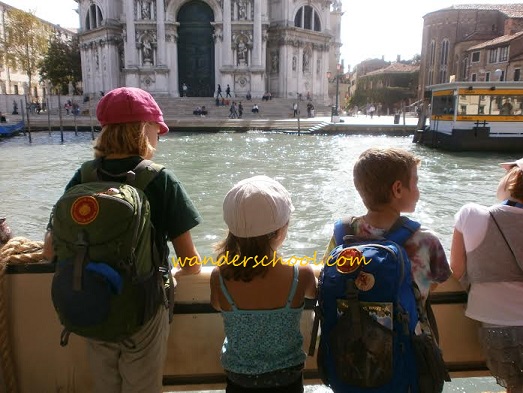 In 2019, several years after the photo above was taken, the kids and I made a return solo trip to Venice. We stayed at a lovely AirBNB off-the-beaten tourist streets and spent time drinking really good coffee at a tucked away coffee shop.
Honestly, Venice is not my favorite travel destination, nor is it my children's top destination. Over the years of traveling with my kids, I've become less drawn to tourist hot spots, and much prefer the tranquility and charm of places less traveled.
However, Venice is doable with kids, especially if you don't have to lug or push a stroller around through the streets. If you make a trip to Venice, Italy, your kids may very well remember Venice, even if you go when they are young–it's just that sort of impressionable place. I do recommend, as with any travel, to try to blend in, dress as locals do, and safeguard your belongings and your babies at all times.
Top Things to Do or See with Kids in Venice – A.K.A. What to see or do in Venice with Kids
Water taxi, Vaporetto (Venice public water bus, with lines that serve locals), or gondola ride
Walking the narrow streets
Spend time soaking up the views on the bridges, like the Rialto Bridge
Window shopping
Visit the big attractions, including St. Mark's Church, Doge's Palace, and the Murano Glassblowers
Eating from the little shops and restaurants – don't forget a scoop of gelato!
Coffee at cute coffee shops
Piazzo San Marco (St. Mark's Square)
Travel-Based Education
And when it comes to educating your kids through travel. No books are necessary to learn about the world. I heart homeschooling. My kids love homeschooling–and worldschooling. And I absolutely love the travel lifestyle. I know you will, too!
Tips for Travelling Solo with Kids
You don't need to be a super human or mom (or dad) to travel solo with your kids. And you certainly don't need to be totally confident or certain before you launch into your first solo travel adventure.
Traveling solo with kids is a sort of fake it until you make it thing.
To help you build your solo travel with kids confidence check out Tips and Tricks for Solo Travel with Kids.
Life is unpredictable. So are kids.
Traveling solo with kids is a rare ever evolving experience and adventure in patience. No two solo travel excursions look the same–or feel the same. Just when you think you've nailed the solo mom travel thing, the next trip can throw a curve ball. Just like ordinary life can (like if you stayed at home).
The unexpected can happen: good and not so good. For example, flying solo with just your kids… you could come down with some funky sickness mid-flight with the kids in tow. Yep, been there done that. You could also find yourself in Saint Marco Square having nearly the entire place to yourself–along with your kids. Yep, that happened.
Traveling solo involves a constantly evolving sense of self and discovering new pieces of yourself, like your strengths and weaknesses, in different places and situations.
Solo traveling with kids is also an exercise in growing ever more comfortable with transitions, setbacks disappointments, frustrations, lost luggage, which can better equip you to deal with issues beyond just travel…like general life turbulence.
Travelling Solo with Kids will Pump Up Your Confidence
Traveling solo with kids is a major self-confidence boosting exercise. When you're able to travel with kids in tow, carry luggage, figure out how to get around a destination, and can figure out how to actually breathe through your trip, you are mega winning at life.
Flying Solo with Kids
Flying solo with my kids is super fun. But it helps that my kids love flying, airports, and living out of a backpack.
However, flying solo with kids and solo travel with kids is totally, 100% doable. Read Tips and Tricks for Solo Travel with Kids for ideas to make flying with kids smoother.
Also check out my awesome Tween & Teen Travel Gear List, which includes great travel ideas and gifts that really do make travel and plane time much more enjoyable for everyone. You definitely want to pack and bring the right gear on your solo travels with kids. It makes the entire experience way better. 😉
Follow Julie on Social Media! 😉
Thinking about a future trip to Venice? Is Venice on your bucket list? Do you dream about solo travel with your kids? Drop a line and tell me about your plans or travel dreams!