When you're homeschooling your kids, the line between mom and teacher is often blurry non-existent.  My kids aren't always thrilled when they show me their writing and I dive in head first without  any hesitation to correct mistakes.
In an ideal world, as mom, I'd smile, hug them, and tell them how wonderful their masterpiece is, how proud I am of their effort, and hang it on the fridge.  In an ideal world, as teacher, I'd acknowledge their effort, gently note areas needing correction or attention, and hopefully, remind them of the lovely class lecture or some clever mnemonic device I taught about proper punctuation, sentence construction, or spelling.
But in the real world, as mom-teacher, sometimes my best or not so best efforts result in smiles (me and/or child), laughter (me and/or child), silliness (me and/or child), exasperation (by me and/or child), sometimes stomping away (child), and sometimes tears (me and/or child).
While I do purposefully hold back on grammatical/spelling/language corrections from time to time, usually when the kids are gifting me or sharing writing–and ohhh and ahhh over those precious writings, I do struggle at times with trying to figure out whether I need to pull out the red ink and where/when to draw the line.  When I know I've taught and re-taught a zillion times that sentences start with a capital letter, it pains me when I see my kids write a lengthy page without any capitals.
I love writing, and my love of it leads me to sometimes worry that my children won't fall in love with writing when I'm wearing my mom-teacher hat, which let's face it, is most of the time since I believe learning happens 24/7, 365 days a year when you're homeschooling.
But…thanks to a NYC Homeschool Mom's post on the Homeschool New York Yahoo Group List about a writing camp at Writopia Lab (Upper West Side), my fears are laid to rest!
Two of my kids attended an Essay writing camp last week at Writopia and they discovered (or realized) that they are head over heels in love with writing!  My kids had phenomenal writing experiences, thanks to Writopia staff and teachers Danielle and Taylor.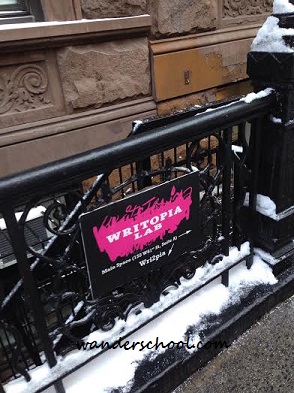 Writopia Lab offers camps, after school creative writing classes, homeschool classes, workshops, and private writing classes (such as college essay writing and polishing) for students of all ages, even tiny, wee ones.
 "Writopia Lab is a 501(c)3 non-profit organization founded in New York City in April of 2007. We run creative writing workshops for kids ages 6 to 18. All of our workshops have a maximum of seven students and are led by a published author or produced playwright who has been fully trained in our time-tested methodology."
Not only did my kids tell me each day that their morning class at Writopia Lab was "the best day ever," but they are actually now begging me to sign them up for more writing classes, camps or workshops, and they want me to give them writing assignments for fun!
Wow!  Happy mom.  Happy teacher.  Happy mom-teacher.  Thank you Writopia Lab for transforming my reluctant writers!
Have any tips for transforming reluctant writers into happy, eager writers?  I'd love to hear them!