While chilling out in my Paris apartment tonight after an amazing day spent exploring the city with my four young children, I sat down in front of my computer to plan the next day's worldschooling adventure in Paris.  Scrolling through my Google News feed, I stumbled upon The 12 Worst Things to Do in Paris.
In bold, there it was:  #4 Taking Children Anywhere.
As a fairly seasoned solo traveller with four young homeschooling kids in tow, I admit it doesn't surprise me in the least to see that taking kids anywhere in Paris would make the list.  Blame it on my crunchy, laid back roots and strong belief in the value of stepping outside of your comfort zone, but I'm a huge proponent of travelling with kids.  I simply can't imagine exploring a new place without them, especially not Paris.
In my travels and experience over the years as a homeschooling, roadschooling, world schooling wander mom, I've consistently observed and heard from others across many borders that the very idea of travelling with children raises parents' anxiety levels to the extreme.  Add a city like "Paris" to the mix, and Voila!  Taking Children Anywhere lands a top five spot on the no-no list, sandwiched somewhere between "Joining the Mona Lisa Scrum" and "Being the Victim of a Pickpocket."
To justify the #4 spot, the Telegraph author suggests that Paris is not for kids because of the potential need to fold a stroller on the metro.  Folding a stroller, even a dozen times a day, hardly makes a city terrible for 'les enfants."  Maybe inconvenient or tiring for mom or dad, but terrible for whom is this really?  Unlikely for l'enfant. I can't even begin to count how many times, I've had to fold a stroller to shove it in the back of my vehicle in the country to go to the local mall or to go to a more stroller friendly road or trail, or how many times I've had to fold up the stroller to ride escalators, planes or metros in small and large cities throughout the United States, Canada and Europe. Sure, at least once, but probably more like three thousand times, I've cursed under my breath or whined about the annoyance of having to fold up the stroller — like when I used to have to fold it all the way down as flat as a pancake to fit on the airport x-ray conveyor belt — or carry it up stairs (or ask a random stranger to help carry it for me up a long haul) but I wouldn't trade travel adventures with my children in amazing destinations like Paris just so I wouldn't be inconvenienced for the world.
To further justify the #4 spot, the author notes, "We can't say we weren't warned. 'A city that is terrible for 'les enfants'", one previous Telegraph Travel article said, shortly before we left" (link inserted as original published link was broken).  In that referenced 2012 Telegraph article, Paris with Children, 'A City That is Terrible for Les Enfants,' the author finds that having a toddler in tow is a "major impediment to appreciating the city" of Paris.  Boom, another slam for traveling with children. That author complains a lack of baby chairs in restaurants, long stair climbs, expensive, dismal food options, and unwelcoming guards who don't want children to touch works of art are reasons that Paris blows for kids. No wonder parents are so freakin' anxious to travel with kids.
Paris with Children is Totally Awesome
Paris is hardly terrible for les enfants.  Like any experience in life, it's the attitude that goes into an adventure that usually makes it or breaks it.  It doesn't matter where you are–at Plymouth Rock, Disney World or hiking a mountain in the Bavarian Alps.  If mom or dad is stressed out, anxious, grumpy, or tired, kids will pick up on that and follow suit.  If parents expect to be comfortable at all points in their travel, to find the same conveniences of home or operate with the same cultural attitudes without being adaptable, they will be sorely disappointed.  They will find themselves reading worst lists, saying 'we were warned.'
The Metropolitan – Metro. Though I no longer use a stroller for my youngest child–but he definitely could use one when he's exhausted–I've  done tons of riding on the trains in Paris to see all kinds of parents navigate strollers and all sorts of strollers, ranging from sleek Euro prams to traditionally wide American double strollers.  One tourist mom almost ran over my first grader this week, trying to squeeze out of the metro at Concorde Place during rush hour, shouting "move please, move please, move please, I'm trying to get out" to everyone in her path.  Anxious mom?  Yes.  Did she get off with her stroller and child?  Yep.  Did people move when she so demanded?  You betcha.
Is the Paris metro doable avec les enfants.  Absolutely.  In strollers or without. Tonight riding the main tourist yellow line #1 from La Defense to Concorde Place, there were multiple moms, at least a half dozen toddlers and two strollers alongside me and my four children in one car.  In my experience, even in the most crowded train cars, Parisians especially, and tourists, too, make room for everyone to get on.  When I encounter a standing room only train, I would be surprised if someone didn't offer up a seat to my little one or me with him.  I've only seen one person not "fit" on a train for lack of room, and that was simply because they didn't seem to have the patience to wait a second for people to push back and make room, and opted to catch another train.
Parisian trains are fast and frequent. Trains come every couple of minutes, so parents with kids don't even have to wait long.  We're not in NYC, Dorothy.  There are elevators, there are stroller-friendly accessible doors at booth entrances and exits.  There are reduced fares for train tickets for the kids (free for under 4), and buying a carnet (book of 10) is a great deal.
Parisians Adore Kids
In my nearly three weeks in Paris, I've only once had a saleswoman tell one of my children not to touch.  Of all stores, it happened to be a second-hand "Good Will" type of store, and not one of the posh upscale, Prada-type consignment boutiques either. Trust me, my children are far from perfect.  They love to touch everything they shouldn't and when they shouldn't, especially the boys.  But they usually know what the right behavior is in situations, and importantly, I do my best to model that behavior without freaking out about it.  Two guards at the Musee de l'Armee actually took the time to talk to my little ones about Napoleon's Horse.  I've yet to have any museum guard give me or my children the evil eye or stalk us throughout an exhibit.  Did I mention that I have four very curious children, too?
My preschooler has received too many head pats to count from random strangers and extra attention at cafes (one waitress giggled as she brought him a second and then third fork after he 'accidentally' dropped his…gee, I had thought we were well past the drop and pick up game).  At the green market he received a lollipop from a vendor–un cadeaux pour le monsieur.  At the pool, my oldest daughter was showered with attention by staff and locals swimming laps alongside her in the pool.  At the Paris Plage, my family met lovely Parisian families.  Our children played happily together in the sand. I've been showered with stories in French and English–and some of both–by locals talking about their own children and traveling with their children.
A little fyi, the French are no strangers to traveling with children, especially during the traditionally hot summer weeks of August when many travel hours with their children to soak up the French Riveria.  Simply put, travel with kids isn't exactly a foreign concept to Parisians.
Cheap Eats, Free Deals – In Paris?  Really. Paris is for kids.  Proof?  In addition to reduced train fares, kids under 18 are admitted for free at most museums.  They are also given discounts throughout the city.  For example, Open Top Bus Tours offers kids a three day pass for the same cost as a day pass.  Kids get a discounted rate to climb the Eiffel Tour stairs.  Kids get reduced fares at the municipal swimming pools.  Kid pricing in Paris certainly helps mom or dad's wallet.
If you rent an apartment in Paris, check out Homeaway or AirBNB for great family options, not only do families get a better bang for their buck, tons more space than a hotel room, and often a washer and dryer (which means packing lighter and easier travel), but you can save tons of money by shopping like a Parisian at the grocery store and local markets and cooking food your children will actually eat.  If my picky eater wants cereal for breakfast, he can eat that, and if I want to go to a cafe, we can go after he has eaten–it's a win, win.  We save money, he eats what he wants, and I get to eat without hearing any whining about the menu options.
Quite honestly, though, my kids love Parisian food, dining out or eating at our apartment home, especially baguettes, croissants, green beans from the open market, and crepes.  Nearly every restaurant or cafe serves crepes.  What kid doesn't love crepes with Nutella, jam or sugar? Breakfast for dinner, now that's a good go-to for dinner, not to mention bread with butter or a baguette with cheese, when a picky eater just can't find anything to love on the menu–it's not like they'll live on only crepes or bread forever.
When in Rome do as the Romans Do, When in Paris…
Paris with children rocks.  It's one of the easiest cities, I've yet to travel and navigate with children in tow.  Blending in and trying to act like a local Parisian goes a long way to making Paris a terrific city to explore with children. Making an effort to speak the language, encouraging your children to make an effort to try to speak the language, if only "Merci," showing respect to people with whom you come into contact, "Bonjour, Madame/Monsieur" (Parisians appreciate courtesy and place a huge emphasis on manners), and modeling culturally appropriate behavior for your children will go a long way to make a traveling experience with children positive.  It may be Paris, but the old saying, treat others as you'd like to be treated, works the same here too.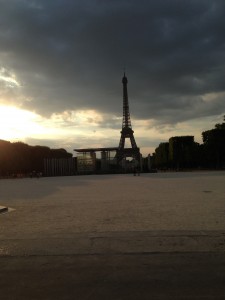 Traveling with children isn't always easy.  
It's tiring.  Kids have meltdowns.  Parisians get that.  
So do parents.  Parisians get that, too.  
Keep reasonable expectations and be flexible with your limits –and your children's limits – if you only last 30 minutes in the Louvre, so be it.  If you wake up too exhausted to take on a city tour, bag it and grab a Latte "for take away" at a cafe, pick up a few snacks at Monoprix and head to a park or playground.
Need a break from the kids?  Sign them up for a class.  There are tons of art classes, language classes, music classes, cooking classes, etc. just for kids.  There are nanny agencies, hotel babysitting services and advertisements for babysitting services.  Of course, there's also cheap wine, too–perfect for unwinding after the kids are nestled in bed.
It's pretty surprising how adabtable kids can be, especially when mom or dad makes the effort to let go of their own expectations of what they should or shouldn't do or see when travelling. It's Paris.  It's all good, so roll with it.  It will be one of the best things you've ever done.
Disclosure: This post contains affiliate links, meaning, at no additional cost to you, I will earn a commission if you click through and make a purchase. You can read the full disclosure here. It is through these links that I am able to write this blog. Thank you for your support and readership.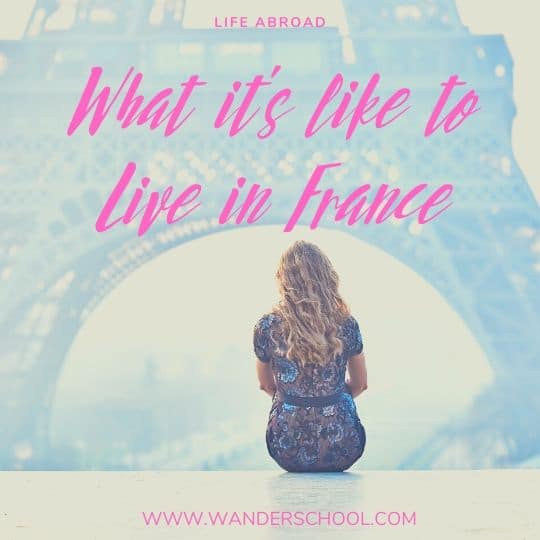 Follow Julie on Social Media! 😉