There's so much talk right now about "Fresh Pins" on Pinterest in the blogging world. What are Fresh Pins on Pinterest?
And, perhaps most importantly, why is it essential as a blogger and for blog growth that you pay close attention to all of this pinning Fresh Pins business?
Affiliate Links Disclosure: My posts sometimes contain affiliate links, which mean that if you click on them and make a purchase or sign up for an offering, I may earn a commission, at no added cost to you. I received no compensation for writing this post, and it reflects my own experiences, research, and opinions. You can read my my privacy policy here. Thank you so very much for reading my blog!
Fresh Pins on Pinterest Get Results
I haven't always been a Pinterest believer. For the longest time, I couldn't wrap my head around Pinterest as a visual search engine. And I couldn't see how it would help my blog growth.
But after seeing Pinterest results from many of my favorite bloggers, I decided that I'd commit to Pinterest this year. Also, given that so many bloggers swear Pinterest is the secret to their success, I knew I had to give Pinterest a fair try.
I wanted to see if Pinterest could really drive traffic to my blog. I wanted to see if I could really build a Pinterest following.
Commit to Pinning Fresh Pins
And, while I'm only a short way into my Pinterest experiment, I can say without hesitation that my once inner Pinterest skeptic is now a Pinterest believer.
So, What is a Fresh Pinterest Pin?
According to Tailwind, the authority and complete Pinterest marketing tool, "Fresh Pins are defined by Pinterest as images or videos that haven't been seen before."
Fresh Pins are brand new, sparklin' fresh Pinterest pins. A Fresh Pin is created when you make a new pin and then introduce it to Pinterest. It's sort of like, "Hello, World, Check out my awesome, captivating, never before seen Pin."
Hey, and while you're at it pinners, please save my spankin' new Fresh Pin to one of your boards. And…if you feel inclined, why don't you click through and read my blog post now.
Why are Fresh Pins Important?
Fresh Pins are the thing right now.
Why?
Because Pinterest has decided that Fresh pins are where it's all at. And fresh Pinterest pins get prioritized for distribution.
Pinterest wants Fresh pins because Pinners LOVE fresh content and respond best to fresh content.
What Doesn't Count as a Fresh Pin?
Making Fresh Pins takes effort and time. Accordingly, you actually have to change up the image, Pin title, Pin description, and an alt text.
So, no, you can't simply make a minor, seemingly inconsequential tweak or change to an existing pin and call it good. You have to go above and beyond.
You have to make sure the image is new. F-R-E-S-H!
Fresh Pinning Takes Work, But Hard Work Pays Off
Making new content for Pinterest is work! It takes effort, especially to pin consistently. There's no way around it.
And seriously, creating Fresh Pins and new content for Pinterest is effort that won't go unnoticed. It may take time to get the results you seek, but if you hang in there, you'll see Pinterest working for you.
READ MORE: Wondering what else you need to know about blogging? Read 20 Things I Wish I Knew When I Started Blogging.
Fresh Pins Tips
1. Avoid Duplicate Pins
Fresh means fresh. Not stale, crusty duplicates. Avoid pinning the same image with the same URL, same description, and same alt txt.
2. Pin Consistently
Here lies your own Pinterest experiment. You're going to have to figure out what Pinning consistently means to you and your traffic. Some bloggers swear that you must pin 3-5 fresh pins everyday. Others say you need to pin more than that each day, but that you don't have to do it every single day.
In my own Pinterest experiment, I have discovered that I really need to pin every. single. day. If I take a day off, I see the impact in my Pinterest business stats.
3. Make Eye-Catching Pins
When you make fresh pins, think eye catching. You want your pins to look good. Look professional. Look fun. Or look like your brand. However, you design them, they should be attractive and interesting.
To make eye catching pins, consider using good stock photos and quality resolution images. You can find royalty-free photos on Unsplash or Canva. Keep in mind, if you are using Unsplash photos, it's a nice thing to give shout outs to the photographers whenever you can, after all, you are getting to use their beautiful photos for free.
4. Repin Appropriately
If you're going to repin one of your Fresh pins, after you've first pinned it, it's generally recommended that you use a pin scheduler like tailwind or wait to repin it again for at least 2-7 days (depending on which blogger or Pinterest expert you ask). You can do this and repin up to 10 boards, but make sure you time the pinning right so you don't look like spammy.
5. Remember Who You're Pinning For…
It's easy to forget why you're pinning and to fall into the trap of thinking that you're pinning just for pinning's sake. For Pinterest.
But, remember… you are pinning for YOU. For your own blog business success. Every time you are grinding out pins, remember that you are doing this to build your blog empire. Your pins are the key to getting your content exposed.
And ultimately, your consistent pinning effort is the ticket to driving traffic to your blog. Of course, that traffic is what is going to get you closer to your dreams, particularly if your dreams involve increasing blog revenue.
For More Tips on Using Pinterest… Definitely Read: How to Leverage Pinterest to Grow Your Blog.
If you liked this post or found it helpful, please considering sharing the love. Tweet it. Share it. Pin it. I truly appreciate it!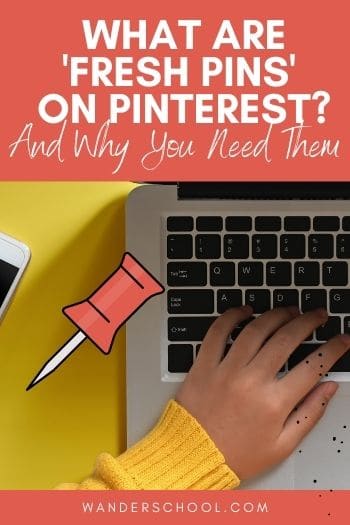 Follow Julie on Social Media! 😉
Related Posts You May LOVE