Looking for online homeschool guitar lessons for beginners? If so, keep reading. Here, you'll find online guitar classes for kids and beginner guitar lesson resources.
Affiliate Links Disclosure: My posts sometimes contain affiliate links, which mean that if you click on them and make a purchase or sign up for an offering, I may earn a commission, at no added cost to you. I received no compensation for writing this post, and it reflects my own experiences, research, and opinions. You can read my my privacy policy here. Thank you so very much for reading my blog!
Homeschool Guitar Lessons
Homeschoolers can easily learn to play guitar at home. There are many class options available to homeschoolers online, including private tutors, group Zoom classes, and tutorials.
As a parent, thanks to online guitar resources, it is not necessary that you know how to teach beginner guitar for your child to play. Actually, you don't even need to know anything about music!
You don't even know how to tune a guitar. There are apps for that! 🙂
And, thanks to so many online guitar resources, it's possible to learn guitar with minimal expense–if not for free.
Plus, since homeschoolers tend to have a lot of scheduling flexibility, it is often possible to work with talented teachers, musicians, or instructors who might not otherwise be available. As well, it's possible to schedule classes more frequently vs. weekly classes, which helps speed up progress and help with music retention. And, another plus of homeschooler scheduling flexibility is that homeschoolers can sometimes attend music classes in larger blocks of time, which is often beneficial for acquiring guitar skills.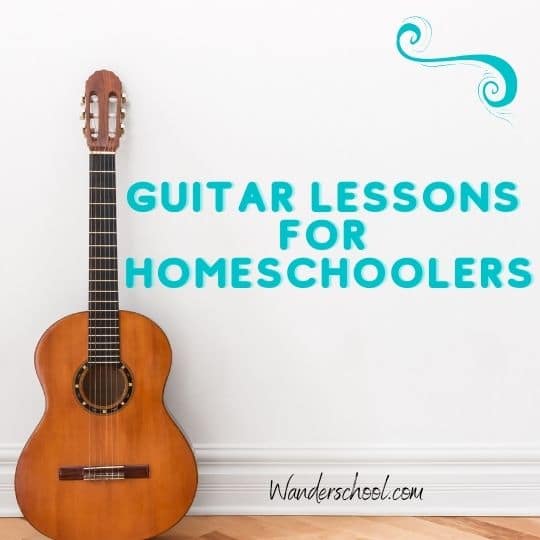 Where to buy a new student guitar or find a used guitar
I've purchased several guitars over the years for my children. I've had great luck buying beginner guitars on Amazon.
You might be surprised to know that you don't have to spend a fortune to get a decent, quality guitar for beginners. This is also true for left-handed beginner guitars! I know I have been pleasantly surprised at the sound and quality of guitars I've purchased online. I highly recommend reading reviews before you buy to minimize any possible disappointment.
You can also find great deals on used student or beginner guitars on Ebay, Craigslist, Facebook Marketplace (or in Europe, places like Leboncoin).
Guitars come in different sizes, including traditional or full size, 3/4 size, or 1/2 size for kids. Sometimes smaller guitars are referred to as travel guitars.
Homeschool Guitar Lesson Resources
If it's your child's first time playing guitar lessons abound online. You can find lessons for any budget, including free lessons on YouTube or trial lessons through Fender Play. Beginner guitar players will learn about proper finger positioning, chords and tabs, open chords, chord progressions, guitar tuning, strumming patterns, and easy guitar songs.
What is the Best Age to Learn Guitar?
You can also find online homeschool guitar lessons for nearly any age. Although, some instructors and schools are reluctant to teach children under six or seven years old. For example, I've heard an instructor say that guitar lessons for a 5 year old is too young. Some instructors say that age seven is generally a good age to start learning to play guitar. However, anyone can learn how to play guitar at any age.
Online Guitar Classes and Resources
Popular online guitar classes and resources for homeschoolers include:
1. Outschool. Offers live Zoom guitar group and private classes. This Outschool link will give you $20 toward your first Outschool class. My homeschoolers love Zoom classes on Outschool.
2. New York City Guitar School. Offers online guitar classes for kids, taught by accomplished musicians. My kids have taken classes and camps at this school and have learned a lot about music.
3. Fender Play. Offers online guitar lessons, broken into short, manageable lessons. You can get a free 3 month trial here.
4. Your Guitar Academy Offers free beginner guitar lessons online.
Best YouTube Channels to Learn Guitar
–GuitarJamz. Marty teaches great classes, such as rifts, on his YouTube Channel.
–GuitarLessons. Nate teaches some great classes about guitars, gear, and gadgets, such as electric guitars, amps, and pedalboards, on his channel.
–JustinGuitar. Justin teaches guitar song basics and what you need to know to play real songs.
Follow Julie on Social Media! 😉
Drop a comment. Is your child learning to play guitar through online classes? Have you? How's it going? What are your favorite online learning resources?