Looking for easy and simple self-care ideas to feel happier now? There's a lot going on in the world right now. For many, life is a lot harder now than it has been in a really long time.
If you're lacking bounce in your step or feel run down and exhausted, read on. You're not alone.
Read on for 10 simple self-care ideas to feel happier now.
Affiliate Links Disclosure: My posts sometimes contain affiliate links, which mean that if you click on them and make a purchase or sign up for an offering, I may earn a commission, at no added cost to you. I received no compensation for writing this post, and it reflects my own experiences, research, and opinions. You can read my my privacy policy here. Thank you so very much for reading my blog!
My Story
Last week, there was a day when I was totally stressed out to the point of tears. I wanted to curl up on the couch. I could objectively see that everything in my life was going fine, even great in many ways. The kids were healthy. Happy. Loving homeschool life. But I felt utterly miserable.
I was tired. And I was behind in my sleep. I was super busy with projects and tasks, and was in go-go-go mode. Regular exercise was not happening.
On top of it all, I hadn't had a few minutes to myself in a long time.
What I Really Wanted to Do
What I really wanted to do was just slow down my brain for a couple of hours. I wanted to put on cozy clothes, plop down on the couch, bury myself in a comfy blanket, watch a movie, and eat popcorn. I wanted to get unstuck.
But as a Mom of four, I get stressed out just thinking about the idea of taking time to myself in this way! Putting life on hold to watch a movie: mega guilt. Like I should be doing something. Something productive or useful.
I thought, if I'm going to take time to do something it should be self-care. It should look like self-care. Gee, those mom-brain "shoulds" are powerful.
But then it hit me.
Wait a minute!
Who gets to decide for me what my self-care looks like? If I went for a massage, that would clearly be considered by most as self-care. If I went for a long stroll or bike ride on the scenic bike path, most would vote that as self-care.
But what about watching a movie? Self-care? Yeah or Nay? Or just lazy.
Self-Care Comes in Many Forms, Shapes, and Designs
The reality is that self-care comes in many forms, shapes, and designs. There is no one right way or one-size-fits all approach for self-care.
Curling up on the couch may be self-care and restorative for one person. But for another, curling up on the couch could work against self-care. Such as in the case where a person uses the couch regularly as a mechanism of avoidance or procrastination.
So, if there is anything last week taught me, it's that when it comes to finding ways to feel happier, it's to indulge in self-care–and try new ideas. Of course, ditch the guilt, too!
When you take care of yourself and allow yourself time for self-care, your outlook can dramatically improve. And that's not only a good thing for you, but for everyone else around you.
Plus, when you make time for self-care, you can actually increase your own happiness and productivity.
So, make time for yourself. Get happy! Enjoy the rewards that come from taking time to care for yourself, like having more energy, positive vibes, improved perspective, and increased productivity.
This is your life, so whatever you need to do to make it your best life, do it!
Simple Self-Care Ideas to Feel Happier Now
When you're in a rough spot in need of self-care, the last thing you need is to feel overwhelmed sifting through self-care ideas. So, to help you out, I've compiled the following 10 Simple Self-Care Ideas to Feel Happier Now.
A huge shout out of thanks to the bloggers who offered up these fabulous self-care ideas. These self-care ideas and strategies are great to apply anytime in your life–and especially during stressful or hectic times, like the holidays.
1. Talk to Someone.
Talking is a tried and true form of self-care. There's little doubt that talking to someone, a friend, partner, family member, counselor, doctor, a trusted anyone, can help ease your mind and help you back on the road to happiness.
Kaila of Healthy Helper suggests that talking to someone, especially talk therapy, is a form of self-care that women, especially, tend to overlook. In her blog post, 5 Forms of Self-Care That Women Neglect, she notes that, "therapy has become more normalized in the past few years and with the advent of counseling apps and telemedicine resources, it's now easier than ever to talk to someone as often as you need about any mental health issues you're experiencing."
2. Declutter Your Life.
Lauren of Simply Well Balanced points out the value in eliminating clutter to improve well-being. Decluttering is a form of self-care. As she notes in A 5 Day Series To Declutter Your Life, decluttering can lead you to a happier and more present life.
Sure, the idea of decluttering can sound overwhelming at first, but starting on a journey toward minimalism by decluttering your house (or life) can declutter your mind, and ultimately free you from stress. Plus, there's an added perk of decluttering, which can be selling your stuff and making extra cash. And saving money by spending less on things you don't really need.
3. Make a Cozy Nook in Your House.
When there's so much going on in life, taking time for yourself can feel selfish or like a luxury. But Iva from Sustain My Craft Habit suggests that making a cozy living room or space in your house is a simple way, especially for busy moms, to indulge in down time.
Not only can it be fun and inspirational to create a cozy space or corner, but even spending a few moments in your space, whether it's a chair or room, can positively impact your peace and infuse you with a dose of happiness.
4. Journal.
Perhaps you've heard it before, and dismissed the idea as something that will only take up more of your time–however, writing in a journal IS amazing self-care!
Taking time to journal about anything, your stresses, what makes you happy, what makes you sad, whatever, can take as little time or as much time as you want.
If you need a beautiful journal, I highly recommend Create Your Own Calm: A Journal for Quieting Anxiety.
Melissa of Blessed Simplicity notes that journal writing is a good self-care idea, especially for busy moms and stay-at-home moms. And when it comes to stay-at-home moms, she points out in Self Care for Stay at Home Moms that "self care for stay at home moms is vitally important, but their time is severely limited." Journaling is a self-care activity that even busy moms can do to take care of their mental well-being in 15 minutes or less.
As a homeschooling mom, also of limited free time, I take Melissa's advice to heart. I have long found that journaling is a helpful self-care strategy. So, I often carry a little notebook in my bag. I pull it out in the car after dropping the kids off for sports practices or while sitting in coffee shops. Writing down my thoughts, stresses, ideas, projects, or goals–even in one or two minutes–can melt away a lot of stress and make me feel a lot happier.
5. Start a Yoga Practice.
Darcey of A Flourishing Rose, suggests that becoming a yogi is not only a good self-care idea, but it is on affordable one.
You can find free yoga classes online, including YouTube videos. Also, you can also find short classes that you can squeeze into your busy lifestyle, such as 10 Minute Yoga classes. You don't have to spend anything really to start a yoga practice. Sure, comfy clothes and a yoga mat are helpful, but even a towel or rug can work.
6. Schedule Self-Care.
Annie of Savvy Honey suggests getting into the habit of scheduling self-care time when life gets busy, especially around the holidays. She points out that "[t]here are so many ways you can practice self-care during the holidays but my biggest tip is to schedule self-care into your day because without scheduling it in, it may not happen at all. Block out a time each day, even if it is just for five minutes, to practice self-care and this will help you have an enjoyable holiday season."
7. Go For a Walk.
Danielle of the Million Dollar Mama recommends walking as a good cheap, self-care strategy. She says walking makes her feel immensely better. "Taking a nice, long walk outside helps to clear the mind while also getting some exercise (which is another great way to de-stress)."
8. Bake Cookies.
Seriously. Bake cookies! Holly of Pink Fortitude suggests that baking cookies, like chocolate chip cookies is an inexpensive self-care idea to bring about happiness–eat them yourself or give them away!
9. Meditate.
Andrea of Slow Pace Lifestyle, says meditation is worth a try if you are looking for a free, calming self-care practice. She notes, "[t]here are self-guided meditation courses you can take with the help of apps such as Calm." Meditation is a helpful way to clear the mind and disconnect from the world around you. The more you practice, the more apparent it typically becomes to see the value of meditation.
The Curious Frugal Blogger also features helpful self-care Sleep-Meditations, which might be especially useful when you're overtired or can't sleep. Personally, I enjoy listening to sleep meditations when I'm having a tough time falling asleep–works like a charm.
10. Self-Massage.
You don't have to book a massage appointment or spend lots of cash to get the benefits of massage. Hello, self-massage–and anytime, too! Anisa of Massage Gear Guru, offers a bunch of tips and how-tos for self-massage, including self-neck and foot massages.
Self Care, Get Happy Now
With everything going on right now in your life and the world, it's more important than ever to practice self-care. With these 10 Simple Self-Care Ideas, I hope you'll find a little more happiness and calm in your life.
If you need more help than simple self-care or you feel stuck or depressed, there is help out there. You and your mental health are important. And you're not alone.

National Suicide Prevention Lifeline: 1-800-273-8255 (TALK).

You can find other help hotlines, including for teen support, here.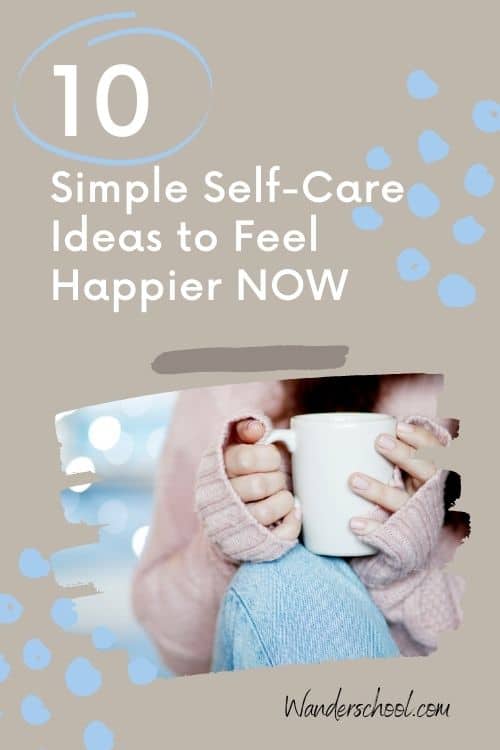 Drop a comment below. What do you think of these self-care tips? Have a favorite? What's your self-care strategy when life gets heavy?
Follow Julie on Social Media! 😉